Florence + the Machine, Hydro, Glasgow ***
It was a Glaswegian that Florence Welch had to thank for being back on stage again so soon after breaking her foot at the O2 Arena in London in November, on the opening night of a European tour which consequently had to be postponed by several weeks. Welch's physiotherapist Laura wasn't at The Hydro to receive thanks in person, but her mum was. "It would only be a no-nonsense Glaswegian who could get me in f***ing shoes!" Welch joked.
The high-spirited, trilling-voiced frontperson of harp-bothering baroque-ish indie-rock multi-million sellers Florence + the Machine has finally seen sense regarding the folly of performing barefoot (Welch had another, previous foot-break at Coachella back in 2015). A pair of sensible black pumps didn't exactly compliment her willowy Victoriana dress, but they helped get her mobile again, and that's what mattered. She even made one of her trademark forays through the audience at one point (Welch loves getting up close with fans).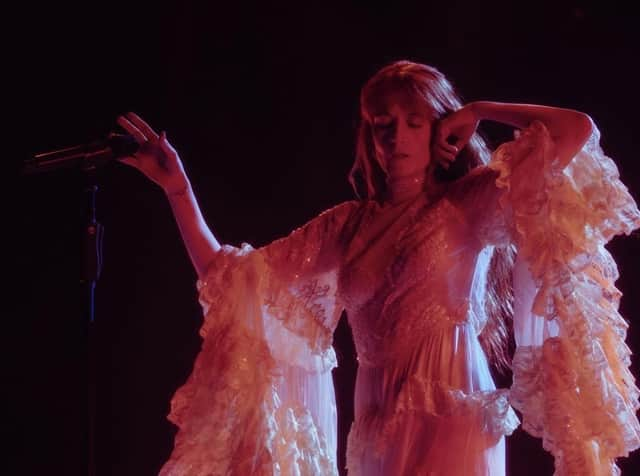 Florence + the Machine's fifth album, 2022's Dance Fever, was inspired by the historical concept of choreomania, a group ritual of dancing to exhaustion, something which fascinated Welch during lockdown, when dancing anywhere but alone at home was outlawed. Ritualistically shaking off covid demons was a theme of the show, and yet, a stop-start, unevenly paced setlist struggled to find its rhythm. For every rushing hit of bittersweet euphoria such as Ship to Wreck or Free there seemed to be two more ponderous mid-to-downtempo plodders like Daffodil or Girls Against God.
But Welch had aces up her billowing silk sleeves for the finale. You Got the Love, Kiss With a Fist and Shake It Out unleashed cathartic surges of dancing and jumping, before Welch sent stewards into a health and safety panic by imploring fans to hoist friends onto their shoulders, as an offering to the concert gods during Rabbit Heart (Raise It Up).