Music review: Dylan John Thomas, Barrowland, Glasgow
He may not have much in the way of stage presence yet, but with his knack for writing memorable melodies Dylan John Thomas has a bright future, writes Paul Whitelaw
Dylan John Thomas, Barrowland, Glasgow ***
Dylan John Thomas, a former busker from Glasgow, is clearly on the verge of something. To sell out three consecutive nights at the Barrowlands while still being relatively unknown to the public at large is quite an achievement. He'll be ubiquitous before too long.
And that's fine. His hooky guitar pop is quite likeable. The kid has a way with a tune, and maybe one day he'll learn how to write lyrics which don't rely almost entirely on clichés. He's absorbed numerous musical cues from the British kitchen sink likes of Madness, The Kinks and Arctic Monkeys, but their wry wit is conspicuously absent from his embryonic oeuvre. Which rather misses the point of trying to sound like them.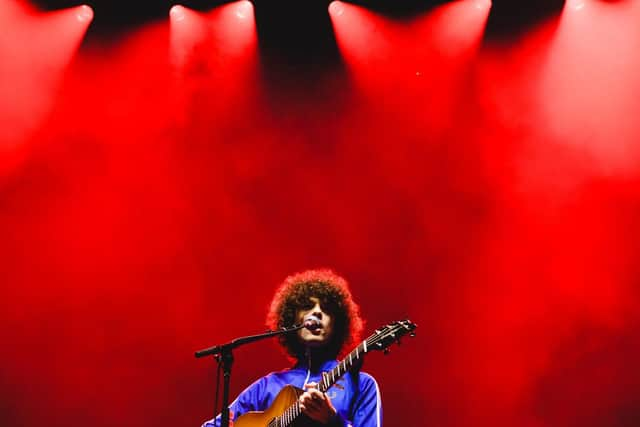 He also has no stage presence whatsoever, but that too may develop in time. In fairness, he was presumably nervous during the first night of this homecoming residency. Every jolt of energy in the room was supplied by the audience, they did all the heavy lifting. Such was their enthusiasm, they even sang along with an uninspired cover of Mamma Mia. Thomas and his fans are presumably too young to know that indie guitar boys covering ABBA songs, no matter how sincerely, was already a tired trope at the turn of the century. It must not be allowed to continue.
Still, I get his appeal. Thomas is the everykid next door who happens to have a talent for writing memorable readymade melodies. He sings in his own accent too. That dour Scottish baritone coupled with his self-evident affection for the quirks (if not the soul) of his influences elevates Thomas way beyond that demon busker Sheeran and his flaccid offspring. Thomas has a hint of grit about him. It's in there somewhere.