Music review: Devo, Academy, Edinburgh
Devo rolled back the years with this slick, energetic performance, writes Olaf Furniss
Heritage acts can be an uncertain proposition, often going through the motions for a last payday or, in extreme cases, massacring their own legacy with a substandard performance. However, the minute Devo took to the stage, it was instantly clear that this was going to be a first-class show.
It was 16 years since they'd last played in Scotland and half a century since they formed in Ohio, but the impressive set belied the fact that the founding members are now in their seventies.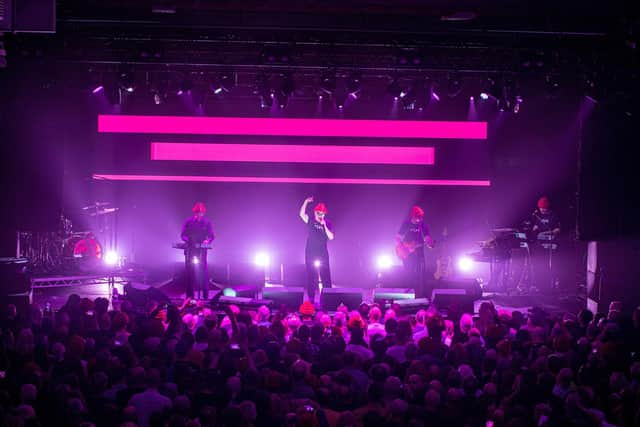 Moreover, their various side-hustles in advertising, music video direction and composing for TV ensure their fresh live sound is complemented by engaging video footage, well-honed stagecraft and – at the Academy – several costume changes.
Don't Shoot (I'm A Man) set the tone for the night, demonstrating the band's influence on the likes of LCD Soundsystem and Hot Chip, although, judging by the energetic performance, Devo have had a more forgiving paper round than the young(er) pretenders.
A brief departure from the stage saw them return sporting their trademark lampshade hats and, as they embarked on a meaty version of Girl U Want, it was impossible not to feel a shiver of excitement.
Several songs later, another interlude was used to don yellow boilersuits to deliver an excellent version of Satisfaction, injected with a funky wa-wa sound which lifted it from the sparse studio recording.
Jocko Homo then set up some audience interaction as the crowd declared "We are Devo", before Gates of Steel's 1980s synth-rock attested to their New Wave tendencies.
The band reminded us of their theory of de-evolution and warned that this is currently happening in their home country, launching into Freedom Of Choice with the exhortation: "Use it or lose it".
As they closed with Beautiful World, Devo could take some comfort from the fact that their own creative evolution over the past 50 years has delivered one of this month's musical highlights in the Festival City.