Music review: Courtney Marie Andrews, Saint Luke's, Glasgow
Elton John has described Courtney Marie Andrews as "a young Joni Mitchell", and you could hear why at this performance at Saint Luke's, writes Fiona Shepherd
Courtney Marie Andrews, Saint Luke's, Glasgow ****
"I just wanna take it slow," sang Courtney Marie Andrews on her show opener and current album title track Loose Future. Her warming appeal that you can't hurry love but also that you can't control it could also have been a foretaste of her sumptuous set – languorous Americana of varying flavours, absorbing storytelling and the occasional upping of the ante in the company of her excellent three-piece backing band who impressed instantly with their high, lonesome vocal harmonies.
These Are the Good Old Days also gave a sense of where she is coming from, its easy listening folk pop a more organic evocation of classic American iconography than Lana Del Rey's stylised cultural celebrations. You Do What You Want was a burnished portrait of one of life's charmed individuals, Break the Spell a soft incantation embellished with the delicate chime of electric piano. The old school country ramble of It Must Be elicited enthusiastic whoops from the audience.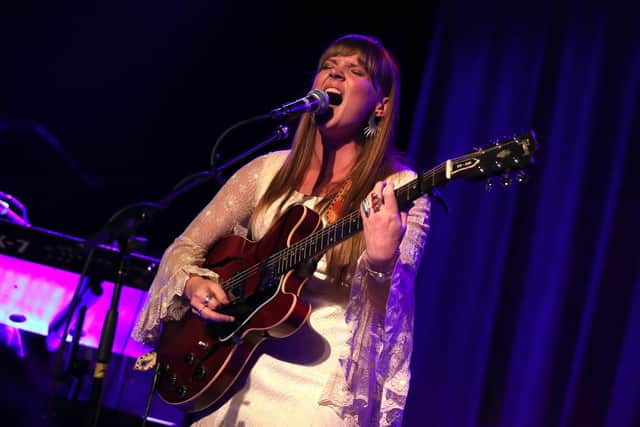 The Arizona artist has plenty more where that came from – so much so that she previewed a solo number so fresh out the box that she hadn't yet worked up a band arrangement.
There was more aching romantic nostalgia on Burlap String, which could have dropped right out of the Emmylou Harris songbook. Andrews has also been hailed (by Elton John) as a young Joni Mitchell and you could hear why in the vaulting vocals and rich picking of Irene. However, the artist she most closely evoked in her gentle shape-shifting was Linda Ronstadt – Andrews is also a dedicated balladeer and yarn-spinner with an affecting cry in her voice but she also unleashed a soulful power on the sultry I Took You Up and the rapturous emoting of Me and Jerry, while her band lit a fire under the Neil Young-style blowout of Near You and the acid folk storm which grew out of Old Flowers.