Music review: Christine & the Queens, Usher Hall, Edinburgh
The new live set from Christine & the Queens feels like an otherworldly operatic fantasy, writes David Pollock
"As you might have guessed, this is not your regular gig," announced our host breathlessly, midway through one of the most singular and memorable popular music performances of the year. "This is blood, sweat and tears. This is a ritual."
Pitched somewhere between rock and opera, the conceptual new Christine & the Queens live set feels like both an exorcism and a summoning. An extended performance of French singer Christine's (aka Héloïse Adélaïde Letissier) most recent fourth album – this summer's 20-song, three-part Paranoia, Angels, True Love – it was performed amid a theatrical set.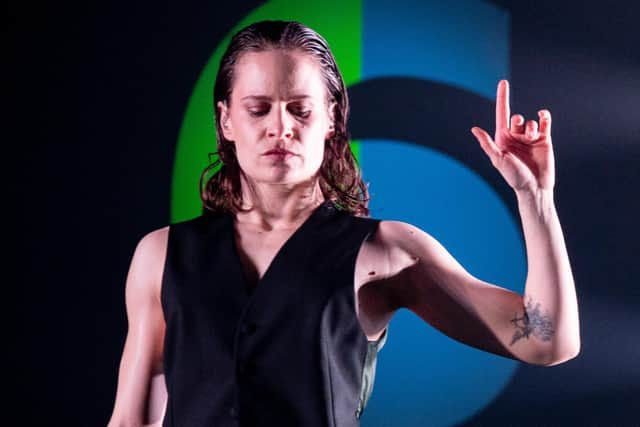 A table was set, apparently for dinner, with part of a staircase and its broken balustrade rising from it. Around it were assembled various pieces of statuary; human figures, a lion. Chairs were thrown aside, flowers smashed, and Christine – dressed first in suave black trousers and waistcoat, then as a pansexual Joan of Arc character in long, blood-red skirt and armoured armplate, then having a pair of black wings strapped on to access his personal inner divinity – appeared to be leaving everything onstage for us.
Like all the best rock 'n' roll, the music's themes were oblique, but also perfectly fitted to the singer's own persona. Surrounded by three musicians whose instruments allowed analogue and electronic backing, he cycled through the pulse-pounding, mood-shifting energy of I Met An Angel, the epic, redemptive sonic crashes of Shine, the triumphant power of Lick The Light Out and the sexual surety of Big Eye. As on the album, Madonna's disembodied voice offered occasional, poetic narration.
Christine concluded by telling us the performance had been "a poem", and as a complete work it withstood multiple readings; as a piece about sexual love, about the grief of the loss of Christine's mother, or as a journey of discovery through his own gender identity.
It felt conceived as an otherworldly, operatic fantasy, and Christine appeared as the rock star of the future, taking us all on a journey from emotional turmoil to a place of acceptance and love.