Celtic Odyssée & Fara, Glasgow Royal Concert Hall ****
Celtic Connections fairly ramped up the C-word with this pageant showcasing performers from the various Celtic realms. Staged in conjunction with Brittany's Festival Interceltique de Lorient, it was hosted by its director, Breton piper Ronan Le Bars with an excellent Breton "house band", augmented by others including Manx fiddler Tom Callister and accordionist (and festival director) Donald Shaw, opening with a flowing instrumental excursion before backing a succession of guests.
First came Asturian singer Sylvia Quesada, armed with tambourine and a short, feisty song, followed by fellow-Asturian piping virtuoso José Manuel Tejedor, his shrilling gaita slightly dampened by ensemble sound. There was a hoarsely impassioned interlude from Galician singer Fransy Gonzaléz and, in contrast, a delicately-voiced contribution from Wales's Cerys Hafana, almost dwarfed by their Viking-prowed triple harp.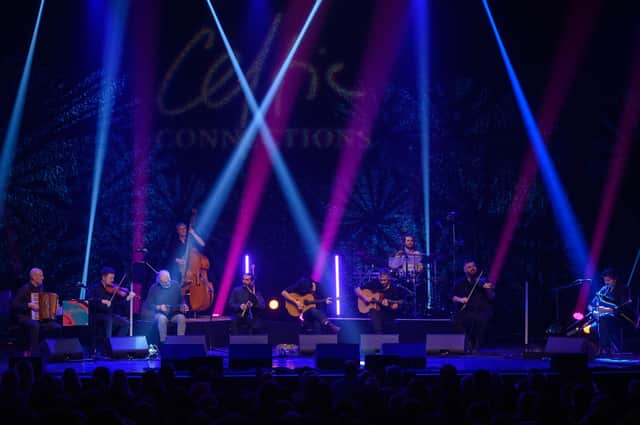 The powerful Breton singer Denez Prigent was joined by Scots Gaeldom's Karen Matheson for the poignant Gwerz Kiev – a lament for the beleaguered city, while Ireland's Karan Casey memorialised two unsung women from the Easter Rising. And so it processed, with some fine moments, although the programme was exasperatingly episodic, with minimal introduction or explication: disappointing, too, that Le Bars stuck to Irish pipes and whistle for the duration, rather than showcasing Breton pipes.
A spirited finale saw 18 artists on stage, the band laying down a compelling jig to which each singer responded, Prigent kicking off with a Breton tongue twister, Matheson coming out with Gaelic puirt à beul, the others following, each to their own.
There was spirit a-plenty, if more Nordic rather than Celtic, from the Orcadian quartet Fara's opening set, showcasing tunes from their Energy Islands album. Fara can boast sustainable energy in spades, and when they cut loose from an occasionally unnecessarily heavy beat, they fairly flew.