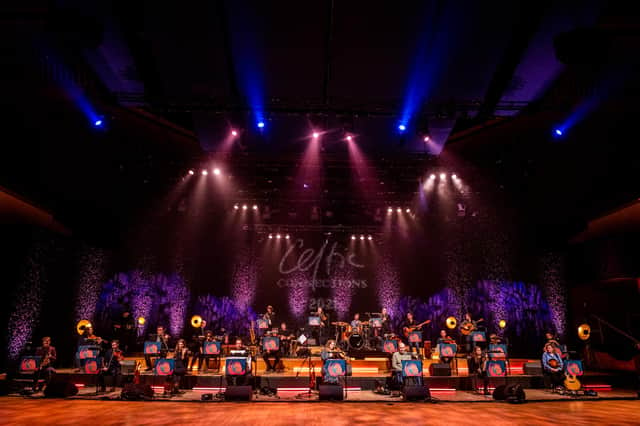 The Celtic Connections Big Band PIC: Gaelle Beri
A confluence of pipers advancing up Buchanan Street towards Glasgow Royal Concert Hall, one of them rising up the escalator from the Underground (Orpheus ascending from the Underworld, perhaps?), seemed a stirring symbol of Celtic Connections transcending Covid-19 by launching a 19-day online festival. It has proved a challenging but impressive achievement, as Friday's Opening Concert (*****) unquestionably demonstrated.
The Tryst piping collective, having re-emerged on an empty concert hall stage, gave way to the Celtic Connections 21 Big Band, a muscular folk-jazz-classical fusion entity bursting with creative fire and ranging through repertoire such as bassist Duncan Lyall's appropriately entitled Hope, given punchy positivity by twin drummers James Mackintosh and Alyn Cosker. They closed with Greg Lawson's Armenian shaloka, his wheedling violin intro launching a Balkan whirl that included plangent Highland pipes from Ross Ainslie and fiery sparring between saxophonists Paul Towndrow and Fraser Fifield.
Throughout this jubilant performance, other acts were spliced in from appearances due for streaming later in the festival – from Montreal, for instance, a feet-driven Quebecois blast from Le Vent du Nord. From closer to home came commanding Gaelic song from Karen Matheson, contrasting with more frenetically tempoed sets from the likes of ĺmar and the Kinnaris Quintet.
Duncan Chisholm at Kelvingrove PIC: Gaelle Beri
There was an extract, too, from master of the slow fiddle air Duncan Chisholm's concert (broadcast on BBC Alba) with his band and the Scottish Ensemble – compositions richly redolent of place, framed by the magnificence of Kelvingrove.
Saturday Night's Concert (****) led off with the resoundingly joyful strings of fiddle quartet Rant, Sir MacDonald's Reel opening gently over muted pizzicato before opening out into a sweeping ensemble piece. The Paul McKenna Band ranged between the traditional and the contemporary – all too contemporary in the case of McKenna's impassioned singing of The Dream, fuelled by indignation at yet another police killing of a young black man in the United States.
There were, arguably, distant echoes of Irish-sean nós singing in the querulous vocal ornamentation of Sudanese desert singer Amira Kheir, while "Acid croft" pioneers Shooglenifty were in characteristically exuberant form in sets such as Caravan Up North. Their tribute to their late fiddler, Angus R Grant – "a hard man to find though much loved" – opened solemnly but soon accelerated into standard Shoogle time.
Giving warm Scots voice to the tradition in a deserted City Hall was Fiona Hunter, accompanied considerately on guitar, piano and flute, with a jaunty account of the ever-roaming Merchant's Son, A Sailor's Life casting off over Tom Gibbs's rippling piano and her own cello singing out during Tannahill's Cauld Bloomin Februar.
Duncan Chisholm and the Scottish Ensemble at Kelvingrove PIC: Gaelle Beri
Sunday Night (****) saw the astonishing musical interplay, honed by years of collaboration, between fiddler Chris Stout (here deploying the almost-human tones of viola) and harpist Catriona McKay, their music ebbing and flowing beguilingly along with a tidal backdrop created by Highland filmmaker Somhairle MacDonald.
Harping of another kind came from the hypnotically ringing strings of Gambian kora player Sona Jobarteh, the first female player in a long line of tradition-bearing griots, while the evening ended amid Glasgow's fruitful young jazz scene, with award-winning singer Georgia Cécile giving soulful, sassy voice over a powerful quartet including her song-writing partner, Euan Stevenson, on piano and saxophonist Konrad Wiszniewski. She sang from her forthcoming debut album, opening glowingly with Come Summertime and summoning a gutsy holler for Always Be Right for Me.
With his second album, Cairn, out this month, Fergus McCreadie's distinctive brand of folk-informed piano jazz evoked hill paths and seacliffs, his engaging melodies evolving intensely over characteristically ringing left-hand, with busily empathetic support from bassist Mark Hendry and drummer Stephen Henderson.
A very Scottish jazz, and it's a perverse irony that the heartbreaking curtailing of live-audience events has resulted in McCreadie and the rest of Celtic Connections being viewed by wider audiences than ever before, with a reported 10,000 tickets sold across 44 countries for these online performances.
Imar at St Luke's PIC: Gaelle Beri
A message from the Editor
Thank you for reading this article. We're more reliant on your support than ever as the shift in consumer habits brought about by coronavirus impacts our advertisers.
Joy Yates, Editorial Director