Music review: Bruce Springsteen, Murrayfield Stadium, Edinburgh
Full of heartfelt, essential enthusiasm, this was an epic performance from a still-great artist, writes David Pollock
Midway through this typically epic, three-hours-plus set, Bruce Springsteen stopped to tell a story. He remembered George Theiss, the New Jersey high school friend who knocked on 15-year-old Springsteen's door one summer afternoon in 1965 and invited him to join his band the Castiles, beginning "the greatest adventure of my young life." George died in 2018, leaving Springsteen the band's last surviving member.
"As you get older death gives you pause to think… it gives you an expanded vision of this life," pondered Springsteen. Deaths like George's, he said, remind us to "seize the day… be good to yourself, be good to those you love, be good to this world we live in." Then he played Last Man Standing and Backstreets in tender tribute.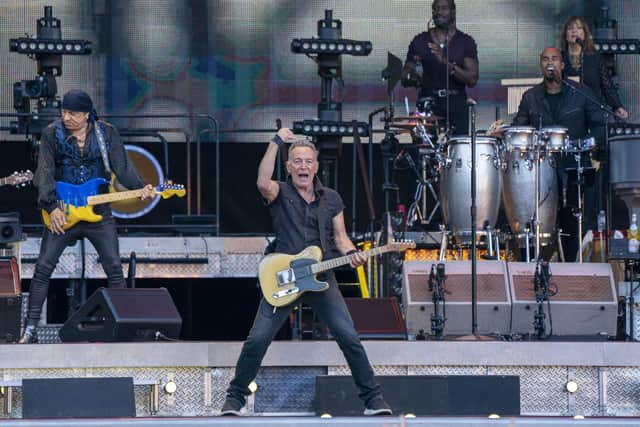 This story informs every moment, it feels, of what Springsteen still does. He was already writing of lost youth and fading childhood dreams in his thirties. Now, revisiting a lifetime's worth of songs, he and his still-standing E Street Band rage with heartfelt, essential enthusiasm in honour of a not-dead-yet light.
The show ranged through the bittersweet, damaged machismo of Prove It All Night, The Promised Land and Darkness On the Edge of Town, through his cover of the Commodores' soul tribute Nightshift and the perfect rock 'n' roll choreography of The E Street Shuffle and Johnny 99.
His classic Patti Smith co-write Because the Night and the recent Wrecking Ball also appeared, leading into an hour-long greatest hits finale which began gently with Badlands and Thunder Road, before a dream encore featuring Born in the USA, Born to Run, Glory Days, Dancing in the Dark and Tenth Avenue Freeze-Out. The latter featured big-screen images of late E-Streeters Clarence Clemons (his nephew Jake played saxophone here) and Danny Federici.
Earlier, Springsteen and Steve Van Zandt had mugged and rolled around on the floor like teenagers. Ageist narratives will tell you this was a bunch of elderly rockers trying to recapture their lost youth. It wasn't. It was a still-great artist giving an object lesson in what keeping your inner vitality alive looks like.
Comments
 0 comments
Want to join the conversation? Please or to comment on this article.