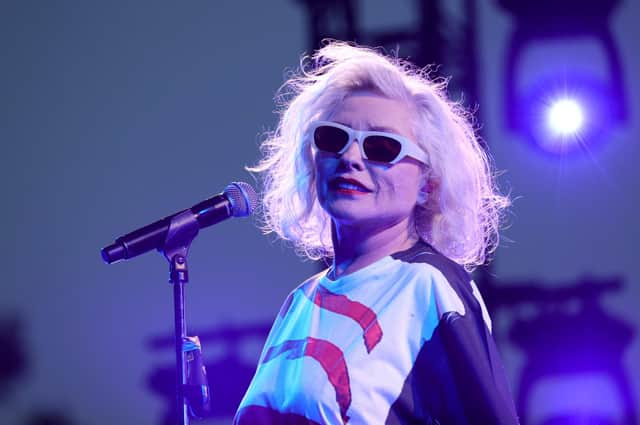 Blondie/Johnny Marr, Hydro, Glasgow ****
Taking to the stage in front of biff-bang-pow Roy Leichtenstein-inspired visuals, Blondie socked it to a capacity Hydro crowd with a hitfest few other acts could match.
Their special guest Johnny Marr came close with his Mancunian jukebox set, celebrating his role in so many crucial and classic songs – from the glistening riff of This Charming Man and the iconic riff and agonised sentiments of How Soon Is Now to the seductive pop of Electronic hits Get the Message and Getting Away With It, all of which put his inferior solo material in the shade, try as he might to recapture former glories.
Blondie, on the other hand, were as consistently colourful as their outfits, with Debbie Harry resplendent in electric pink and orange, helming a group of hungry young(er) punks and some older, familiar faces, not least drummer Clem Burke who, like Harry, is unwilling or unable to act his age.
Their greatest hits set was similarly eternal, kicking off with lesser known debut single X Offender before galloping through Hanging on the Telephone, Sunday Girl and Picture This – an encore salvo by any other act's standards. Ninety minutes later, their own encore, accompanied by grainy footage of Harry, Klaus Nomi and other New York characters, was knock-out.
With Chris Stein retired from touring, guitarist Tommy Kessler took the bit between his teeth on a spectacular Fade Away and Radiate. Ignoring their own advice, they burned brightly on an infernal Rapture, epic Atomic and soulful Union City Blue. Dreaming hit home a message of freedom, Maria was received as ecstatically as anything from their imperial phase and an intoxicating Heart of Glass made references to I Feel Love and The Sex Pistols' God Save the Queen, in honour of bassist Glen Matlock. Harry, meanwhile, was pop queen of all she surveyed.