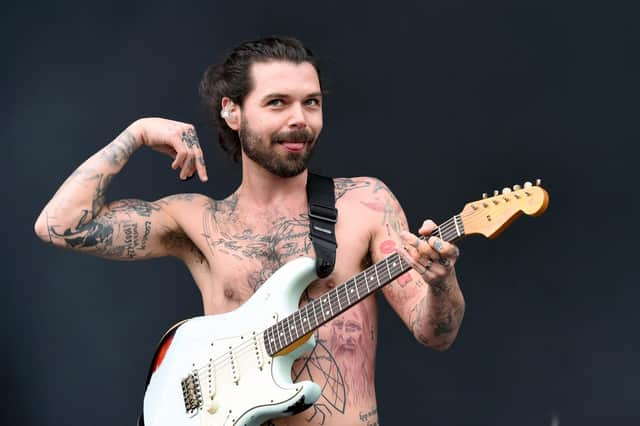 Simon Neil PIC: Herbert P Oczeret / AFP via Getty
Biffy Clyro, The Big Top at Ingliston, Edinburgh *****
"It was obvious when we walked onstage that this was going be one of those nights we won't want to end," gasped Biffy Clyro's Simon Neil, midway through a Saturday night set which had already left everyone inside the new Big Top tent at Ingliston breathless. The last of a fortnight of gigs at this new mini-festival site – held in what was once T in the Park's Slam Tent – brought real festival headliner energy.
As if divine insistence were needed to emphasise how good a show this was, the heavens opened during the set, with floods of water streaming off the canvas just as Neil announced the next song: "This is Biblical!"
The Ayrshire trio – singer and guitarist Neil, bassist James Johnston and drummer Ben Johnston, all sweatily stripped to the waist as always – are one of those already-thrilling live propositions who always seem to be able to eke out just a little more energy from band and crowd when they're playing on home turf. Theirs is a rock sound fit for stadiums, yet one which can also veer off pleasingly out-of-category.
The opening DumDum was a measured, icy piece of synth-rock. Wolves of Winter unfolded into an expansive, proggy trip, while Space landed back on earth with romantic, string-infused balladry. Living is a Problem Because Everything Dies built on serrated post-punk which sounded positively cataclysmic under canvas, and Bubbles began amid ragged, almost beat-pop melodies.
Of course, they also have an ever-growing array of true modern rock classics, including the melodic, emo Black Chandelier, and sky-scraping signature songs Mountains, The Captain and the closing Many of Horror. The latter, successfully recaptured from the infamy of its X-Factor cover, was roared along with by a capacity crowd.