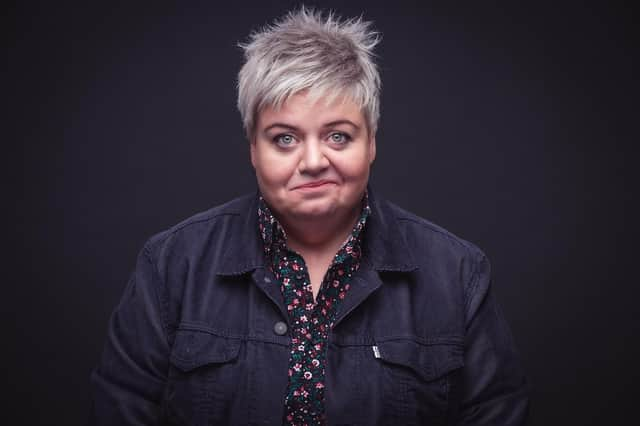 Susie McCabe hit out over the lack of support for the Scottish comedy sector during The Stand's latest live show.
Supporters of comedy stars like Frankie Boyle and Kevin Bridges are being urged to get behind a bid urged to email their local politicians amid warnings that some performers are turning their backs on the industry in despair at the lack of support.
There are claims comedy has been left "high and dry" despite Westminster allocating £97 million to Scotland from a £1.57 billion UK-wide arts rescue deal last month.
The plea to fans to secure the future of Scottish comedy was issued during a live broadcast from The Stand Comedy Club, which gave both Boyle and Bridges the chance to perform when they were unknown.
Speaking on the live broadcast, compere Susie McCabe said it was "just wrong" that performing the works of William Shakespeare or Robert Burns was considered art in Scotland, but not performing original comedy material.
McCabe suggested Scotland's "wonderful comedy heritage" was at risk of being lost forever unless there was a rethink, warning that some clubs may not survive the impact of prolonged closure due to the pandemic without financial help from the government or its funding body.
The 11th-hour plea for help was made six weeks after the publication of an open letter by a new industry taskforce warning that Scotland's grassroots comedy scene was facing "extinction" without help.
Some companies are thought to be on the brink of making staff redundant due to their dwindling resources and huge uncertainty over when they will be able to reopen.
Mark Nelson (middle) has been among the performers appearing at The Stand during lockdown.
Speaking during The Stand's live broadcast, McCabe said: "A lot of people have been saying to me: It's August, you must be gutted you're not at the Fringe. It must be really tough. It's not tough at all. It's just one of those things that happens.
"I will tell you what is tough – when your government and the body that's in charge of the arts in your country tell you, as a comedian, or a comedy club, or as a promoter, that you are not an artist, because that is what has happened in this country.
"We are getting no funding at all to support us, not just The Stand, it's the same at all the clubs, we're getting nothing. The majority of comedians haven't worked at all. People are going back to doing other jobs, if they've been able to find them.
"If me standing on a stage, with nothing other than lights and my own words and my own physicality, invoking a reaction, whether it be thought, whether it be laughter, whether it be anger is not considered an art form then I don't know what is.
"Yet I can stand on a stage and say Shakespeare's words or Burns' words or play someone else's music and that is considered art. That is just wrong."
"By doing these clubs, I have managed to do solo shows and have built up an audience.
"When you perform at The Stand you also get the opportunity to perform with Kevin Bridges and Frankie Boyle.
"That's the level you get to work at by performing in these clubs. They harness talent, they promote us and at the Fringe they make it viable for acts like me to get that first Fringe experience to go on to play bigger rooms. These clubs support Scottish talent in Scotland. Like every other comedy club in Scotland, they have been left high and dry.
"If you've got a couple of quid, please donate. But if you have a bit of spare time this week and you're sat at the laptop and feel as strongly as I do about this, fire off a quick email to your MSP asking them to support comedy in this country.
"Help us to try to get funding, help us try to keep going. We are going to be the last out of Covid. When we do open up clubs might not be able to survive. We've got a wonderful comedy heritage. Let's not have it taken off us."
Mark Nelson, former Scottish Comedian of the Year, said: "The government is very happy to shout loud about Scotland's creative industries when it benefits them, yet quite happy it seems to see so many sectors disappear.
"That they can't see the money these industries bring to the economy as well as the benefits in mental health is baffling to me. We desperately want to work, the government are not allowing us to work.
Gilded Balloon artistic director Katy Koren, who is on the Association of Scottish Comedic Arts taskforce and is the Scottish representative on the UK-wide Live Comedy Association, said: "A few weeks ago we had the opportunity of a meeting with the Scottish Government and Creative Scotland and as a result sent them figures for a support package required by comedy venues.
"This support is vital for venues who actively support all forms of comedy to be able to continue to operate throughout this crisis and when we are allowed to open with very strict guidance in place.
"We're passionate about providing a platform for grassroots comedy in Scotland and urgently need this support as many of our jobs are at risk."
A spokeswoman for the Scottish Government said: "We do not underestimate the devastating impact this pandemic has had on Scotland's diverse culture sector, particularly those who rely on audiences and live performances.
"At the outset of the pandemic the Scottish Government worked quickly to provide a wide range of significant financial support, including grants for self-employed people through the Newly Self-Employed Hardship Fund and the Creative, Tourism and Hospitality Hardship Fund.
"We know that there is still a need for support, particularly in those sectors who cannot yet reopen fully. We are considering how best to support those sectors, and have been speaking with the Live Comedy Association to understand their needs."
A spokeswoman for Creative Scotland said: "We are aware that there has been some confusion as regards the eligibility of comedy for the routes to support that we offer.
"To address this, we have recently made a few changes including updating the FAQ section of our website and posting a detailed thread on our social media channels.
"For clarity, we recognise comedy as an art form and provide support in a variety of ways, including support for writing, practice development, performance and production.
"Our support for comedy is delivered across a range of artforms including theatre, physical performance, music, film and spoken word.
"We provide funding to a large number of venues, organisations and festivals who deliver comedy through their programmes, for example Tron Theatre (Glasgow), Eden Court Theatre (Inverness), The Beacon (Greenock), Aberdeen Performing Arts and the Edinburgh Festival Fringe.
"Individuals and organisations involved in comedy are welcome to apply to our 'Open Fund.' Applications are assessed against published criteria, assessing artistic and creative quality, public engagement, effective management and the financial viability of the project from the information provided.
"Applicants are required to make the case for public funding by demonstrating their vital contribution in increasing quality and access to their work.
"It is worth noting that, historically, we have not received many applications for support from individuals involved in comedy, such as stand-up performers.
"We are currently engaging in ongoing and positive discussions with the sector."