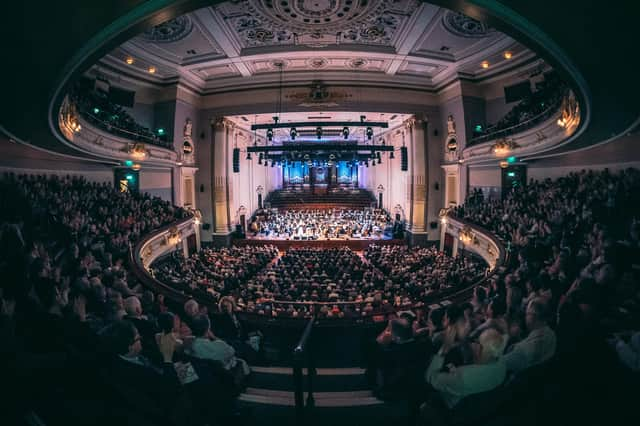 The 75th anniversary of the Edinburgh International Festival, which is staged at venues like the Usher Hall, will coincide with Festival UK 2022. Picture: Clark James
The National Theatre of Scotland, the Edinburgh International Festival and Dance Base, in Edinburgh, have responded to calls to withdraw from an event which has been dubbed the "Festival of Brexit" by critics since it was announced by then Prime Minister in 2018.
Campaigners say organisations and artists accepting funding to plan events will effectively be endorsing intolerance and will "whitewash the UK's endemic racism using our cultural capital.
However the £120 million festival has won the enthusiastic backing of the Scottish Government, which encouraged arts organisations to put forward proposals when applications for funding opened in September, and has been promoted by VisitScotland.
Jackie Wylie, artistic director of the National Theatre of Scotland, has described Festival UK 2022 as "an exciting opportunity" for the company. Picture: Eoin Carey
Scotland is heavily represented in the 30-strong longlist of creative teams bidding for up to £10 million if their programmes make it to the final 10 in the festival, which is being overseen by Martin Green, one of the key figures involved in the opening ceremony of the London Olympics.
Two Scottish teams led by NTS and Glasgow's Celtic Connections festival also involve the EIF, V&A Dundee, the Edinburgh International Science Festival, the traditional arts group Fèis Rois and Aproxima Arts.
The other bids include the Royal Botanic Garden, Edinburgh-based arts centre Dance Base and the Creative Dundee collective.
However the Migrants in Culture group wants the entire festival called off, stating on its website: "We reject the use of culture as nationalistic branding. Cultural workers are compelled to act as ambassadors for UK soft power in order to access this funding."
A team including Dance Base in Edinburgh's Grassmarket has been awarded Festival UK 2022 funding. Picture: Steven Khan
Writer and director Jen McGregor said: "Disappointed to see @NTSonline and @edintfest involved with the renamed Brexit Festival.
"Slapping a new name and some marketing copy on an event born of xenophobia, lies and hostility should not make it palatable. What message are you sending by enabling its success?"
Theatremaker Theresa Dewa said: "This festival makes many immigrants and migrants in the Scottish arts community feel unwelcome. This is actively harming the community in Scotland. It is not helping it."
Playwright Catrin Evans said: "I get that small organisations trying to survive might be pushed to go for this, but the big hitters - the ones constantly claiming internationalism - it's just hypocrisy."
A statement posted by the NTS said: "NTS, @edintfest and partners would not associate with a festival that represented or promoted xenophobia or divisive politics in any way.
"Festival UK 2022 is being led by Martin Green who has an exemplary track record in delivery large-scale, inclusive cultural projects for the benefit of millions.
"We're pleased to have the opportunity to devise projects that would benefit artists and communities across Scotland."A statement issued by the EIF said: "Festival UK 2022 is now independently run and backed by the four governments of the UK.
"We believe it is very much in line with our founding values, whilst also providing a valued source of funding for individual artists."
Dance Base chief executive Jim Hollington said: "Our role is to support the success of dance in Scotland. To reject out of hand being part of a project that could bring millions of pounds to support dance and dance artists would not be right."