Lammermuir Festival review: The Marian Consort & Lizzie Swarbrick, St Mary's Parish Church, Haddington
Two Lammermuir Festival events at St Mary's Church in Haddington transported audiences back to the 15th and 16th centuries, writes Ken Walton
The Marian Consort & Lizzie Swarbrick, St Mary's Church, Haddington ****
Awe and mystery accompanies the noble sight of Haddington's medieval cathedral-like Church of St Mary. Sitting proudly on the river's edge, visibly bruised and battered, it speaks of a turbulent, destructive past, but also a determination to survive. Fifty years ago the people of Haddington completed an ambitious project to reinstate its ruined transepts and chancel. That resilience was celebrated over two events on Saturday at the Lammermuir Festival.
Both featured Edinburgh University academic Lizzie Swarbrick, an expert on Scottish medieval architecture, and vocal ensemble The Marian Consort. The combined insights into the mood and music surrounding one of St Mary's rosiest periods – the fruitful decades before the catastrophic 1548 siege of Haddington – were well suited to the sunniest of September days.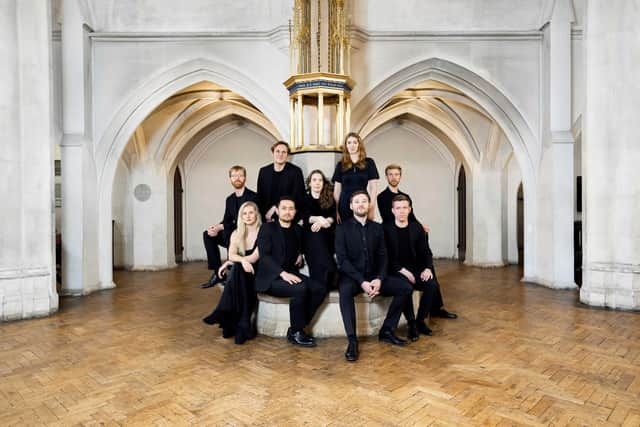 Swarbrick played the tourist guide for the afternoon event, a musically-illustrated walking tour of various key stations, including the old altar sites. If it was a challenge to match the image of a richly ornate 15th and 16th century St Mary's with today's starker interior, plentiful colour flowed from the music, from luminous plainchant to exquisite motets by composers of the period: Tye, Willaert and an intricate anonymous Magnificat from Scotland's Carver Choirbook. Rory McCleery's choir struck gold in performances that matched pitch-perfect intimacy with sublime sophistication.
The evening concert was built around the framework of the anonymous Missa Felix namque (from the Dunkeld part books) with brief interjections by Swarbrick. The Mass, businesslike to begin with, blossomed in the Sanctus and Agnus Dei, but the real jewels were the motets – Jachet of Mantua's ruminative Descendi in hortum meum, Josquin's elaborate Benedicta es caelorum Regina and the fervent fullness of Lupi's eight-part Salve celeberrima virgo, enriched by the Consort's ripe precision.