Lammermuir Festival: Marian Consort to transport audiences to 16th century Scotland
As part of this year's Lammermuir Festival, the Marian Consort will be exploring rarely performed Scottish music from the Renaissance, writes David Kettle
East Lothian's Lammermuir Festival seems to get bigger and better every year, and showcases an ever stimulating mix of international and local musicians. This year's programme boasts violinists Antje Weithaas and Alina Ibragimova plus harpsichordist Mahan Esfahani (featured artist across no fewer than five concerts), the Maxwell Quartet and the BBC Scottish Symphony Orchestra. Two of this year's events, however, focus in more tightly on Scottish music from a few centuries back – and might even provoke a bit of a rethink.
"Scottish Renaissance music is hugely under-represented," says Rory McCleery, "simply because not a lot of it survives. There's so little that people tend to assume there wasn't any at all – which just isn't true. It's a great shame." McCleery is an Edinburgh-born countertenor and choral director, and artistic director of crack small-scale choral group the Marian Consort, which performs at these two Lammermuir events. "There's a bit of a nationalist streak to these performances, too, because we're flying the flag for Scotland by performing some of that early music."
The first of these new-light-shedding performances takes one of the festival's key venues – St Mary's Church in Haddington – as its inspiration. The building dates right back to the 14th century, and it served as one of the focal points of the Siege of Haddington during Henry VIII's "rough wooing" of Scotland two centuries later, suffering heavy damage as a result, though major restoration work took place 50 years ago.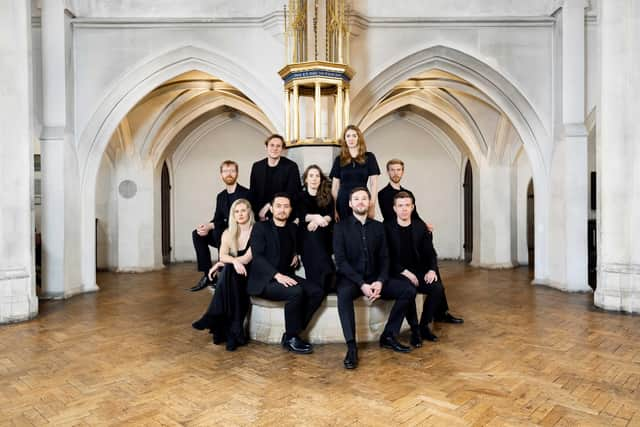 "We're interested in what it would have been like in a space like St Mary's in the 16th century," McCleery explains. "There would have been so much going on." Accordingly, the Consort's afternoon event on 9 September is a collaboration with historian Lizzie Swarbrick that explores – literally – the building itself, as well as its colourful, eventful history, and the music that might have been heard inside it. "We've chosen music from that period that would have been known in St Mary's and its many altars, sponsored by local guilds and other organisations – so bits of plainchant, Scottish music, even continental repertoire too."
The continental connections continue in the Marian Consort's evening concert that day, which explores the wealth of music waiting to be rediscovered in what are known as the Dunkeld Partbooks. "They've got nothing to do with Dunkeld, actually – they're probably from Lincluden in Fife. But they're one of only three surviving 16th-century sources of Scottish music. And they contain Scottish music, but also music by French and Flemish composers. There were very strong connections between Scotland and continental Europe at that time – Scotland was much more connected with the continent than England was, for example. We know, for instance, that the Prior of Lincluden went to the University of Paris, and he probably brought a whole load of music back with him, which he would then have copied out meticulously for singing in Scotland. It's exactly the sort of music that was intended to be performed in spaces like St Mary's."
Delving deep into this kind of musical/historical research is meat and drink for a group like the Marian Consort. But how crucial is it for listeners to share this kind of in-depth understanding? "It's certainly not necessary in order to enjoy the music," says McCleery, "but for me as a singer, it helps enormously with questions about performance practice at the time, for example. I think audiences are often very interested in the background, because it does give you an appreciation of the intent behind the music, and the skill and craft of the composers. It's easy to listen to this kind of Renaissance polyphony and think it's very beautiful and ethereal – and in many ways it is – but also detached from human existence. But these places where music was heard were alive, and constantly in use. And many of these composers were writing music that was very immediate, vivid and engaging, and about conveying the message of their words."
The Marian Consort and Rory McCleery perform at the Lammermuir Festival on 9 September at 3pm, 4.30pm and 7.30pm. The Lammermuir Festival runs from 7 to 18 September, see www.lammermuirfestival.co.uk