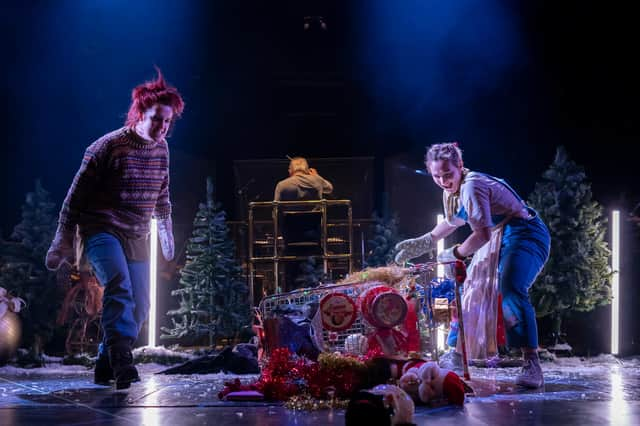 Kitty Whately (Hansel) and Rhian Lois (Gretel) in Scottish Opera's Hansel and Gretel PIC: James Glossop
Like every other working mother with school age children, Kitty Whately's lockdown world is currently a frantic balancing act between home schooling and getting on with the day job. A few weeks ago, the versatile, award-winning mezzo soprano was in Glasgow recording the boy role of Hansel in Scottish Opera's new filmed production of Engelbert Humperdinck's charming family opera Hansel and Gretel. By the time we spoke, the job was done and she was back home in Bedfordshire coping with the educational needs of her two young daughters.
"The teenager's school is well set up for online teaching, but the younger one needs non-stop attention," she explains. Tempting though it is, she wasn't about to send them out into the forest to pick strawberries, as Hansel and Gretel's exasperated mother does, with frightening consequences.
Her Scottish Opera stage debut (she last appeared with the company in its 2015 Edinburgh Festival concert performance of HMS Pinafore) was always on the cards, originally for a main scale live production planned pre-pandemic, but resurrected last-minute as the latest in a resourceful run of opera film productions that have kept the company active and in the public eye. "It was a bit of a scramble to learn the part," Whately confesses. Both she and Rhian Lois (playing Gretel) were new to their respective roles."
I first saw Whately, daughter of TV actors Kevin Whately and Madelaine Newton, in English Touring Opera's 2012 production of Rossini's Barber of Seville in Perth, and found her Rosina to be "a spirited portrayal that combines frivolity with affectionate vulnerability."
Prior studies at London's Guildhall School of Music and the Royal College of Music had already been crowned by a first prize win in the 2011 Kathleen Ferrier Awards. As a BBC New Generation Artist (2013-15) she soon became a familiar figure on the UK recital circuit, most recently in highly acclaimed solo performances at the Wigmore Hall.
But driven by her true passion – "I knew by the age of 13 I wanted to do opera" – her operatic career took off big time, with key roles around Europe and the UK, including her Royal Opera debut in 2017/18.
If that seems a tall order for a working mother – she's married to operatic tenor Anthony Gregory – Whately thanks her lucky stars that her career has evolved in such a diverse way. To some extent it's been a lifeline. "Who knows what opera companies are going to survive this," she says. "My husband exclusively sings opera and he's had nothing, just one concert since March. That's very depressing and financially crippling."
"I've been lucky in that I do a lot of song recitals, mostly streamed events, so I ended up being quite busy over the autumn period." She has performed twice at the Wigmore Hall, in Oxford, and in an Irish National Opera concert. "But for so many of my colleagues it's been the opposite, just a desert."
Also keeping Whately occupied has been her campaigning work running SWAP'ra (Supporting Women and Parents in Opera), a charity she cofounded with four female operatic colleagues to address the prejudicial disadvantages facing young mothers in the opera industry. "With everyone in the industry becoming unemployed, that's become our full time jobs at the moment," she says.
"Obviously we're also very concerned as an industry that we're going to lose a lot of work on the continent due to Brexit. Fees are so much higher there and working conditions are more family friendly. But maybe that situation will encourage opera companies here to cast British singers more."
Expect the same gung-ho optimism from this new Scottish Opera Hansel and Gretel, directed by Daisy Evans and conducted by David Parry. "I think it's going to look wonderful and modern," promises Whately. "We're kind of hippy, vegan, woke, a kind of caravan dwelling family. Hansel has dreadlocks instead of a close-cropped wig, which is lucky because I've got masses of hair."
Scottish Opera's film production of Hansel and Gretel is available to view for free on the company's YouTube Channel from 10 February. Full information at www.scottishopera.org.uk
A message from the Editor
Thank you for reading this article. We're more reliant on your support than ever as the shift in consumer habits brought about by coronavirus impacts our advertisers.
Joy Yates, Editorial Director