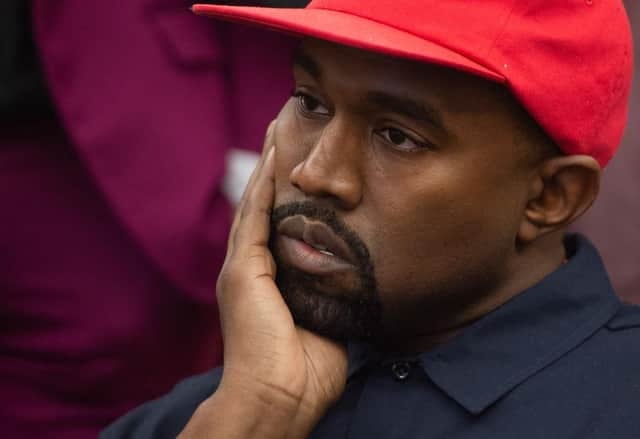 West appeared in South Carolina wearing a bulletproof vest and with 2020 shaved into his head, addressing the crowd without a microphone.
The rapper covered topics like abortion, religion and homelessness during the rally, and announced he will be running as a candidate for his self-proclaimed "birthday party".
Since then, the rapper's Twitter account has once again become the subject of much debate, with fans worried West could be in the middle of a serious bipolar episode.
Things came to a particularly noteworthy head on Monday (20 July), when West posted and deleted a series of tweets claiming that his wife Kim Kardashian was trying to get him hospitalised.
What did Kanye West say on Twitter?
"Kim tried to bring a doctor to lock me up with a doctor," he tweeted. "If I get locked up like Mandela, Ya'll will know why."
During the social media outburst, West also claimed that the movie Get Out was based on his life, and asked his mother-in-law Kris Jenner to call him.
He also appeared to end his marriage to Kardashian, saying: "I been trying to get divorced since Kim met with [rapper Meek Mill], at the Waldorf for "prison reform."
West deleted almost all of the tweets, leaving up only one, promoting his upcoming album, DONDA.
"Ima focus on the music now," he said, further fuelling speculation his presidential 'run' is simply a publicity stunt for his new record.
Kardashian reportedly first met American rapper and activist Meek MIll in 2018, when the pair were speakers at the star-studded Inaugural Criminal Justice Reform Summit in Los Angeles.
Meek has also praised Kardashian in the past for using her celebrity status to do "good work" for the prison reform cause.
But West seemed to hint his wife had been unfaithful in the past, saying: "Meek is my man and was respectful... That's my dog... Kim was out of line..."
"I'm worth 5 billion dollars and more than that through Christ... But ya'll ain't listen to MJ and now ya'll believe them???"
What did Kanye West say at his rally?
Appearing unscripted, West's rally speech often went off on tangents, with the rapper even having long debates with audience members.
He said that abortion should remain legal, but there should be financial support for new mothers - suggesting that "everybody that has a baby gets a million dollars".
He said: "It takes a village to raise a child. Society has been set up for single mums not to have a village, to not have a child."
West also cried when discussing how he was almost aborted by his parents, saying: "There would have been no Kanye West, because my dad was too busy."
He added: "I almost killed my daughter… even if my wife were to divorce me after this speech, she brought North into the world, even when I didn't want to."
It's been reported that West's acknowledgement of this personal family matter has caused a rift between him and Kardashian, who did not give permission for the information to be made public.
The Kardashians are reportedly "incredibly worried" about West, who could be experiencing a serious bipolar episode.
In 2016, West was hospitalised for a "psychiatric emergency", and has been public about his bipolar disorder in the past, telling David Letterman in a 2019 interview that he feels a higher connection with the universe when he's "ramping up."
What has Kim Kardashian said?
Kim Kardashian spoke out on Instagram about her husband on 22 July, explaining how his condition affects him and asking people to be understanding.
She said: "As many of you will know, Kanye has bipolar disorder. Anyone who has this or has a loved one in their life who does, knows how incredibly complicated and painful it is to understand.
"I've never spoken publicly about how this has affected us at home because I am very protective of our children and Kanye's right to privacy when it comes to his health.
"But today I feel I should comment on it because of the stigma and misconceptions about mental health."
Kardashian went on to explain that those who understand mental illness know that families are "powerless" and some people can be "judgemental".
She continued: "I understand Kanye is subject to criticism because he is a public figure and his actions at times can cause strong opinions and emotions. He is a brilliant but complicated person who on top of the pressures of being an artist and a black man, who experienced the painful loss of his mother, has to deal with the pressure and isolation that is heightened by his bipolar disorder.
"Those who are close with Kanye know his heart and understand his words sometimes do not align with his intentions.
"Living with bipolar disorder does not diminish or invalidate his dreams and his creative ideas, no matter how big or unattainable they may seem to some.
"That is part of his genius, and as we have all witnessed, many of his big dreams have come true."
"We as a society talk about giving grace to the issue of mental health as a whole, however, we should also give it to the individuals who are living with it in times when they need it the most."