Outlander is the time-travelling series that has captured fans across the world.
Starring Scots actor Sam Heughan as Jamie Fraser, and Caitriona Balfe as Claire Fraser, loyal watchers of the show have followed the couple from season one through to season five.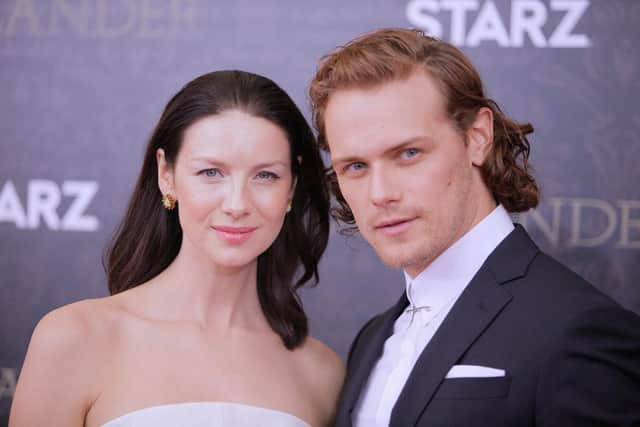 In the meantime, you are able to re-watch all previous seasons online so you're up to speed for when the latest season finally drops.
And first-time watchers will also have time to binge-watch seasons one to five, before watching season six when it airs.
Here's where you can watch Outlander - and when season six might be released.
How can I watch Outlander online?
United States-based fans of the show are in luck, as the first three seasons of Outlander are available to watch on Netflix, with the fourth season dropping in January.
However, UK watchers are not able to watch the fantasy show on Netflix just yet - but there are other ways to view.
All five seasons are available on Amazon Prime Video. As long as you have an Amazon Prime membership, you will be able to watch the show there.
If you don't have a Prime membership, you can still watch by paying for each season. One episode is £2.49, whereas a full season is £9.99.
The popular Outlander series is based on the books by Diana Gabaldon.
The series begins as former Second World War nurse Claire Randall is accidentally transported back in time to 1740s Scotland.
There, she meets Highlander Jamie Fraser - and the adventure and romance begins.
Their passionate love affair takes place during the time of the bloody Jacobite risings.
The show has become immensely popular both in the UK and internationally, and has triggered huge interest in Scotland, the country's history, and the locations where filming took place.
When will Outlander season six be released?
We know for definite that season six is happening, as Starz confirmed two years ago that Outlander would return to our screens, but there is no concrete release date yet.
Scots actor Sam Heughan, who plays Jamie, hinted at the end of December that the team had started preparing for production as he gave fans a sneak peak of the show's costume collection.
Posting a video on Twitter, Heughan said: "The Outlander costume department is VAST!! Lots of coats, kilts, dresses, corsets and hats. We are prepping for 2021 and season 6!
Now just need to find the way out…"
Speaking on This Morning in November, Heughan said filming had been due to start in May but it had been delayed, presumably due to the coronavirus pandemic.
The actor revealed in March that the cast had been given their first scripts, yet Covid-19 stopped everything in its tracks.
However, fans will be excited to know that the cast have had fittings and have now read through their scripts.
People won't have to experience a Droughtlander forever, as it is rumoured filming will begin in Scotland this January.