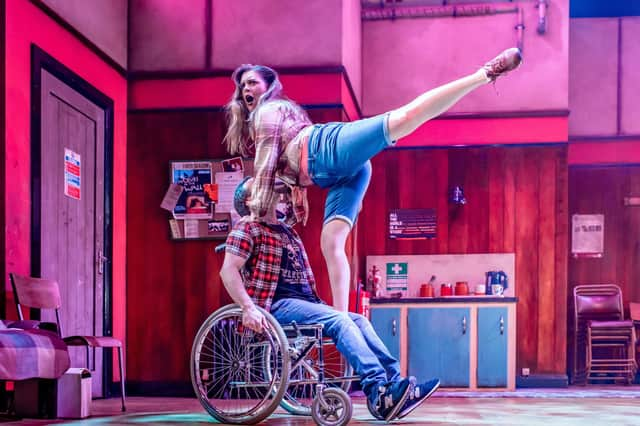 My Left / Right Foot - The Musical (2019), image by Mihaela Bodlovic
Dundas, who lives in Edinburgh, suffers from two long-term and fluctuating conditions: fibromyalgia and ME. The first causes chronic pain and fatigue, the second a crushing flu-like exhaustion and post-exertional malaise, which means, if she does any activity - from going to a show to chatting to friends - she risks being wiped out for some time afterwards.
These conditions have an impact on her as both a consumer and creator of art, making it more difficult for her to attend promotional events and writers' retreats.
After the publication of her novel Goblin - which won the Saltire Award for First Book of the Year - she was invited to appear at the Wigtown Festival. "Travelling to Wigtown was exhausting," she says. "The organisers were great - they allowed me to stay two nights which is the only way it would have been possible, but while abled authors could go to lots of events, plus do their own event, plus network, that was not possible for me."
For Dundas and other disabled artists the restrictions caused by the pandemic have been a double-edged sword. Many with underlying conditions were forced to shield, but it has also created new ways of working. With live public gatherings impossible, theatre productions and literary events have moved online, allowing those with disabilities to access them for the first time.
"It's made such a difference," says Dundas. "Someone on Crip Collective [an informal Facebook group for disabled artists] said: 'This is the first time I have felt included in society and culture.'"
One of the events transformed by Covid was the Edinburgh International Book Festival. In previous years, author readings and conversations were streamed, but there was little marketing, so it was not widely known or accessed. This year, it was all virtual and free, opening it up to new audiences.
Director Nick Barley says he had always focused on improving accessibility, winning a Euan's Guide award for accessible venues three years in a row; yet moving online still proved an eye-opener. "What started to come through in the chat rooms was extraordinary," he says. "People were saying: 'I have a lung condition. I am too scared to leave the house, but now I can attend as many events as I want'. We started to realise there was a whole category of people who wouldn't have been able to come to Charlotte Square whatever measures we had put in place."
The shift online has, arguably, levelled the playing field for disabled artists, allowing them to be more integrated into the wider arts scene.
Sasha Saben Callaghan is an Edinburgh-based visual artist and writer who has impaired mobility and uses a walking frame. The physical challenges she faces leave her feeling excluded. "I remember attending a literary salon in a pub up on the Mound," she says. "It was one of the least accessible things I have ever encountered. And even once you're there, it's impossible to 'work the room'. With a walking frame you can't just casually drop into conversations, and if you sit somewhere looking hopeful it's very unlikely someone will come and have a conversation with you. Imagine, too, if you are neuro diverse, these events must be incredibly daunting. But if you don't go to these things - if you don't make the contacts - you are at a major disadvantage."
Remote working has allowed Callaghan to meet potential funders, commissioners and other artists on Zoom and Microsoft Teams. Over the summer, she had work in four exhibitions, including Shape Open - a prestigious international showcase for disabled and non-disabled artists on a disability-centred theme: something she does not believe would have happened prior to the pandemic.
"It has made my life easier because all these things that would have required huge amounts of effort and planning and expenditure can now be done online," she says. "I have never been busier."
Opportunities have flourished for others too. "There has been an absolute explosion in interest," she says. "The Turner Contemporary at Margate commissioned three artists, one of whom had to be disabled, for a major digital exhibition, and Pyramid Arts in Leeds had a major commission for a disabled artist. It shows that the talent was always there, but this new way of working has facilitated it."
It would be wrong to suggest the changes wrought by the pandemic have improved life for all disabled artists and audiences. "It's incredibly complex," says Milica Milosevic, Head of Equalities, Diversity and Inclusion for Creative Scotland. "Some people say this is great, but actually there are many issues around online accessibility, such as digital exclusion - not everyone is connected to the internet.
"There are also those who say disabled people have become *more* isolated [and cut off from the arts] due to cuts in social care and the cancellation of activities they were able to participate in before. It's a mixed picture and depends on individual circumstances."
AC, whats on my mind, Collage, 2020 (No Going Back to Normal manifesto)
Robert Softley Gale is the artistic director of Birds of Paradise, an award-winning disability-led theatre company. It was forced to cancel a scheduled autumn tour because of Covid-19, though Softley Gale did co-create and perform in a digital show called Come to Bed with Me.
"We have been trying to do things virtually, and that has worked to a degree but live performance is about being in the same room and having a shared experience with someone else, and you can't replicate that online," he says.
He is concerned about the way disabled people have been branded as vulnerable and more susceptible during the pandemic. "All of that's true, but what it's done on a social level is it's made disabled people this other class who need to be protected. And the worry is, once we get back to some sort of normal, how do we start to undo that? If we are victims, people who suffer, that's a difficult message in terms of inclusion and equality."
Even where online working has proved liberating it has been greeted with a mix of relief and resentment. Disabled people have been campaigning for greater access for decades. They are entitled to ask: why did it take non-disabled people to suffer the privations routinely experienced by their disabled peers for anything to change?
"What this pandemic reveals is that the things disabled people had asked for for years and years, but were told were too expensive and too challenging and too minority interest, turned out to be completely possible, and very quickly," says Callaghan. "It illustrates how a lot of barriers are self-imposed on institutions and how the constraints they believe they face are ones that are internal."
Dundas is also conflicted. "Another member of the Crip Collective said: 'Some Covid challenges are simply disability challenges applied to abled people,'" she says. "I do understand people haven't experienced anything like this before, and it must be a shock to them, but, at the same time, disabled people have been dealing with this for ages and no-one has given a shit."
Many middle-class non-disabled people are also getting their first experience of another obstacle for disabled artists: a benefits system that treats them as pariahs and keeps them struggling financially.
"Suddenly, a lot of people who have never had to use the benefits system are realising how difficult and horrendous it is; how they might not even make the criteria; how they might fall through the cracks," Dundas says. "This is exactly what has happened to disabled people over the years and nobody cared."
The rage disabled artists feel about their marginalisation is not new. But the pandemic has made them determined to marshal it; to consolidate any advances and ensure the fresh insight gleaned by the non-disabled acts as a catalyst for change.
It is this determination that drove Not Not Going Back to Normal, a manifesto of visual art, poetry and provocations by disabled artists co-curated by Callaghan and writer and performer Harry Josephine Giles. "What began as a set of workshops around the country to look at the challenges disabled artists face was transformed by Covid into a radical call for accessibility," Callaghan says.
The manifesto pulsates with anger, but also conjures up a vision of a better, more accessible future. So what are disabled artists asking for? And what chance is there of achieving it?
Dundas wants to ensure that, post-pandemic, festivals become hybrid, encompassing both live and digital events, but also that the existence of live-streaming is not used to justify a failure to invest in greater physical access.
"One of my main issues with the publishing world, and the arts in general, is that disability either isn't thought about or it's an add-on," she says.
"But I think it should be at the core of organising events. Things like wheelchair access, BSL signing, quiet rooms for people with sensory issues - these should be the norm, and disabled access should be clearly advertised because always having to ask about access makes you feel like you are a problem, and it's exhausting."
Callaghan says current funding is piecemeal, with disabled artists surviving from commission to commission, and complains about the lack of studio space that is both accessible and affordable, especially in Edinburgh.
She would like to see more support from Creative Scotland. "Creative Scotland currently buys into Unlimited, a London-based arts commissioning programme for new work by disabled artists," Callaghan says. "I am not knocking Unlimited. It's a great programme and the people who run it are really good, but buying into it is a quick fix. It is astro-turfing - a substitute for having an actual disabled arts movement and network in Scotland that's coordinated in the same way as Disability Arts Cymru in Wales."
Callaghan also believes Creative Scotland should follow Arts Council England in imposing financial penalties on regularly funded organisations which fail to meet their accessibility and inclusivity targets.
"Creative Scotland is setting up an equality and diversity advisory group, with a rotating membership, and that's OK, but they need to look at who is on their board because disabled people are under-represented and for fundamental change you have to start at the top," she adds.
More broadly, there is pressure from the arts community generally - and disabled artists particularly - for the introduction of a Universal Basic Income (UBI), which would remove the need to navigate the benefits system and tackle the financial instability that so often stunts creative output.
"I think arts organisations from book festivals to Creative Scotland and the Scottish Book Trust should be actively involved in lobbying for UBI," says Dundas. "It would make such a difference
to people working in the arts- to disabled people, working class people, anyone living in poverty."
On the plus side, a number of positive initiatives are ongoing. Birds of Paradise has been holding online events with theatre makers keen to make their work more accessible and the company recently announced a research project which will look at what the performing arts industry in Scotland can do to make "Relaxed" performances more accessible for neuro-divergent people.
Some within the non-disabled arts establishment are also looking to build on their pandemic experiences. Barley, for example, says future Edinburgh International Book Festivals will be hybrid events - both to improve accessibility for disabled authors and audiences, and for ecological reasons.
"If we continue to have a virtual element to our programme, it means a disabled author can participate from their own home, but also that authors abroad don't need to fly half-way across the world to appear," he says.
There are issues to be resolved. How to make it pay, for starters. This year's online events were free, but in the long term a way would have to be found to cover costs. Barley says he is looking at several models, including a season ticket where a flat rate buys unlimited access, or a small minimum fee, with the option of paying more if you can afford.
And how do you attract people to a physical venue if your author is not in the city? "It will be up to me to ensure the events are unmissable," Barley says. "If I can persuade Nicola Sturgeon to come onstage to do the interview then maybe it won't matter if Margaret Atwood is on a screen."
At Creative Scotland, Milosevic acknowledges disabled people are still under-represented and that more needs to be done. The organisation has recently invested in projects such as Diverse Critics, which supported the career development of four disabled arts writers, and Creative Licht, which aims to upskill BSL/English interpreters working in theatre.
Later this week, there will be a meeting with Callaghan and Giles to discuss Not Going Back to Normal, which Creative Scotland funded. "The manifesto is a brilliant programme of activities, deep thinking and critical exploration," Milosevic says. "One of the key priorities for us is to hear the voices of disabled artists and to be open to new ideas."
For the last couple of years, Dundas has been channelling her anger over the stigmatisation of disabled people into her second novel HellSans which is set in an alternate universe.
"HellSans is a ubiquitous typeface," she explains. "Most people experience a bliss in reaction to it, but there is a minority underdog who are allergic to it and are treated in the way disabled people are treated now under a Tory government: as deviant and marginalised.
"It is my way of exploring the dystopia disabled people have been living in for 10 plus years but also a sci-fi thriller. The story comes first; it's not me just preaching at people."
Having endured a tough fortnight, when pain levels were high and energy levels low, she continues to worry about how disabled artists will fare in a post-pandemic world. Will the brief brush the non-disabled have had with lockdown lead to change? Or will their new-found empathy evaporate, and the dystopia continue?
"I fear there has been too much in the literary world of 'I can't wait to get back to normal - back to networking in pubs'," the author says. "I am like: 'Don't leave us behind.' We can't go back to normal. Normal wasn't good for us."
What made iclear it wasn't about money or a lack of ability to do it it was about attitudes we have been hearing that for decades if you have the right attitude then making something more accessible - it's annoying it took a pandemic for that to happen - my takeaway with the right attitude and incentive people have been able to transform how they worked so let's hang on to that , - at the moment it's a very even playing field were going to be doing an autum tour opening at the traverse hoping it does come back off the shelf..did a show alst month at >>>arts centrte online from my bedroom - quite an expoeriement learned quite a lot - things for young people at the Imaginate festival young people
What is clear is that non-disabled people have now had a taste of what it is for a disabled person navigating the world around them, what it feels to be isolated, what it feels like not to be able to access activities, " Milosevic says, "It has been humbling and a time of reflection for non disabled people in the arts."
A message from the Editor:Thank you for reading this article. We're more reliant on your support than ever as the shift in consumer habits brought about by Coronavirus impacts our advertisers.
If you haven't already, please consider supporting our trusted, fact-checked journalism by taking out a digital subscription.