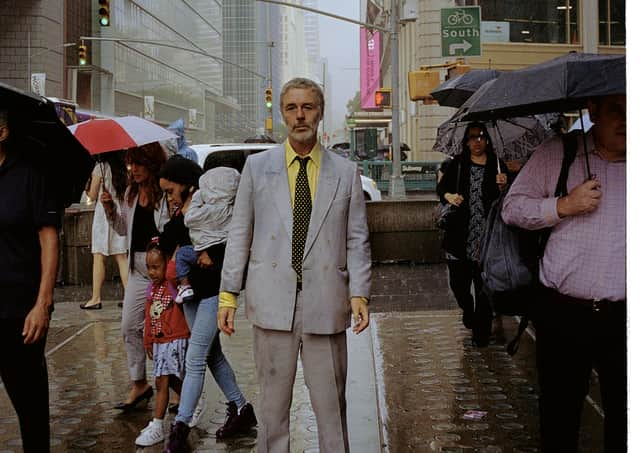 Baxter Dury PIC: Tom Beard
Baxter Dury grew up in a household where soul, funk and jazz was the name of the game. Early rock'n'roll too – as one might expect, given his dad's well-documented love of Gene Vincent. No Beatles or Bowie though – Dury discovered them for himself in his 20s when he was still working out what to do with his life, and following his father, the late, loved Ian Dury, into the family trade was not quite on the horizon.
Instead, there was a stint as a runner on Challenge Anneka ("best job I ever had"). Later, there were four months at film school in New York, just as Mayor Giuliani was cleaning up the streets like a corporate Travis Bickle. Dury is still a movie nerd; just check out the video for his current single, I'm Not Your Dog – an enigmatic little number which tracks a lumbering Dury along a beach at twilight – and feel the filmic force.
Anyway, the point is that it might have taken Dury Jr decades to show the world that he is his father's son but eventually the confidence he displayed as a five-year-old on the cover of his dad's brilliant debut album, New Boots and Panties!! was poured into his own music career, along with all of that audio-visual education, and not a little of Dury Sr's ability to spin a yarn.
Dury has been making and releasing his own music for almost 20 years now but it has been a slow-burn charm offensive. His first semi-public singing appearance was performing some Blockheads songs at his dad's funeral in 2000, spurring an EP, Oscar Brown, in 2001. His 2002 debut album Len Parrot's Memorial Lift sounds like it could have been plucked from his dad's compendium of character sketches.
"There's a lot of DNA there, isn't there?" he says. "It's not surprising, but even though everyone says I sound like my dad, it's not a barrier."

Far from it, Dury has developed his own idiosyncracies over subsequent albums, carving pithy ditties out of behavioural observations, and setting up a deadpan call-and-response dynamic between his half-spoken baritone drawl and the distinctly unimpressed blank tones of his female backing vocalists over stealthy, slightly sleazy synthesizers which always seem to suggest some sort of mischief is afoot.

"Song is quite an abstract form of storytelling," he says. "It's not meant to be too accurate. You need to allow songs to be quite mysterious. You might not relate to the detail, you might relate to a word backed up by a melody, but something will get to you."

Where his dad often went for the lyrical jugular, he is considerably more louche and laidback in his droll skewering of social mores. Britain properly caught the Baxter bug following the release of his 2017 album, Prince of Tears, and its lead single, Miami, by which point he had built an audience in Europe – especially in France, where Dury has been hailed as an English Serge Gainsbourg.

His latest album, The Night Chancers, will do nothing to dispel that sense of crumpled chic. With its ambivalent celebration of seedy characters and dissolute dealings, it's a concept album lurking in the shadows – if that's not too dirty a description.

"Maybe it's a dirty word historically because of awful music," says Dury. "But I think if something is tied together loosely by a theme you're allowed to accuse it of having a concept. It's a post-break-up album about me living my life, and most of my life is on tour or being a dad and some of the little moments in between.

"So it was just a bunch of songs written, inspired and sourced by similar experiences at the same time, documenting everyday life, or nightlife. My intention was to deliver a bunch of accountable stories – but quite quickly in a way that doesn't test your patience."

In that respect, The Night Chancers is more like a vivid short story collection. Its semi-voyeuristic vignettes often feature amplified versions of Dury, trying to make sense of it all, whatever "it" is.

"I'm viewing it, I'm talking about it, I'm not judging it and I'm not always saying it's me," says Dury. "I'm a lot less sleazy than sometimes what is projected, but I quite like toying with the idea of that character. This stuff is about the adventure of looking for romance, and a lot of time I talk about those failures because they make better copy basically. I'm a voyeur about myself and other people because that's just how I look for information."
Dury certainly gives the impression of someone who might fall into scrapes of an evening, and he's not hugely at pains to disabuse anyone of that notion.

"I've never lived an orthodox life but I live a surprisingly normal life," he says. "I like being at home and I look after my son [Kosmo, now in his late teens and well into The Beatles by the way] but then I'm interested in the irregular people at night as well. I really like nutters, I'm good around nutters. I'm not madly druggy, I don't necessarily want to be captured by that world. I want to keep sober and vain enough for me to be able to observe it clearly.
But I still want to go into it sometimes. I like to be involved when no one is looking…

"Someone teasingly told me 'Baxter, you're like Jane Austen'. They were obviously a bit delusional, I'm not Jane Austen, but she would write about the mannerisms and interactions of the community she was part of and I like that idea. That's what I'm talking about, the mannerisms and the interactions."

With that eagle eye for detail and charisma to spare, surely it's only a matter of time before Dury builds on his performance in the I'm Not Your Dog video and takes on some acting work.
"I'd lap it up if someone asked me," he says. "I fact, I'm going to pursue that when the bottom falls out the music industry and I'm looking for a new job."
The Night Chancers is out now on Heavenly Recordings.