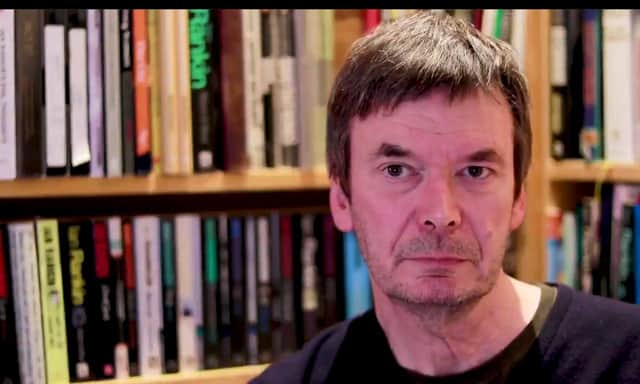 Ian Rankin was speaking at the first online incarnation of the Edinburgh International Book Festival.
The best-selling author says most of his favourite "small old-fashioned bars" have failed to reopen in the wake of the lockdown.
He has raised concerns that social distancing will be impossible to enforce at the Oxford Bar, the celebrated New Town watering hole which features in his Rebus novels.
Rankin has also complained that going to the pub to socialise is "just not the same now" due to strict rules over having to book a table and not stand at the bar and chat to strangers.
Speaking during an Edinburgh International Book Festival interview, Rankin recalled the "pretty grim" experience of walking from his flat to have a can of beer outside the locked-up Oxford Bar on his own to celebrate his sixtieth birthday.
Asked how much he had missed being able to go out for a pint, Rankin said: "It was sore. It still is sore, because the Oxford Bar is still closed. You can't socially distance there. It is tiny. I don't know how they'll get around it if they ever do.
"A lot of my favourite bars in Edinburgh are small, old-fashioned bars. The vast majority of them are still closed.
"Even if you do go to a pub it's just not the same now. You have to book a table, you've got a timed slot, you can't stand at the bar, there's no craic anymore, there's no milling about of lots of people who are going to tell you a joke or give you a pieces of news or information.
"I'm really missing pubs. Ever since I've been a teenager my hobby has been going to the pub.
"My sixtieth birthday was right in the middle of lockdown. I picked up a glass and a can of beer. My one hour of exercise that day was walking to the Oxford Bar, pouring a glass of beer outside the locked bar, drinking it and walking back again."I thought that it would take more than Covid to keep me away from the Oxford Bar on my sixtieth birthday. But it was pretty grim."
Rankin was being interviewed by writer and broadcaster Ruth Wishart ahead of the publication of the new Rebus novel, A Song for the Dark Times, in October.
The event was held a pop-up TV studio created by the book festival in Edinburgh city centre for its programme of online events, which can be watched round the world.
Rankin later took part in a virtual book-signing, another new innovation introduced by the festival, which cancelled its usual event in Charlotte Square Garden in April due to the spread of the pandemic.
The writer revealed that the Oxford Bar does not feature in the new book after he decided to send Rebus to some of the most remote parts of the Highlands to help his daughter Samantha after her husband goes missing.
However he just managed to carry out the research for the trip before the whole country went into lockdown and strict travel restrictions were imposed.
Rankin said: "I wanted to take him out of his comfort zone and also take me out of my comfort zone. I thought: I'm going to take him away from Edinburgh.' There's no Oxford Bar in this book. Once you get past the first few pages, there's nothing that Rebus does that is set in Edinburgh. I take him way up north.
"Originally I was going to take him to Tongue. I drove up there to take a look and thought: 'This won't do. It was a bit too big and bustling.' I went a few miles east. The story is set in a fictitious village, that isn't quite Tongue.
"I was fortunate to the extent that I had did the research after the first draft. In February, I drove up to Tongue and Durness and all round there, and also took a look a Thurso and other places I thought Rebus would need to visit. That was just before the lockdown.
"The plan was for me to sit in a wee house we've got in Cromarty, up past Inverness, to do the writing of the second draft.
"The second and third drafts were written in Edinburgh during lockdown, which was great, because all the extra-curricular stuff I had in my diary, like tours and literary festivals, were gone.
"I could just sit and write, which is what writers usually like to do. It was the way it used to be before folk wanted us to be touring the world all the time and before you had festivals coming at you all the time.
"There was a tiny bit of research I couldn't do. I'd left until the end the stuff that had to be done in Edinburgh because I could just walk out the front door.
"The one thing I needed to do was go to the various car rental places at the airport. Of course, I wasn't allowed to travel far from home while the book was being edited, so I had to make that bit up. One of these days I'll find out how accurate it is."
Rankin has previously revealed that the new book would see Rebus moving house for the first time in the series, which began in 1987, due to the growing impact of incurable lung disease on his health.
However Rankin disclosed that Rebus has only moved down two storeys in his familiar Marchmont tenement.
Rankin said: "I have slowed his clock quite considerably. I wouldn't like to tot up how old he is in human years, but in fictional years, in my mind he is somewhere in his late sixties. He is still physically able to get about, but I've given him COPD. He is in managed decline.
"I thought: 'Rebus has got COPD, he lives up two storeys in a tenement in Edinburgh, he is not going to cope with that any more. He is going to have to move but is not going to want to move very far.'
"At the very start of the book, there's a wee trick I thought I'd play on my publisher and agent. His flat is being emptied by Siobhan Clarke, his one-time colleague. I was thinking they would think that I had done away with him."
A message from the Editor:
Thank you for reading this story on our website. While I have your attention, I also have an important request to make of you.
The dramatic events of 2020 are having a major impact on many of our advertisers - and consequently the revenue we receive.
We are now more reliant than ever on you taking out a digital subscription to support our journalism.
By supporting us, we are able to support you in providing trusted, fact-checked content for this website.