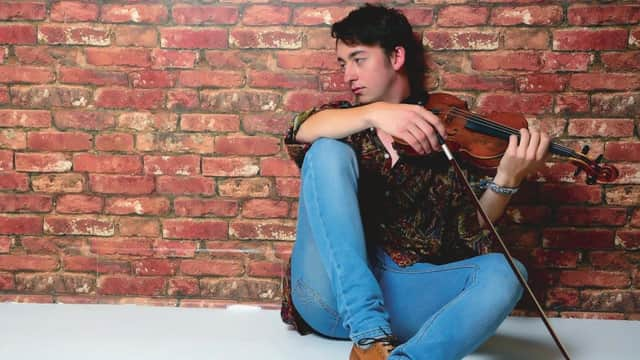 Dominic Imgham
Role Models finds the 26-year-old musician and composer creating imaginative and lyrical music in the company of a quintet including some of his oldest friends and bandmates – vibraphonist Jonny Mansfield, for instance, whom he has known since their days in the National Youth Orchestra, pianist David Swan, who was taught at Edinburgh's St Mary's Music School by Ingham's father, Richard, New York bassist Will Sach and London drummer Boz Martin-Jones.
Richard Ingham is a Fife-based composer and saxophonist with an interest in traditional music and was director of the notably successful 16th World Saxophone Congress at St Andrews in 2012; Dominic's mother, Julia Mills, is also a saxophonist. Little surprise, then, that Dominic, who grew up largely in Wakefield with visits to Fife, while training as a classical violinist and absorbing traditional music through courses with fiddler Alasdair Fraser and playing in a ceilidh band, was also imbued with an appreciation of jazz horns.
"I mainly listen to saxophone players and trumpet players," he says, speaking from Wakefield where he is in lockdown, although the past few years have seen him largely based in London. Jazz violin, he confesses isn't something he's spent a lot of time absorbing: "Maybe because I've listened to so much saxophone and the jazz I really enjoy, then tried to get that on the violin – it's quite fun actually.
"Being on the jazz scene and seen as an equal, doing something on the violin... it's a nice feeling."
As its title suggests, Role Models is something of an homage to those who have encouraged him along the way, both his young contemporaries within the quintet and his wider inspirations, from early listening to the likes of Pat Metheny and Michael Brecker, contemporary US jazzers such as trumpeter Ambrose Akinmusire and saxophonist Walter Smith III, to time spent playing with the Chilean guitarist-composer Camilla Meza's Nectar Orchestra.
"It all comes into one big pool of inspiration," he says, and Role Models certainly suggests a creatively potent mix. Produced by the respected UK drummer James Maddren (with whom Ingham studied at the Guildhall School), the album's first and title track does perhaps reflect some of Ingham's horn input as his opening fiddle flourish is reminiscent of a jazz trumpet fanfare, before the number cruises to a powerful resolution. Mansfield and Swan particularly contribute to the distinctive group sound. In Fall, for instance, vibes ring out a stately, Bach-like progression with Ingham vocalising gently in unison, while the precision of Swan's piano introduction to Phones hints at an Arvo Pärt exercise in minimalist delicacy, before things accelerate into a high-energy excursion with rapid-fire drums and vibes. The closer, Passport, is similarly edgy, violin and drums sparring into a rumbustious fade-out.
Ingham and company should have been launching the album with a tour including gigs at Aberdeen's Blue Lamp and Edinburgh's Jazz Bar earlier this month. Obviously that is on hold, but he is already writing material for a second album. He's also a finalist in the Zbigniew Seifert International Jazz Violin Competition in Poland next month, which will still take place, but online.
The award-winning Jazz Bar, meanwhile, while locked up in these dismal times, has nevertheless risen to the occasion of its 15th anniversary, signalling defiance to the virus with a celebratory, 23-track digital album, To the Jazz Bar With Love, downloadable from its website. Compiled by vocalist Ali Affleck, it features many notable names from Scotland's thriving jazz scene. As the venue's director, Edith Kyle, puts it: "This album marks 15 years of The Jazz Bar and stands as a reflection of the impeccable, vibrant local jazz scene that has developed in that time."