How covid forced community choirs to get back to basics
With communal singing thought to be one of the easiest ways to pass on covid-19, Scotland's choirs have had to find new ways of engaging with members and audiences alike, writes David Kettle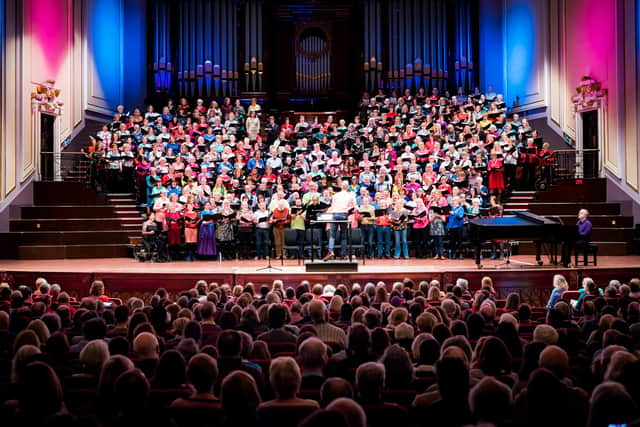 "I used to be music director, but now I'd say I'm music director and DJ. It's almost like presenting a TV show." Conductor Stephen Langston – who directs Glasgow's Merchant Voices Community Choir – is talking about his move to online choral sessions since the Covid pandemic struck. "We're still singing pieces, obviously, but we're also doing quizzes, karaoke, hearing from choir members about what they've been doing, and even having a laugh with some funny photos or YouTube clips."
Diversification is clearly key, as are raising spirits and providing a sense of community that's all but disappeared from in-person lives. But it's a challenging time for community choirs. The well-being benefits of choral singing are well known and well documented. But in a period when they're more needed than ever, amateur singers can no longer meet in person. Worse, singing with others is thought to be one of the riskiest activities in terms of aerosol virus transmission.
It's forced some chorus directors to rethink what their choir is actually for. Katy Lavinia Cooper is Director of Chapel Music at the University of Glasgow, and runs both Scottish Opera's community choir and Madrigirls, featured recently in the Scotsman Sessions. "With the Scottish Opera community choir, for example," she explains, "we'd normally be working towards a concert at the end of each term. But if you can't do that, what are you actually rehearsing for? With the community choirs I work with, we're singing for pleasure, and singing for fun."
Nonetheless, taking choral singing online poses its own challenges. Not least in attendance: though numbers are buoyant, not everyone who's spent their working day in Zoom meetings wants to spend an evening there too. The central challenge, however, is simply making Zoom work for choral singing. Designed for video conferencing, it simply doesn't allow multiple people to sing together, and connection lags make synchronising almost impossible – though Langston has discovered an innovative piece of software, RLS (Rehearsal Live Share), that magically combines individual Zoom feeds into a synchronised whole.
Even singing alone in front of a computer screen offers a very different experience to the warmth and support of being among massed voices, as Stephen Deazley, director of Edinburgh's Love Music Community Choir, points out. "Some of our members faced emotional and personal challenges simply with listening to their own voices. So we did work around accepting what your voice is and celebrating it, rather than feeling it's lacking in some ways."
All three choir leaders agree that taking choral singing online requires far more work for them than conducting live. "It's about a day's preparation to script an hour-long teaching session," explains Deazley. And though he admits being surprised at being able to translate his room-reading skills to the virtual space, he says there are challenges in not receiving immediate musical feedback. "It feels like you're stripped of all the things that make it work in the moment. You don't get the kind of large-scale, participative community payoff until you make a piece of work."
Nevertheless, and despite having had Covid himself early on in the pandemic, Deazley is embracing online choral singing through his broader Love Music charity. His Love Singing project, kicked off in December, explores remote learning and digital rehearsals, connecting five regional Scottish choirs with new works from five Scottish songwriters.
Crucial to the three choir leaders, however, are the continuing benefits of singing for their individual singers – and all report overwhelming positivity. "Lots of people really enjoy our rehearsals' regularity, and we always build in time for people to have a wee chat in breakout rooms," explains Cooper.
There are even lessons from our less-than-ideal times that can be carried forward to the future, Langston explains. "I've already said to the choir that, when we go back to normal rehearsals, I'll expect 100 per cent attendance because I'll broadcast them online at the same time – I just need to put an iPad in front of me on the conductor's stand…"
A message from the Editor
Thank you for reading this article. We're more reliant on your support than ever as the shift in consumer habits brought about by coronavirus impacts our advertisers.
Joy Yates, Editorial Director