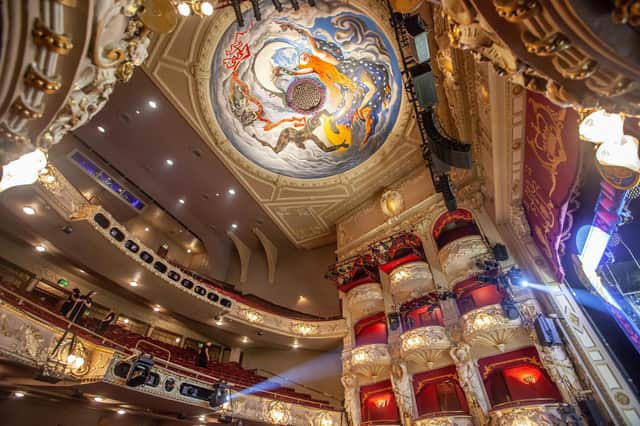 The King's Theatre has been part of Edinburgh's cultural landscape since it opened in 1906.
The trust which runs the Festival and King's theatres has been awarded £168,000 from the National Lottery Heritage Fund to help pay for essential running costs as well as preparations for their reopening.
The money is said to be vital to ensuring that the venues, which are normally used by the Edinburgh International Festival in August, are kept secure and maintained while they are closed to the public.
The King's dates back to 1906 while the Festival, which opened in 1994 after an overhaul of the former Empire Theatre, sits on the city's longest running site for theatre, where the first performances were staged in 1930.
The site of the Festival Theatre in Edinburgh has been home to theatre since 1830.
Capital Theatres has been lobbying for a rescue package for the two venues to bring them into line with support for other theatres across the country.
The Scottish Government has ringfenced £12.5 million to help performing arts centres, including theatres, survive the pandemic crisis.
However the first £7.5 was allocated to venues which on long-term funding deals with Creative Scotland, including the Royal Lyceum and Traverse theatres in Edinburgh, as well as the Tron Theatre in Glasgow, His Majesty's Theatre in Aberdeen, Eden Court Theatre in Inverness and Perth Theatre.
Capital Theatres, which is not part of the "regular funding" hierarchy, runs the two venues on behalf of the city council.
Although theatres have been given the green light to start reopening to the public in mid-September social distancing restrictions are likely to make shows unviable without additional financial support.
The trust has run up losses of more than £2.5 million after being forced to refund tickets for postpone or cancelled shows.
It expects to take a further £2.3 million hit from the cancellation of the annual Christmas panto at the King's earlier this month.
A spokeswoman for Capital Theatres said: "This funding will go towards covering essential costs such as electricity, gas, IT, insurance and maintenance of the theatres whilst they are closed.
"It will also go towards a small element of staff salaries for those who are responsible for ensuring the venues are secure and maintained whilst closed, and who will plan how we can adapt our venues to safely reopen our venues when we are allowed to do so.
Kate Smith, director of development at Capital Theatres, said: "When we closed our venues in March due to Covid-19 we saw a 90 per cent reduction in our income from loss of ticket sales.
"This vital funding from the Heritage Emergency Fund will help maintain our buildings in a safe condition."
Ros Kerslake, chief executive of the National Lottery Heritage Fund, said: "Heritage has an essential role to play in making communities better places to live, supporting economic regeneration and benefiting our personal wellbeing.
"All of these things are going to be even more important as we emerge from this current crisis. Thanks to money raised by National Lottery players, we are pleased to be able to lend our support to organisations such as Capital Theatres during this uncertain time."
The cancellation of the panto and the ongoing closure of the two venues has cast a doubt over a planned refurbishment of the 114-year-old King's.
Due to get underway in September 2021, it has already had to be postponed for a year due to the impact of the coronavirus pandemic.
Fiona Gibson, chief executive of the charitable trust, previously said the King's was facing a "double jeopardy" future with no prospect of being able to stage shows until well into next year and growing uncertainty over when it would be able to start work on a £25 million makeover.
Ms Gibson said a £6 million development fund which was supposed to help pay for the project was having to be used to meet the costs of the temporary closure of the King's and the Festival Theatre.
A long-term refurbishment of the King's, where Dame Margot Fontaine, Maria Callas, Juliette Binoche and Dame Maggie Smith have all performed, has been planned for well over a decade and a new vision for its future was finally revealed in 2018.
The theatre's bars and foyers were due to be overhauled, new dressing rooms and wardrobe facilities created, a never street-level cafe-bar opened up, a new education studio built and a new stage installed to allow the theatre to host a more diverse range of events.