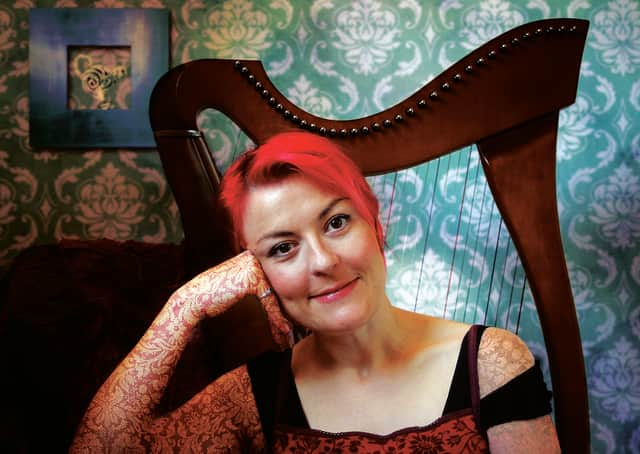 Corrina Hewat will upload a performance for Edinburgh's Virtual Harp Festival PIC: Van Gill Media
However, human resourcefulness, with a bit of help from the wired world, still manages to shine through. One of the earliest events to call off has been the 39th Edinburgh International Harp Festival, due to run at Merchiston Castle School next weekend (3-8 April). Now, however, its organisers are announcing a "Virtual Edinburgh International Harp Festival," with 16 or more of the originally billed artists donating time to the event and filming themselves in performance. The videoed concerts and workshops will be posted on the festival's website and Facebook page over the weekend and will remain accessible, without charge, over the next few months.

Harpists appearing include Scotland's Gillian Fleetwood and Corrina Hewat, Germany's Tom Daun, Justyna Krzyżanowska in Sweden and Welsh player Ben Creighton Griffiths attempting a transatlantic link-up with his swing-jazz duo partner Adrien Chevalier, stuck in the USA.

The virtual harpfest was the idea of the festival's media co-ordinator Rachel Hair, herself a player of note, who says that, as well as the 16 artists and tutors confirmed at the time of writing, the online festival would also give players viewing at home the chance to join in a "100 harpers" event, with the festival organisers publishing the music.

"We'll also be encouraging folk to look at the links below the videos so they can see what books and CDs our artists and tutors have," adds Hair.

"Every little sale helps just now. Each artist is giving their time for free and we're so grateful to them, as the festival has suffered financially due to the cancellation."

One bonus, retrieved from amid calamity, is that the committee was already planning for the harp festival's 40th anniversary next year: "So having this virtual festival means we're still having the 39th so we can have the 40th next year."

The mighty Shetland Folk Festival, also turning 40 in 2021, has cancelled this year's event, while Edinburgh's Tradfest is similarly postponing, though hoping, like the harpists, to stream material. Edinburgh Folk Club, meanwhile, has entered "suspended animation."

The jazz community is similarly blighted, with festival organisers inevitably taking a "watch and wait" stance, while Edinburgh's famous Jazz Bar has ceased operations for the time being. Announcing the closure with regret, director Edith Kyle declared: "Stay tuned. We'll be sharing ways that you can continue to support musicians and the venue."

She has since announced a new blog page on the bar's website, sharing music and links to the bands who were programmed, at the times at which they would have performed.

In his introduction to the Traditional Music Forum's monthly newsletter, its director, David Francis, suggests: "Whenever you stream an artist's music, follow it up with a purchase of their music, from their website or their Bandcamp page. There were the makings of a campaign a year or so ago called 'Boughtify.' It could be the time to fire it up again and help musicians stay afloat in these tricky times."

Meanwhile singer-songwriter Karine Polwart, whose stage show Wind Resistance was cancelled at Edinburgh's Royal Lyceum last week, also points to a music community under stress and calls for mutual solidarity. "Lots of beautiful, connective digital happenings, born of necessity and precarity, are beginning to emerge. Keep your eyes open for Patreon pages, live streams on Instagram and Facebook, and artist auctions."

She pays eloquent tribute to those, from medics to grocery till staff, "bearing the full brunt of societal panic," and looks to that emblematic skein of geese which beats its way through her show: "We are each other's wind resistance, a human skein / And we're not going to make it on our own."
See www.harpfestival.co.uk and www.facebook.com/EdinburghInternationalHarpFestival