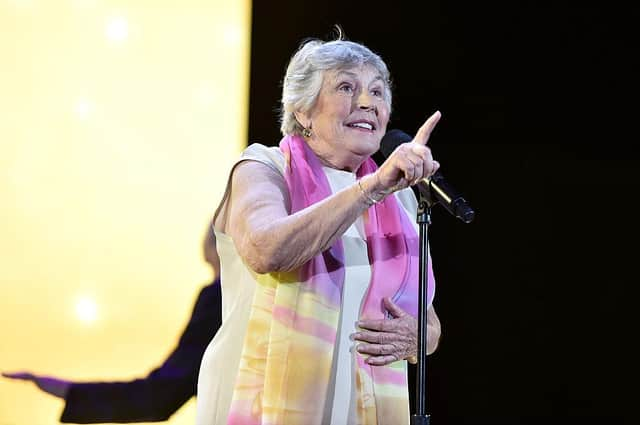 Helen Reddy, best known for her 1972 hit I Am Woman, has passed away at age 78, according to an announcement from her children.
This is everything you need to know about the Australian singer - from her biggest hits to her acting career.
Helen Reddy was an Australian singer, actress and activist who was born in Melbourne in 1941 into a family already working in the performing arts.
Her mother, Stella Campbell, was an actress, singer and dancer, and her father, Maxwell David Reddy, was a writer, producer and actor.
Stella was best known as a regular cast member in a variety of TV series, including Homicide (1964), Country Town (1971) and Bellbird (1967).
She was educated at Tintern Grammar, but at age 15, dropped out to pursue performing with her parents.
She performed throughout her childhood and won a singing competition in Australia that took her to New York in the 1960s to audition for a recording contract. Although the contract fell through, Reddy decided to stay in the US and ended up getting signed to recording label, Capitol Records.
Which songs was she known for?
Reddy had a plethora of songs and albums that made her one of the biggest artists in the world. Her most successful and beloved songs include:
- I Don't Know How to Love Him (1971)
- You and Me Against the World (1974)
In 1972, Reddy won a Grammy for best female pop vocal for I Am Woman - becoming the first Australian to do so.
In 1973 and 1974, she was also the world's top selling female vocalist.
In 1974, Reddy won an American Music Award for Favourite Female Artist and that same year, she also earned a star on the Hollywood Walk of Fame.
By the end of her career, Reddy had had 15 top 40 singles, three number one hits and had sold more than 25 million albums in the United States alone.
In a 2012 interview with The Associated Press, Reddy explained that the massive success of I Am Woman was one of the reasons she stepped away from performing.
She said, "That was one of the reasons that I stopped singing, was when I was shown a modern American history high school textbook, and a whole chapter on feminism and my name and my lyrics [were] in the book.
"And I thought, 'Well, I'm part of history now. And how do I top that? I can't top that.' So, it was an easy withdrawal."
Reddy announced her retirement in 2002, but returned on a few occasions for one-off performances. She performed alongside actress Jamie Lee Curtis and other celebrities at the Women's March in 2017.
What films did she star in?
While known for her music, Reddy also acted in a number of films and TV programmes.
She played Sister Ruth in Airport 1975 (1978), Nora in Pete's Dragon (1977) and Suzi Swan in Fantasy Island (1982).
Reddy would also make appearances as herself in the animated TV programme Family Guy between 2007 and 2011.
In the mid 1980s, she also embarked on a theatre career, mostly appearing in musicals, with notable roles including Shirley in Shirley Valentine, Mrs Johnstone in Blood Brothers, Mrs Sally Adams in Call Me Madam, and Gail Sinclair in Love, Julie.
As well as acting, Reddy appeared as a frequent guest on talk and variety shows, such as Top of the Pops, Match Game and The Tonight Show starring Johnny Carson. Reddy also hosted her own show called The Helen Reddy Show in 1973.
In 2019, a biographical film was made about Reddy's life, directed and produced by Unjoo Moon and written by Emma Jensen. Tilda Cobham-Hervey (Hotel Mumbai, The Kettering Incident) starred as Reddy, and Evan Peters (American Horror Story, X-Men) starred as her second husband, Jeff Wald.
Was she married and did she have children?
At age 20, Reddy met her first husband, musician Kenneth Claude Weate. She was married to Weate between 1961 and 1966, and they had a daughter together, Traci Wald Donat.
In 1966, Reddy then married Jeff Wald within three days of meeting. Reddy and Wald had a son together, Jordan, who was born in 1972. The two divorced in 1983.
In June 1983, Reddy married Milton Ruth, who was a drummer in her band. Reddy and Ruth then divorced in 1995.
Reddy's children announced her death on Facebook, writing, "Statement from Traci Donat and Jordan Sommers.
"It is with deep sadness that we announce the passing of our beloved mother, Helen Reddy, on the afternoon of September 29th 2020 in Los Angeles.
"She was a wonderful Mother, Grandmother and a truly formidable woman. Our hearts are broken. But we take comfort in the knowledge that her voice will live on forever."
Reddy had previously been diagnosed with dementia in 2015, and had been living in a nursing home for professional entertainers in Los Angeles.
As news of Reddy's passing has spread, the internet has been awash with tributes from fans and fellow celebrities alike.
Former Prime Minister of Australia, Kevin Rudd, tweeted, "Helen Reddy was a trailblazer for Australian feminism. She also demonstrated the power of song and music to inspire a progressive movement. 'I am Woman' is one of the great anthems of just such a movement. We honour her remarkable life."
Unjoo Moon, who directed the Reddy biopic, wrote, "Thank you Helen for teaching me to be strong & invincible as an artist, a woman & a mother. You paved the way for so many. The lyrics you wrote for #IAmWoman changed my life like they have done for so many people and will continue to do for generations to come #RIPHelenReddy."
Jamie Lee Curtis shared a video of herself and Reddy at the 2017 Women's March, and wrote, "Honour of my life. Introducing Helen at the Women's March, January 2017! THANK YOU Helen. RIP."
One Twitter user wrote, "Extremely sad news that the influential singer Helen Reddy has passed… I remember her performing in Bristol in the very late seventies in a concert that inspired many of the audience which was clearly evident as the venue was full of complete positivity… RIP to a great lady."
Another tweeted, "Really sad to read about #HelenReddy. I don't like reducing her legacy to one song, but sometimes that's all it takes. I Am Woman was, and remains, an absolutely seismic piece of work, and history."
"I heard at 8am today that #HelenReddy had died and was sad, but I just played #IAmWoman and cried. I remember, at the age of 17, living and working in a man's world, hearing this song for the first time and suddenly feeling empowered. RIP Helen. Your words changed by life," tweeted another.