Hebridean musician to release album of sounds created with outdoor instrument made from plastic tubes
It is the Scottish island where the author George Orwell famously wrote 1984 and the band The KLF notoriously burned a million pounds.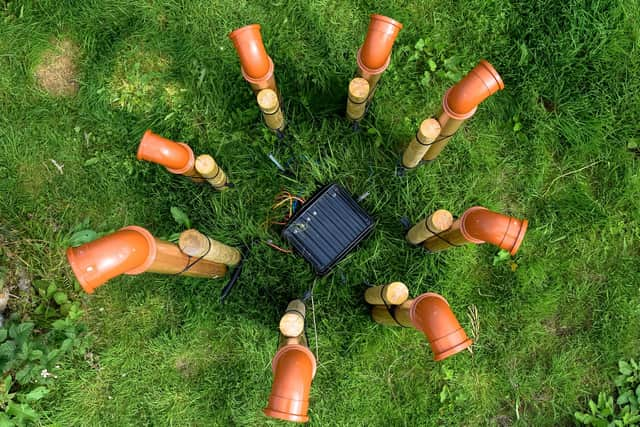 Now the Hebridean isle of Jura has inspired an album of new music – based on the sounds generated by a vast sculpture made out of plastic tubes.
Described as "part musical instrument, part environmental art," the World Organ responds to the sounds of the sea, the weather and local wildlife.
Giles Perring, a musician, composer and artist based in an old schoolhouse on the island, has been recording the effects created by his installation since building it in his garden overlooking Lowlandman's Bay and the Sound of Jura, the half-mile stretch of water which separates the island from Hebridean neighbour Islay, last summer.
Perring, who previously designed a "sonic playground for the island, has been broadcasting a continuous live stream of the new sound sculpture – described as "a system of tubes that listens to the world and relays what it hears" – which some listeners have told him they use as a soundtrack for yoga or meditation.
Now Perring, who has worked in the music industry for more than 30 years – including rock, classical music, jazz and world music projects - has edited hours of his World Organ recordings into a 60-minute album.
It is intended to reflect the "ever changing, climatic and sonic ecology" of the island wilderness to be found on and around Jura.
And he hopes the World Organ project will eventually become a mult-media project, featuring video, sound installations, photography and visual art, which he can take on tour around Scotland once coronavirus restrictions ease.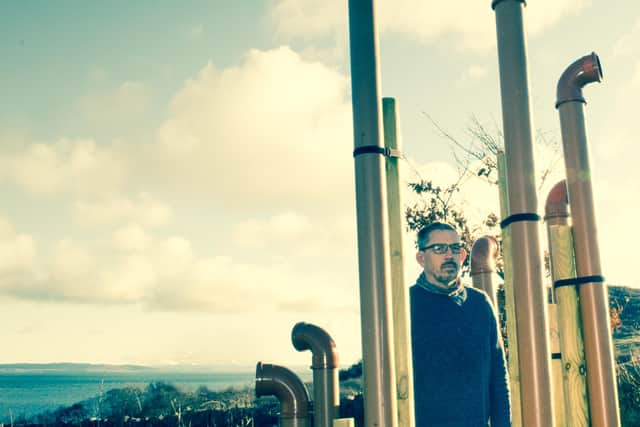 Perring said: "My inspirations for the World Organ included experiments I did in my recording studio, where I placed microphones in different lengths of tube to create effects.
"The environment surrounding my studio is mainly free of human-created sound and I had a desire to depict the landscape of Jura sonically. I wanted to depict my surroundings in sound.
"I created the World Organ to a design I conceived, and then let nature and the weather do the rest. It's constructed from vertically mounted plastic tubes which have all been tuned to a scale I selected. They're all arranged to point in different directions.
"The World Organ generates ever changing music from the sounds of the natural world around it.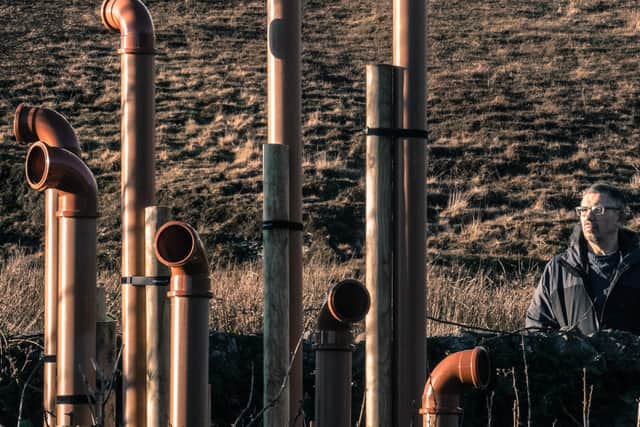 "I regard what it does as music. I think that it music comes from the mind of the listener as they interpret what they hear. With their brains searching for patterns and meaning, they hear fleeting melodies and chords.
Perring's album, Lowlandman's Bay, released on 22 January, will feature one continuous hour-long track made of a "slowly changing haromic passages."
He added: "I've created a sort of acoustic camera obscura or periscope perhaps – it makes a picture of this spot on Jura in sound.
"I've found it exciting and inspiring to know that people listen to the World Organ in different parts of the world, and tune in to the sound of Jura.
"I've no idea what the album will mean to people. However, I do know that people listen to the World Organ in the middle of the night, and that they have put it on when they do yoga or meditate."
A message from the Editor:
Thank you for reading this article. We're more reliant on your support than ever as the shift in consumer habits brought about by coronavirus impacts our advertisers.
If you haven't already, please consider supporting our trusted, fact-checked journalism by taking out a digital subscription.
Joy Yates
Editorial Director
Comments
Want to join the conversation? Please or to comment on this article.