'Greenwashing' row sponsor Baillie Gifford insists it will continue to back Edinburgh International Book Festival despite boycott calls
Edinburgh International Book Festival sponsor Baillie Gifford has hit back at 'zero now arguments'
Investment firm Baillie Gifford has reignited a row over its "greenwashing" of events by defending its links with fossil fuels, hitting back at "zero now arguments" and insisting it would continue to back the Edinburgh International Book Festival, despite threats of an author boycott in 2024.
The Edinburgh-based company said the city's long-running literary celebration, which it has backed for 19 years, "should be celebrated, not shunned".
Baillie Gifford, which has been under fire after it emerged in July that 2 per cent of its investments were in companies which profit from fossil fuels, insists an "exaggerated picture" has been painted over its links with the oil and gas industries.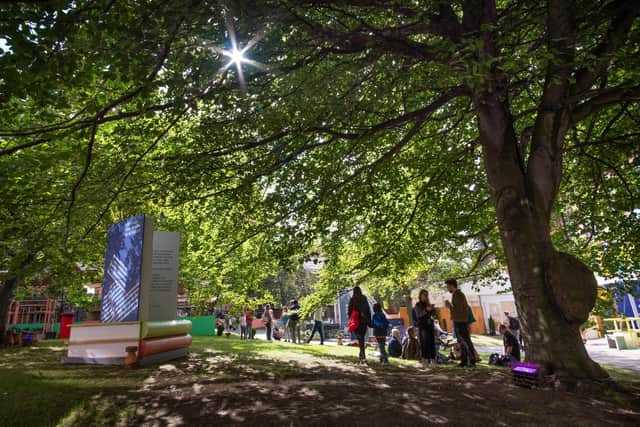 Climate activist Greta Thunberg pulled the plug on an appearance last month. Edinburgh-based activist and writer Mikaela Loach also led a walk-out of her own book festival event after The Ferret website reported the company had around £5 billion worth of investments linked to fossil fuels.
An open letter signed by more than 100 authors demands the book festival "adopt an ethical sponsorship policy and drop Baillie Gifford as a sponsor next year if they do not end these deadly investments".
However, Baillie Gifford described the festival as a "resplendent example" of how to offer a platform for "open and honest intellectual debate". Organisers previously insisted they had "looked closely" at Baillie Gifford's work and cited its commitment to investing in companies "seeking to resolve the crisis".
Writing on Baillie Gifford's website, partner Scott Nisbet highlights its investments with firms working on clean energy projects including Tesla, Northvolt, Zipline, Solugen and Climeworks, as well as academic climate change research it is funding.
He claimed some companies it had invested in with fossil fuel links "have as little as one-twentieth of their current revenues coming from fossil fuels".
Mr Nisbet wrote: "Baillie Gifford has been proud to sponsor the Edinburgh International Book Festival for almost two decades. As a private partnership that's more than a century old, we see sponsorship of the arts and other charitable work as part of our broader societal role. Own interests and passions extend well beyond the stock market.
"It's also why we recruit graduates from all sorts of disciplines, and why we love to facilitate platforms for open and honest intellectual debate across different cultures and disciplines. The Edinburgh International Book Festival is a resplendent example of such a coming together."
Mr Nisbet insisted Baillie Gifford felt "a strong sense of responsibility and accountability" and described climate change as "the biggest and most complex challenge humans have collectively had to face".
He said: "We may be the last generation with the ability to affect the climate outcome for future generations. Thoughtful long-term investment can play a central role in scaling solutions to the climate crisis and, in time, help these solutions to become inevitable.
"But we must be careful that the pessimist poles of cynicism and zero-now arguments do not discourage imperfect optimists on this journey. Baillie Gifford aspires to be a firm in the transparent-and-trying-hard end of the spectrum of financial services companies.
"In the meantime, we wish to continue providing an important platform for intelligent and thoughtful debate at the Edinburgh International Book Festival and all the other book festivals we support. They are platforms which should be celebrated, not shunned."
Comments
 0 comments
Want to join the conversation? Please or to comment on this article.