GlasGLOW 2023: Dates, ticket prices and theme as light show returns to Glasgow this autumn
The annual light show will return to the Botanic Gardens in Glasgow this month.
The team behind the seasonal event have announced that Halloween light show, GlasGLOW will return to Glasgow's Botanic Gardens for its sixth year. GlasGLOW, which has been rated 5 stars by tens of thousands of families up and down the country and sells out in advance every year, is created and produced by Glasgow-based company itison together with a world class team of sound, light and set designers. The show brings together immersive sound and light displays, photo opportunities, a street food village and Marshmallowland to create an immersive outdoor experience.
What's this year's theme?
This year's GlasGLOW has a new Ghostbusters-inspired show entitled 'Who You Gonna Call'.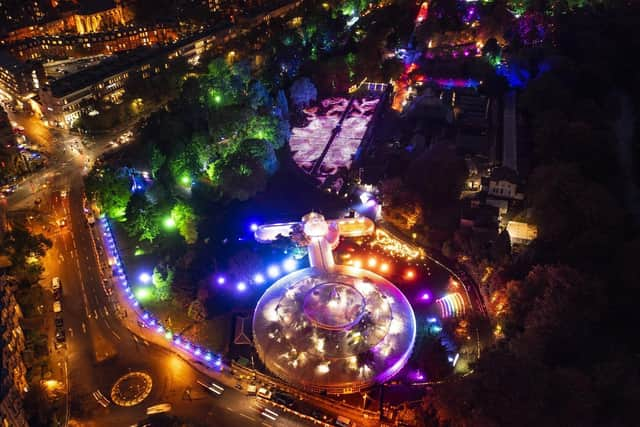 When is GlasGLOW 2023?
The show will run from 27 October until 5 November, with the team expecting around 90,000 visitors to the gardens.
Ticket prices and on sale date for GlasGLOW 2023
Tickets go on-sale on Wednesday 23 August at 7.30am.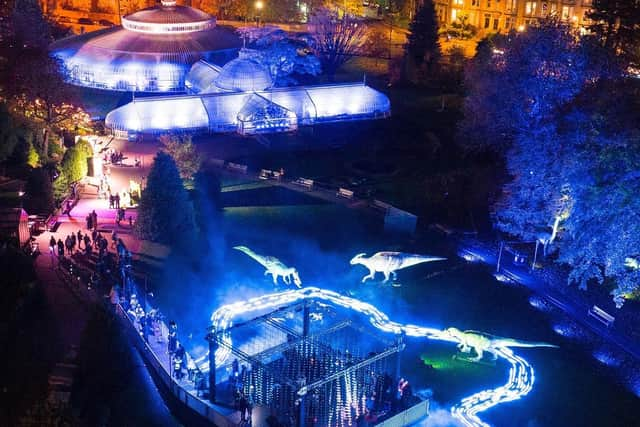 After 30,000 tickets sold in the first 12 hours, organisers are urging people to get in quickly to bag their preferred dates and times. Limited earlybird tickets will be available exclusively online, priced at:
Earlybird child: £11 (standard price £14)
Earlybird adult: £22 (standard price £24)
Fast Pass & Mallow child: £18 (standard price £22)
Fast Pass & Mallow adult £30 (standard £32)
Fast Pass & Mallow tickets are back again this year, giving those with tickets access to a dedicated entrance plus a campfire classic marshmallow skewer and queue hops straight into the show's Marshmallowland.
The first ever GlasGLOW Relaxed Session will take place on Thurs 2 November at 5pm giving anyone with sensory difficulties the chance to enjoy a quieter GlasGLOW experience with reduced capacities and a lower sound level.
How to get to GlasGLOW – free and half price bus offer
Being based in Glasgow's Botanic Gardens, there are plenty of options to get to GlasGLOW, including the Subway (the nearest stop is Hillhead on Byres Road), driving (there's limited parking on the streets surrounding the Botanics and the nearest car par is at Lilybank Gardens, just off Ashton Lane, and at Kelvinbridge Subway station). For anyone taking the bus, the team at GlasGLOW have recently announced that ticketholders will be offered free and half-price travel to the show as part of its partnership with First Bus to help attendees save money – and the planet.
When booking on the First Bus app on the day of travel, GlasGLOW ticketholders will be able to get: Free FirstDay Adult tickets when travelling to the event after 7pm and half price FirstDay Adult tickets when travelling to the event before 7pm. It is hoped that the initiative will encourage folk to use public transport and reduce their carbon emissions when heading to the show. First Bus already offers free travel to young people aged 5 – 22 with a NEC card and children under 5 go free on-board. Find out more here.
Oli Norman, CEO of itison and founder of GlasGLOW said: "We grew up loving Ghostbusters and we're excited to finally unveil 'Who You Gonna Call' - a brand-new creative for this year's GlasGLOW inspired by the film – it's going to be epic.
"The itison Pumpkin Fund also returns this year – to date we've raised £60,000 for local charities and donated thousands of tickets to charities and good causes in the local area. It's always been important to us that with GlasGLOW comes good and we're hoping this year to raise even more than the £15,000 raised at last year's event.
"We're also delighted to be hosting our first ever Relaxed Session this year to help even more families enjoy the show – our goal is to make the event as inclusive as possible and this is a great addition alongside our Sensory Guide and GLOW passes which are designed to help autistic people prepare for, and enjoy, the event."
The itison Pumpkin Fund will also return helping good causes around the Botanics. Since launching in 2019, it has raised £60,000, donated 6000 free tickets and thousands of pumpkins to local communications, hospitals and charities to help as many people as possible enjoy GlasGLOW.