The Scottish National Jazz Orchestra's forthcoming tour with multi-award-winning Scottish singer Georgia Cécile is entitled "This Is A Communion", suggesting "original music as a shared experience and cultivated songwriting as a healing process," according to the renowned big band's website.
Any healing or indeed positive resolution would be welcome at a time when the SNJO's director Tommy Smith, saxophonist and head of jazz studies at the Royal Conservatoire of Scotland, has been leading an overwhelmingly outraged response to BBC Radio Scotland's planned scrapping of its solitary jazz programme, the weekly Jazz Nights, as well as Classics Unwrapped, while its piping magazine Pipeline faces worrying modification.
These concerns apart, Cécile's appearance with the SNJO should be a memorable one. A vocalist who combines swing with soul and emotional depth, she has guested briefly with them in the past. For this tour the 33-year-old singer and her co-writer and arranger, pianist Euan Stevenson, with whom she made her warmly received debut album, Only the Lover Sings, in 2021, have been working on fresh arrangements of songs from the album as well as new material. "I sang a couple of songs with the SNJO a couple of years ago," she says, "and I can't wait to sing with them again. It's definitely an honour."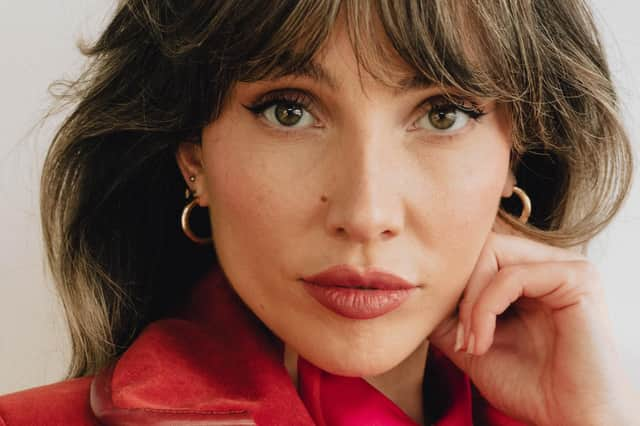 Smith describes Cécile as "a gifted singer for our times. She combines popular charisma with a deep understanding of the history of jazz music."
The tour's title derives from one of the new songs she and Stevenson have written, called "This Is A Communion: "It's got a kind of gospel-soul flavour to it," says Cécile, "inspired by the likes of Mahalia Jackson, who was one of the leading gospel singers to work with Duke Ellington. We wanted to create something uplifting, optimistic."
Quite apart from the SNJO tour, Cécile is anticipating the release on 24 February of Sure of You, a duet album of standards with her partner, pianist Fraser Urquhart, which they launch at Ronnie Scott's on Valentine's Day.
Smith, meanwhile, continues his campaign to win a reprieve for Jazz Nights, Classics Unwrapped and Pipeline, eliciting support from such notable figures as violinist and Edinburgh International Festival director Nicola Benedetti, composer James MacMillan and Scotland's Makar Kathleen Jamie. A meeting at the end of last month with BBC Scotland's director saw him come away disheartened: "There was nothing on the table, no plan, they were really trying to search for ideas to help them out but we weren't there in that capacity, we were there to hold them to account."
However, at the time of writing Pete Wishart MP (and former Runrig musician) had raised the matter in a Westminster debate, gaining support for the motion "Support for the smaller musical genres", and Smith was about to approach OFCOM with a view to holding the BBC to account on its charter.
The sheer craziness of the situation is that the panjandrums of Radio Scotland want to erase the station's only jazz show at a time when Scottish jazz is seething with emergent creativity, with pianist Fergus McCreadie's Forest Floor voted Scottish Album of the Year and nominated for a Mercury Prize, while 20-year-old bassist Ewan Hastie recently won the BBC's own Young Jazz Musician Competition.
Perhaps the last word should be left to Cécile, who picked up two awards – UK Act of the Year and Vocalist of the Year – at October's Jazz FM Awards, adding them to earlier plaudits including Best Vocalist in the 2019 Scottish Jazz Awards: "Jazz Nights very much gave me my first chance to broadcast my music. It's essential for the jazz community to have an outlet for their work, and I really hope they can negotiate something to ensure it has a future."
Georgia Cécile and the SNJO play Eden Court, Inverness, on 23 February; Queen's Hall, Edinburgh, 24 February; Glasgow Royal Concert Hall, 25 February and Perth Concert Hall, 26 February, see www.snjo.co.uk and www.georgiacecile.com