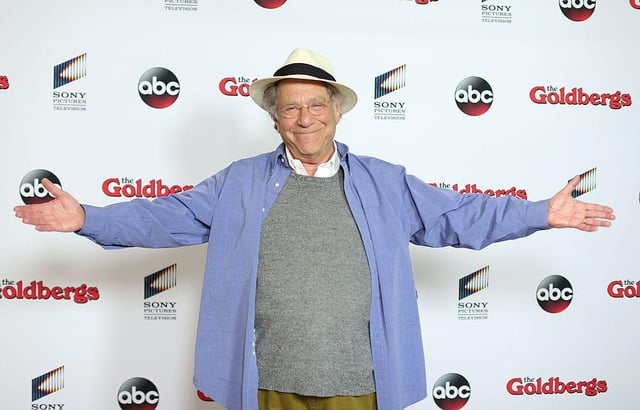 George Segal acted 'Pops' in ABC's 'The Goldbergs', having previously starred alongside Barbra Streisand, Elizabeth Taylor and Glenda Jackson in many critically-acclaimed movies (Picture: Mark Davis/Getty Images)
Hollywood legend George Segal has passed away, aged 87, his wife Sonia reported in a statement.
The Oscar nominated actor was best known for his roles in films Who's Afraid of Virginia Woolf? (1966) and A Touch Of Class (1973), while he recently played Pops in TV series, The Goldbergs.
Segal was instrumental in the representation of Jewish actors in the US, and has been described in tributes as a "true gem" with a "magic spark".
Here, we take a look back at his life, career and legacy.
George Segal Jnr was born in 1934 in New York state. He was the grandson of four Russian-Jewish immigrants.
Segal was not raised as a practising Jew and did not have a Bar Mitzvah. He later said: "Jewish life wasn't happening that much at the time. People's car tyres were slashed in front of the temple."
For this reason, Segal didn't attend a Jewish school, and recounted how he "was once kicked down a flight of stairs by some kids from the local parochial school."
Segal became interested in acting at the age of nine, when he saw Alan Ladd in This Gun for Hire (1942).
He said of the movie: "I knew the revolver and the trench coat were an illusion and I didn't care. I liked the sense of adventure and control."
Following the death of his father, Segal moved with his mother and two brothers to New York City, before moving to Pennsylvania. He graduated from George School in Pennsylvania in 1951 and then from Columbia University in 1955, with a Bachelor of Arts in performing arts and drama.
He was also an avid banjo and ukulele player, performing in various bands throughout his time at Haverford and Columbia.
Segal went on to play in the Corporal Bruno's Sad Sack Six, a small instrumental group, while serving in the US Army.
The actor married three times - first to film editor Marion Segal Freed in 1956. The pair had two daughters together, before divorcing in 1983.
In 1983, he married Lina Rogoff, a musician manager whom he met at Carnegie Hall while performing with his banjo. She passed away in 1996.
He married his former George School boarding school classmate, Sonia Schultz Greenbaum, in 1996, and remained with her until his death on 23 March 2021.
Sonia told how he had died in Santa Rosa, California, from complications following heart bypass surgery.
"The family is devastated to announce that this morning George Segal passed away due to complications from bypass surgery," she said in a statement to entertainment outlets Variety and Deadline Hollywood.
What were his most famous roles?
Segal was critically-acclaimed, award-winning and respected by many of his Hollywood peers.
His film debut came in The Young Doctors (1961), after signing with Columbia Pictures. He then appeared in a number of television programmes and small acting roles, including well-known World War II film, The Longest Day (1962).
Then he moved from New York to California, where he was cast in The New Interns (1964). The role earned him the Golden Globe Award for New Star of the Year, and Columba signed him on a long-term contract.
Segal's success grew, and he was soon cast as an artist in Academy Award nominated drama Ship of Fools (1965), and as an American corporal in a World War Two prisoner-of-war camp in King Rat, later the same year.
By the mid 1960s he was a well known star and was loaned to Warner Bros for Who's Afraid of Virginia Woolf? (1966), in which he played Nick, alongside Elizabeth Taylor, Richard Burton, and Sandy Dennis.
The film went on to be nominated for an Academy Award for Best Picture and Segal was recognised with his role nominated for an Oscar and a Golden Globe. While Taylor and Dennis won Oscars, the leading men did not.
"Elizabeth and Richard were the king and queen of the world at that moment and there was a lot of buzz about it. For me, there was a great satisfaction of being involved with it," Segal reminisced during an interview with The Daily Beast in 2016.
Segal stood out in Hollywood, not only for his acting talent, but also as he was the first reading Jewish actor not to have changed his surname. This paved the way for more acceptance of Jewish stars, such as his May He Rest In Peace co-star, Barbra Streisand.
In 1971, he told the New York Times: "I didn't change my name because I don't think George Segal is an unwieldy name. It's a Jewish name, but not unwieldy. Nor do I think my nose is unwieldy.
"I think a nose job is unwieldy. I can always spot 'em. Having a nose job says more about a person than not having one. You always wonder what that person would be like without a nose job."
Upon returning to Columbia Pictures, Segal was cast as a gangster in Roger Corman's The St Valentine's Day Massacre (1967), as well as George in an adaptation of Of Mice and Men (1968).
One of his most successful roles was as the womanising husband in Melvin Frank's continental romantic comedy A Touch of Class (1973), alongside Glenda Jackson. The comedy was nominated for an Academy Award for Best Picture, Segal won the Golden Globe Award for Best Actor in a Motion Picture Musical or Comedy.
Throughout his peak years as a film actor, he also regularly exercised his banjo-playing skills, as a regular guest and, less often, as a co-host on The Tonight Show Starring Johnny Carson.
In the early 1990s, Segal's career slowed down, but he continued to appear in films, as well as guest appearances on various TV programmes, such as Murder She Wrote and The Larry Sanders Show.
He then reignited his career in 1997, as fashion magazine editor Jack Gallo in NBC's workplace sitcom Just Shoot Me! For this role, he was nominated for the Golden Globe Award for Best Actor in 1999 and 2000, as well as a Satellite Award in 2002. The show ended in 2003.
"I always try to find the humour and the irony in whatever character I am playing because I think of myself as a comedic actor," Segal told filmtalk.org in 2016.
In February 2017, Segal received a star on the Hollywood Walk of Fame for his contributions to television.
He told Variety in a 2017 interview: "Being in your 70s is OK but, when you get to your 80s, you get creaky.
"I've got my second wind - although I'm not going as fast as I used to."
For a young audience, he will be best known for his role as 'Pops' Solomon, in ABC sitcom The Goldbergs.
Segal regularly brought laughter and wit to his role as the eccentric but lovable grandfather of a semi-autobiographical family, based on that of series creator Adam F Goldberg. Segal remained a regular contributor to the series, until his death.
How have colleagues and friends remembered him?
Segal's most recent director, Adam F Goldberg led tributes on Twitter, writing: "Today we lost a legend. It was a true honor being a small part of George Segal's amazing legacy.
"By pure fate, I ended up casting the perfect person to play Pops. Just like my grandfather, George was a kid at heart with a magical spark."
Actress Melissa Joan Hart, who directed and starred alongside Segal, wrote on Twitter: "Shocked and saddened to hear of #GeorgeSegal passing away!
"From being on set of #JustShootMe to directing him on #Goldbergs, he was a true gem and great man. He will be missed!"
American actor, author and comedian Brian Posehn paid tribute to Segal, describing him as "total old school charm," with "effortless comedic timing".
He added: "Doing scenes with him was one of the highlights of my life, but getting to know him a little and making the legend laugh was even cooler. I'll miss you, sir."
Marvel's Guardians of the Galaxy director James Gunn wrote on Twitter that Segal was "a movie star who commanded our attention while still seeming like one of us."
Hundreds of other tributes to Segal flooded onto Twitter, from fans, colleagues and other movie stars.