A Scots-Icelandic piano collaboration under a giant model of the Earth suspended in Glasgow's Mackintosh Church perhaps encapsulates some of the globe-spanning, genre-crossing elements of this month's Glasgow Jazz Festival. The five-day programme also features performers from the United States, Spain and across the UK, as well as tributes to the music's African heritage, a re-imagining of the Radiohead canon and some musical molluscs.
Running from 14-18 June at venues across the city, the festival has pulled off an imaginative programme, combining luminaries from Glasgow and Scotland's seething contemporary jazz scene with international stars. Thus a celebrated product of Glasgow's hotbed of talent, award-winning pianist Fergus McCreadie, joins acclaimed Icelandic pianist Sunna Gunnlaugs on 16 June at the Mackintosh Church, which is hosting installation artist Luke Jerram's Gaia exhibition with its spectacular, 23ft diameter model of our fragile planet, perhaps an appropriate setting for both artists' lyrical styles which often reflect their respective environments.
Festival director Jill Rodger had encountered Gunnlaugs through the European Jazz Network. "Then when the Mackintosh Church said they were bringing the Gaia installation, I thought, Sunna's compositions are a lot about the land, as are Fergus's, and they would make a nice pairing there."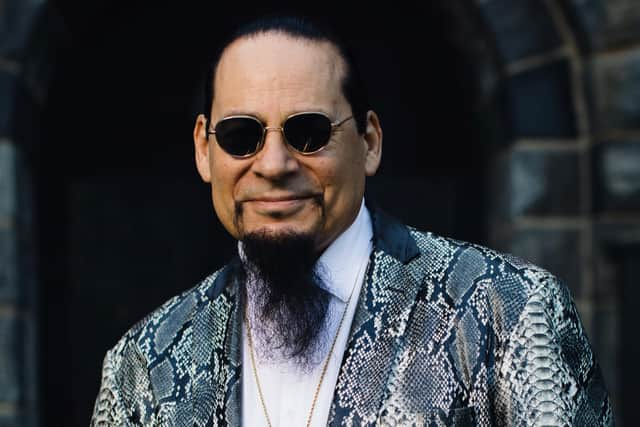 Another award-winner is the Menorcan pianist Marco Mezquida, who makes a rare visit, appearing at St Luke's on the 15th in his trio with bassist Martin Meléndez and drummer Aleix Tobias. Also taking the stage at St Luke's, on the 18th, is the American trombone star Steve Turre – also renowned for his creative blowing of conch shells. His sextet appearance is his first here for many years – probably since playing at the 1990 Glasgow Jazz Festival with Dizzy Gillespie's United Nations Orchestra.
Other notables at St Luke's include the soulful Manchester-based trumpeter Matthew Halsall (17th) and London saxophonist Camilla George (16th), whose playing is informed by African music and hip hop and whose current album, Ibio Ibio, salutes her Nigerian heritage.
The Drygate on the 15th, meanwhile, hosts 2018's BBC Young Jazz Musician of the Year winner, saxophonist Xhosa Cole, while what promises to be an exuberant Saturday night at Òran Mór features the still irrepressible Geno Washington and his Ram Jam Band.
Celebrated artists from closer to home include swing violinist and singer Seonaid Aitken, who hosts a Grappelli Night with her quintet at the Mackintosh Church on the 17th, marking 25 years since the virtuosic jazz violinist's death (and 30 years since his last appearance at the festival). An opening night gig sees notable Scots saxophonist Konrad Wiszniewski and Edinburgh-based Norwegian guitarist Haftor Medbøe improvising together at The Griffin, while Radiohead Reimagined (15th, Òran Mór) sees a ten-piece band assembled from Glasgow's young jazz scene. Other Glasgow jazz names appearing over the weekend include Graham Costello's powerfully inventive STRATA and the soul-funk of Marco Cafolla's Federation of the Disco Pimp.
A Jazz at the Glad series at the South Side's Glad Café includes saxophonist Helena Kay on the 17th, pianist Brian Kellock's Marty Party celebrates the American guitarist, singer and raconteur Marty Grosz at St Luke's on the same date while the Tommy Smith Youth Jazz Orchestra marks its 20th anniversary at the Drygate on the 16th.
There is, of course, much more, not least Late Night Jazz Sessions at Sauchiehall Street's Nice 'n' Sleazy bar.
Rodger agrees the festival has gone for a more cosmopolitan mix this year: "After lockdown we were very focussed on Scottish artists, which was the right thing to do, but I think that now is time to start getting more international stuff back into the programme."
Planning ahead can be hard in these financially uncertain times, she agrees, particularly as the festival receives no assistance these days from Glasgow City Council, with Creative Scotland as main funders. Happily, ticket sales, she can report, are ahead of this time last year, with Matthew Halsall already sold out at St Luke's.