From Paris to the Arctic: Orcadian fiddler Graham Rorie on his exotic lockdown projects
Graham Rorie tells Jim Gilchrist about two new albums – one recorded with his quartet Gnoss, the other inspired by the many hundreds of Orkney islanders who worked with the Hudson's Bay Company
A phone chat with Glasgow-based Orcadian fiddler Graham Rorie can take in some divertingly varied topics, from Belle Époque Paris to perilous Arctic wastes. We're discussing the new album from the quartet Gnoss, which Rorie co-founded with fellow Orcadian singer and guitarist Aidan Moodie, as well as Rorie's own project, The Orcadians of Hudson Bay, also released this month.
The Light of the Moon (Blackfly Records) is Gnoss's second album and catches Rorie, Moodie, flautist Connor Sinclair and percussionist Craig Baxter in briskly confident form, their sound further bolstered by the studio presence of Breabach double-bassist James Lindsay. The album's energy belies the fact it was largely written during lockdown isolation: "Then," says Rorie, "we met up over late September, early October once rehearsal spaces were opened up for a few weeks and consolidated everything."
Rorie is pleased with the way their sound has developed since 2019's debut album, Drawn from Deep Water. "That album definitely felt like our first foray into a full album. The new one sounds slightly more 'us', if that isn't too clichéd. We've been able to refine our writing and, I suppose, we just had a bit more musical experience and life experience."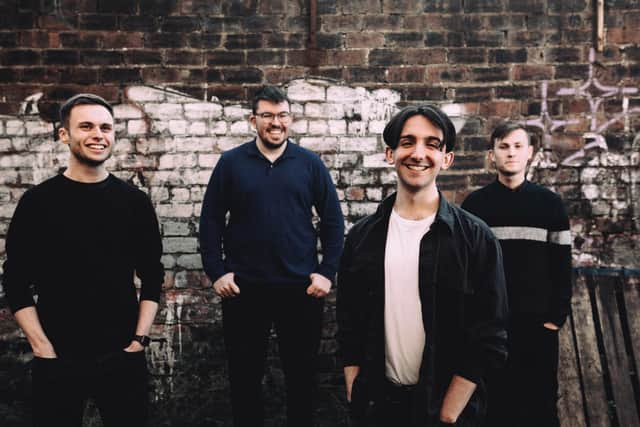 Apart from instrumental deftness, there is nice harmonising and layering. The winsome Becky's Waltz, for instance, leads into the multi-tracked strings and bird-like whistle of Prelude before giving way to the nimble jig time of Adelaide's. And there's a freshness to Moodie's song compositions such as The Sun that Hugs the Ocean.
Rorie, who is 24, and Moodie have known each other since attending Kirkwall Grammar School, then came to Glasgow to study at the Royal Conservatoire of Scotland, where they met with Sinclair and Baxter. People tend to assume the band's name is drawn from the rich well of Orcadian dialect, but Rorie sets the record straight: they lifted it, he says, from enigmatic Parisian composer Erik Satie's Gnossiennes, "simply because we liked the sound".
From 19th-century Montmartre, we shift to Rorie's Orcadians of Hudson Bay (Rumley Sounds), inspired by the many hundreds of Orkney islanders who worked with the Hudson's Bay Company, to the extent that by 1800, 79 per cent of the Company's staff were Orcadian.
Rorie enlisted a sizeable band for this project, with fellow-Orcadian fiddler Kristan Harvey, Uist accordionist Padruig Morrison, percussionist Signy Jakobsdottir, Rory Matheson on piano and the ubiquitous James Lindsay on bass, giving the all-instrumental suite a heftier feel: "They're all musicians I've worked with at some point, folk for whom I have a huge admiration. Having them in one group was very special."
He managed to bring off a live performance just before lockdown. "I had done research into it, but just before Celtic Connections last year I spoke to [Celtic Connections director] Donald Shaw who thought it would make a nice show, because 2020 was the 350th anniversary of the Hudson Bay Company. That was all the encouragement I needed to get it formalised and written."
The music celebrates places and people. The Last Calling Post, for instance, Rorie wrote for Stromness, last port of call for ships bound for Hudson (also known as Hudson's) Bay. Isobel is a wistful air for Isobel Gunn, who disguised herself as a man to work for the Company, her cover being blown in no uncertain manner when she gave birth to a child.
The great Orcadian explorer John Rae is saluted in Aglooka – an Inuit word meaning "long strider", while Erebus and Terror is named after the vessels of the ill-starred Franklin expedition. It was Rae who brought back grim reports of their fate, and of cannibalism, which resulted in him being subjected to a campaign of vilification.
Which leads, inevitably, to the recent Netflix drama The Terror, which luridly embellished the Franklin epic with a preternaturally fearsome polar bear. Rorie did indeed watch it, but there are no polar bears, demonic or otherwise, in his particular evocation.
A message from the Editor:
Thank you for reading this article. We're more reliant on your support than ever as the shift in consumer habits brought about by coronavirus impacts our advertisers.