Fringe theatre reviews: What You See When Your Eyes Are Closed / What You Don't See When Your Eyes Are Open | The Night Children | Bampots | Poof!
An avant-garde kaiju story featuring video trickery and an Elvis cameo is a notable highlight in our latest round-up of Fringe theatre. Words by Anahit Behrooz, David Pollock and Susan Mansfield
What You See When Your Eyes Are Closed / What You Don't See When Your Eyes Are Open ****
Summerhall (Venue 26) until 27 August
James J Gibson was an academic who worked in the field of visual perception, developing theories for how we observe our environments and our position within them. If this sounds like a dry subject for a Fringe show, never fear: the Gibson-inspired What You See When Your Eyes Are Closed / What You Don't See When Your Eyes Are Open is a truly bananas piece of theatre – a joyful avant-garde experiment for the meme generation.
It begins, as arguably all good stories do, with a monster terrorising a city: a tall Cyclops – a creature famous for poor depth perception – with a camcorder eye that live records the room and projects what it sees from behind its head. Another performer, playing a news reporter, faces this monster in the tradition of the best kaiju cinema. He dies; things repeat. Elvis inexplicably appears, then James Dean. It is all abrupt and utterly absurd but despite – or perhaps because of – its bizarre non sequiturs, never boring. The scene shifts and the performers become husband-and-husband team Gavin and Mamoru, gazing back at the audience. The play keeps unfolding as everyone walks around in a Gibson-influenced promenade, keeping the performers in sight.
It may be bananas, but this is also dense and inventive theatre-making that uses simultaneously intricate tech and scrappy DIY to craft a play that wrongfoots the audience at every turn. Beneath its determinedly silly surface lies a complex proposition for a new kind of theatre that disrupts the idea of seeing as a passive act.
What are the limits of theatrical representation, when what is being represented is also being perceived, and perception is an inherently subjective act? What You See When Your Eyes Are Closed / What You Don't See When Your Eyes Are Open exists beyond answers, but the way it asks its questions is wonderful. Anahit Behrooz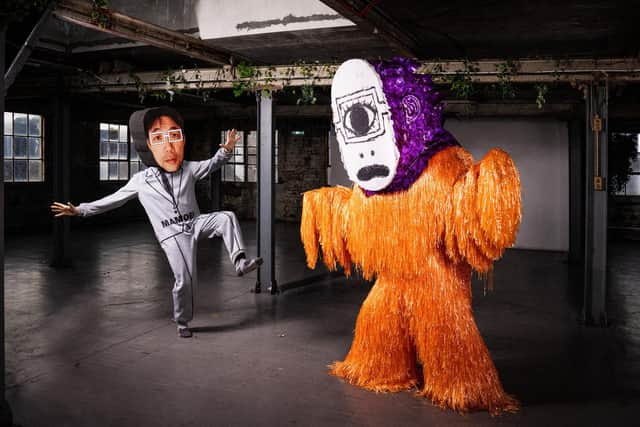 Greenside @ Nicolson Square (Venue 209) until 12 August
Presented by Los Angeles Theatre Initiative, but featuring students from Northwestern University in Illinois, Adam Szymkowicz's play must contend with the core problem of a lot of student drama; having to find a role for all fourteen performers, rather than writing a play and casting to fit. (The cast is largely female, which does get a little confusing when male characters are being portrayed.)
Szymkowicz's solution is to create a wide-angle, Robert Altman-style ensemble story about a group of American high school students coming of age. Friendships and romantic pairings are explored in a manner which resists melodrama, and often lets in some light touch, indie-movie comedy … like the guy in the bowling alley showing off his bowling skills while unaware he's the third wheel in a date.
At the play's heart, however, is a well-handled bittersweet edge, as character-narrator Wood moves in and out of scenes with their "emotional support typewriter" and attempts to get over the death of their girlfriend Dara. With a cast of capable young performers, all with good senses of timing and tonal awareness, one of this piece's major strengths is that no character seems out of place or shoehorned in, that every story adds to and enriches the unfolding tableau. David Pollock
Pleasance Dome (Venue 23) until 15 August
With a name like that, a late-evening slot at Pleasance Dome and a listing which clearly promises a "ceilidh rave" atmosphere, it's a surprise when this new show by young Glasgow-based company Haud Yer Wheesht seems trapped between two worlds. On one level it's everything it promises to be, a character sketch show featuring a wee bam in a Scotland strip having an existential crisis on Buckfast, an American tourist bumbling around Scotland romanticising the mundane, and a young Anglo-Scot woman attempting to calm down a rowdy crowd on a train. Tories and Margaret Thatcher don't fare well.
Yet where it seems to lose some of the late-night pints'n'banter crowd is also where company founder Neve Adams and her co-stars Cameron Clark, Adara Plunkett and Yannik Wolf Borzynski show their abilities far beyond comedy. At certain points the show takes brave but well-worked turns into snippets of more-or-less straight drama, and when they work – which isn't every time – it becomes something new and exciting. When Clark's galumphing American, for example, reveals the reasons behind his trip, it carries a genuine emotional punch.
For such a young company, it's also worth pointing out the sheer acting range and composure the quartet manage to package up with their endless energy. Give it a few years and they'll be filling our telly screens. David Pollock
Gilded Balloon Teviot (Venue 14), until 28 August
Fairies have not had an easy time of it. For centuries, they operated in secret, condemned as degenerate, outlawed and persecuted. Sticking to their own neighbourhoods, they sought each other out using "faydar".
US actor Celeste Lecesne's one-person show, delivered in wings and a sparkly gown, feels like an extended metaphor which was waiting to happen. But there's more. Now the fairies are part of the mainstream and they're angry. As custodians of green places, they have some things to say about the wrecking of the planet.
Poof! is a pick-and-mix: a dash of "be the person you really are" life coaching, a sprinkling of pantheism, a coming out story, some climate change awareness, a dollop of Walt Whitman, a spot of innuendo. Not content with zipping through a couple of millennia of history, it moves on to imagining a future of multiple extinctions.
But Lecesne's funny, warm, fast-moving performance carries us through, and the central conceit is silly enough and sincere enough to carry some weighty issues. Even if you're not quite sure what you've just witnessed, you have to admit it was just a little bit magical. Susan Mansfield