Fringe star calls for fair deal for women in Scottish screen industry
A leading Fringe comic and screen star has called for an overhaul of the screen industry in Scotland to ensure that Scottish women get a fair share of work on and off screen.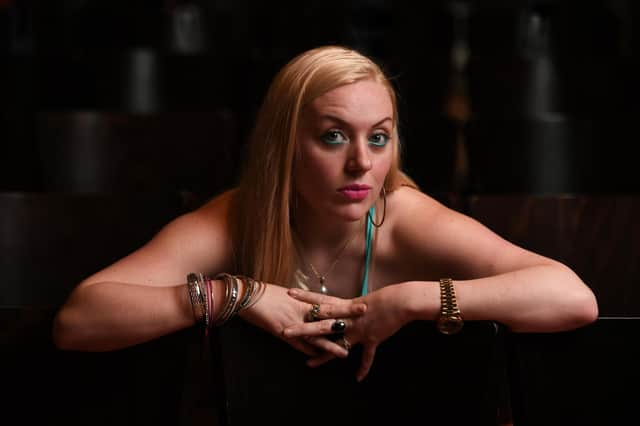 Stand-up favourite Rachel Jackson, who has also had her own BBC comedy series and appeared in major feature films, said there was a big problem in the industry because "Scottish women aren't getting a proper chance in their homeland".
Ms Jackson suggested non-Scottish actresses were regularly hired to play the partners of characters played by Scottish actors in drama series set in Scotland.
A regular solo performer at the Fringe in recent years, Ms Jackson questioned why the country had failed to develop a female-led Scottish sitcom.
The Edinburgh-born performer and writer, who was due to appear at the Fringe this year before it was called off, has secured recent roles alongside Karen Gillan, in her directorial debut The Party's Just Beginning, and Scottish rave culture drama Beats, and also starred in BBC Scotland comedy The State of It.
However, Ms Jackson said many actresses with successful theatre careers were unable to make the transition to film and TV due to a lack of roles coming up.
She said actresses were also often relegated to having to play un-named roles such as a waitress or a receptionist.
Writing in industry magazine Film Stories, Ms Jackson said: "Every single Scottish set drama I've watched these past few years, the Scottish actor's wives in it have been played by English actresses. I just find it so odd when you have a plethora of Scottish talent.
"It's pretty c**p if Scottish women can't even get in Scottish productions, but that's where we are. Or if they do get a role, they just play the tiny parts where they don't even get a character name, just 'waitress' or 'receptionist'.
"I watched a Scottish drama recently where of the three female Scottish characters in it only one was Scottish.
"There's also a fantastic Scottish comedy show, Two Doors Down, where out of the three women in it (all fantastic), even though they are all playing Scottish characters, only one is really Scottish.
"This can be a touchy subject as the argument could easily be 'so does that mean Scottish actresses should only play Scottish and not get to be English or American or Russian or whatever else?' I really do think actors should get to play anything. That's the point of acting, getting to transform into someone completely different and show your talent in various different roles. You don't need a real farmer to play a farmer.
"But when Scottish women aren't even getting a proper chance in their homeland there's a big problem, and I'm saying this as someone who has a career. There are plenty of Scottish actresses behind me who haven't had the chance yet of any TV or film work and struggle to make the transition from successful theatre careers. There has never been a female-led Scottish sitcom. Ever. By led, I mean written by a woman and starring mainly women. It seems a bit overdue by this point.
"The whole industry needs to do more to change this.
"More writers need to write for Scottish women, more directors and casting directors need to cast more Scottish women, and more producers and talk shows need to have more Scottish women on plugging their projects so they can get more press and notoriety.
"Most actors get to a stage after so much rejection where they start to suffer extreme self-doubt and think 'maybe we're not good enough'. It's a horrible feeling and we must do our best to not let those thought terrorists in.
"Maybe it's more realistic that the odds are just stacked against us. Yet Scottish men are generally getting their names and faces out there (even from grassroots level) than Scottish actresses.
"Some say 'go and create your own work if you're not happy'. I have been. I've been creating my own work since 2014. I'm tired of waiting for the phone to ring. I wrote my own one-woman show which has now been staged as theatre, stand-up comedy and as a BBC Three mini-series."
Scottish Government agency Screen Scotland highlighted several recent productions which had major roles for actresses, including the dramas The Nest and The Victim, which starred Mirren Mack and Kelly Macdonald respectively, and feature film Our Ladies, which features six female leads.
A spokeswoman said: "Stronger diversity and representation in Scotland's screen industry, both in front of and behind the camera, is incredibly important to us.
"We continue to develop interventions, with partners including Short Circuit, GMAC, Screen NETS, PACT, BECTU, the Scottish Documentary Institute and the BFI, to create opportunities to nurture diverse talent in Scotland.
"Together these initiatives promote diversity from grassroots filmmaking through to feature film production."
BBC Scotland declined to comment.