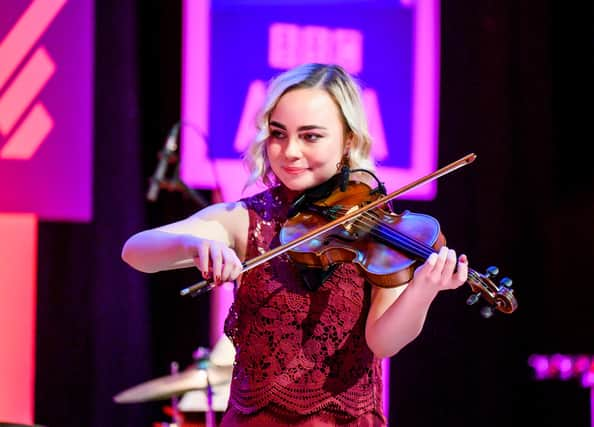 The 21-year-old student, from the Borders, triumphed at the City Halls in Glasgow on the final night of the city's Celtic Connections music festival.
Based in Glasgow, Rae is in her final year studying traditional music at the Royal Scottish Conservatoire of Scotland in Glasgow.
However she has already been playing in Scottish singer-songwriter Callum Beattie's band and toured with Amy Macdonald when he supported her last year. She is also performs with Michael Biggins, who won the coveted title last year, has played alongside singer folk legend Dougie MacLean and was previously a finalist in the finalist in the BBC Radio 2 Young Folk Awards.
The annual BBC Scotland Young Traditional Musician of the Year competition is open to singers and musicians aged between 16 and 27.
Winning the honour, which was first awarded in 2001, is seen as a major springboard for success in the Scots trad music scene. The prize includes a recording session with BBC Scotland and a performance at the Scots Trad Music Awards.
Previous winners have included singers Hannah Rarity, Claire Hastings, Robyn Stapleton, Catriona Watt, Emily Smith and James Graham, and musicians Mohsen Amini, Paddy Callaghan, Anna Massie and Stuart Cassells.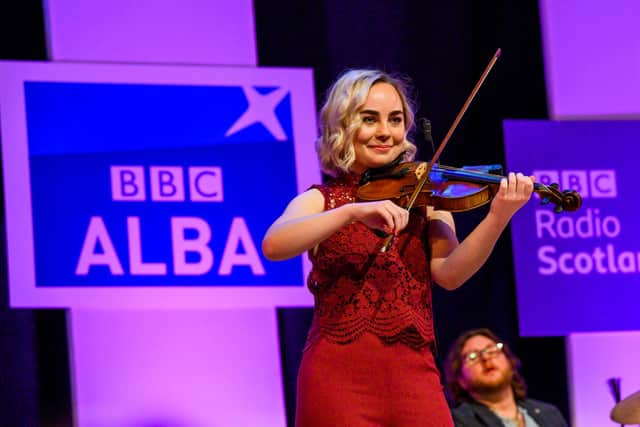 Rae said: "I was in complete and utter shock when my name was read out. I almost burst into tears. It was crazy.
"It feels pretty surreal to have won – it hasn't sunk in yet, but it's a complete honour to be in amongst all the names of the previous winners.
"I entered the competition mainly for the experience and the challenge.
"I stayed in Glasgow the whole time during lockdown, but really felt like I was twiddling my thumbs a lot of the time.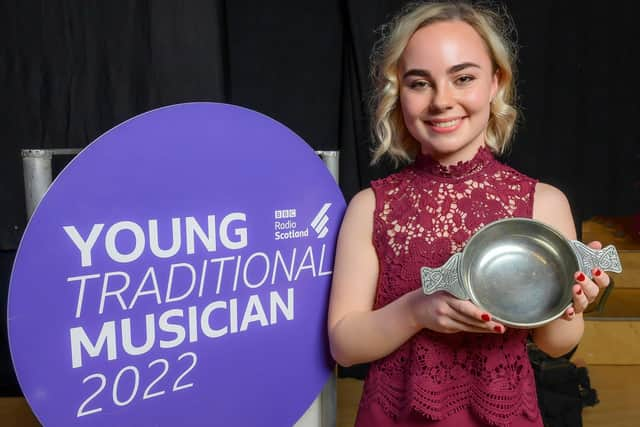 "It's been pretty hard during these times to find the motivation. I thought the award would be a really good thing to work towards."It was a slightly spur of the moment thing to decide to definitely enter. I submitted my recordings at 10pm, before the midnight deadline. It was all quite last minute."
The other finalists in the contest – broadcast live on both BBC Radio Scotland and BBC Alba – were fiddler Breanna Wilson, from Glasgow, clarsach player Malachy Arnold, from Glasgow, Gaelic singer Saffron Hanvidge, from Inverness, Skye piper Malin Lewis and Glasgow pianist Sophie Joint.BBC Scotland commissioning editor Gareth Hydes said: "It's wonderful to have been able to bring this event back to Glasgow's City Halls.
"As ever, we were blown away by the sheer talent on the stage."
Margaret Cameron, commissioning editor and head of creative partnerships at BBC Alba broadcasters MG ALBA, said: "The wealth of traditional music showcased on BBC ALBA every year is one of the things that makes it stand out as a such a valuable cultural asset, showcasing the best in the business and supporting our creative musicians in bringing their voices to audiences across the country.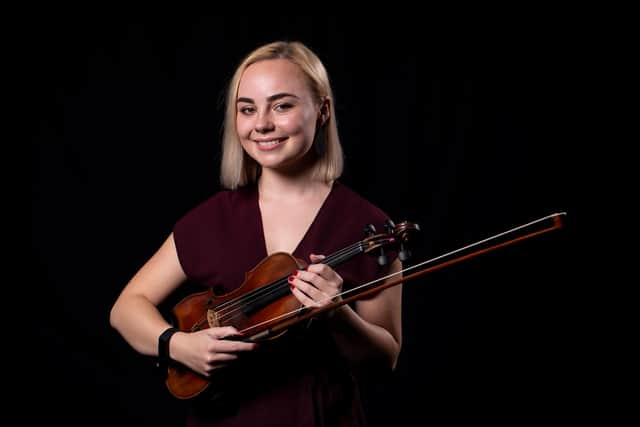 "The Young Traditional Musician of the Year contest is no different, bringing these up-and-coming stars to listeners and watchers looking for the cream of the crop in the traditional music scene."
Meanwhile organisers of Celtic Connections said more than 500 musicians took part in this year's festival, which was thrown into turmoil just before Christmas when strict new curbs on events in Scotland were introduced.
Dozens of shows had to be called off, while the restrictions on crowd capacities and physical distancing were not lifted until after the festival's opening weekend.
However an overall audience of more than 23,000 was attracted to more than 60 shows which were able to go ahead in 18 venues across the city. Audiences in 31 countries around the world bought tickets to watch shows in the festival's online programme, which is available until 16 February. Celtic Connections is also rescheduling some called off concerts for later this year.
Creative producer Donald Shaw said: "Having been faced with such uncertainty at the turn of the year, we feel very fortunate to have preserved an 18-day festival and to have met disruption with innovation and creative solutions at every turn.
"It's been a joy to provide a global platform for musicians and performers and to share our love and passion for performance with the world, while keeping those involved safe.
"We've showcased uplifting performances from some of folk's brightest talent and brought that hugely sought after live gig experience to thousands of festival attendees - all with a renewed sense of optimism and vigour."