Festival review: Hidden Door Festival, The Complex, Edinburgh
This year's Hidden Door Festival briefly transformed the former Scottish Widows building on Dalkeith Road into a hub of artistic activity, writes David Pollock
Hidden Door Festival, The Complex, Edinburgh ****
"We've had a lot of old Scottish Widows staff in," said the person scanning tickets for Edinburgh's Hidden Door festival, this time held in architect (and partner of Basil Spence) John Hardie Glover's former insurance company headquarters, completed in 1976. Set across from the Royal Commonwealth Pool at the foot of Salisbury Crags, the building has lain empty since 2020.
Its situation made it ideal for Hidden Door's usual MO – taking over an unused space and filling it with pop-up art galleries and DIY music spaces for a short festival.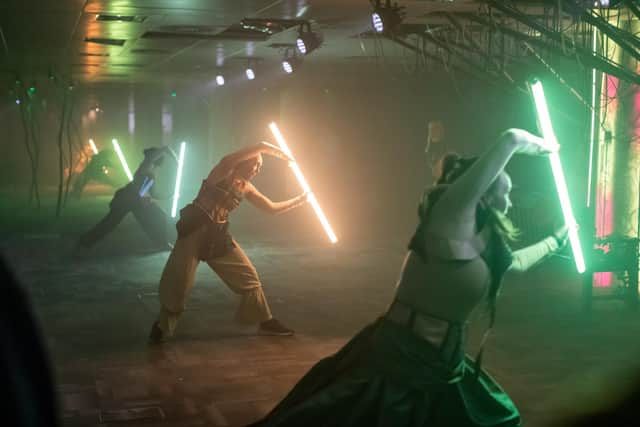 Held across five days, the event was open every afternoon for all-ages exploration, and in the evening for live music and performance. The main Cabaret Stage was located in the building's subterranean, split-level former canteen, adapted brilliantly to host a range of headline performers.
These included Thursday's sweatbox headliners the Hot 8 Brass Band, blasting out a call-and response version of Marvin Gaye's Sexual Healing to the heaving crowd, and Friday's two-hour techno odyssey with Max Cooper and post-midnight journey with local art-electronica explorers Maranta.
Even further down, the Loading Bay Stage was a uniquely-proportioned place with metal air-con pipes running along the ceiling and a hard tarmac floor, creating an industrial setting for artists including Glasgow rapper Bemz, playing his intimate set "like stand-up comedy." Upstairs, the early evening poetry room became a club night later into the night, shaking to Samedia Shebeen's African rhythms on the Thursday.
Most unique of all was The Environments, a promenade tour (following a performance-based workplace "induction" ceremony) of a large, open-plan upstairs hall fitted with bespoke lighting, with simulated foliage growing throughout and timed performances of discordant brass-and-electronic jazz and eclectic dance. It turned the commonplace surroundings into something exciting.