Festival music: folk and jazz highlights to seek out across the city this month
From eclectic programming at the EIF to intimate gigs in the cosiest of tucked-away venues, there is a feast of folk and jazz music to enjoy across Edinburgh in August. Let Jim Gilchrist be your guide ...
Edinburgh's annual explosion of cultural hyperactivity may be in full flow, but for those seeking folk, jazz and related material there is plenty to still enjoy. The Edinburgh International Festival has upped its game in terms of wider music genres largely due, one suspects, to the broad-minded approach of its new director, Nicola Benedetti. Upcoming eclectic attractions due at the Hub include the Aga Khan Master Musicians performing music from along the ancient Silk Road, the impassioned singing of Palestinian Nai Barghouti and US jazz bassist and composer Endea Owens, not to mention celebrated sitarist Anoushka Shankar at the Festival Theatre.
Official EIF performances aside, however, there remains a wealth of folk, jazz or you name it sounding out throughout the city. Sifting through the orange music pages of the Fringe brochure can be a daunting business. But if you are looking for a good place to start, there are some sure-fire music-dedicated venues. The Acoustic Music Centre (Venue 138), perched on the eastern fringes of the New Town (in the Ukrainian Community Centre, to be precise) is a long-running Fringe fixture for traditional and other folk music. The coming weeks see the place hosting such distinguished veteran voices as Archie Fisher and Allan Taylor, as well as more recent luminaries such as singer and harpist Chloe Matharu, Northumbrian song and pipes from Jez Lowe and Andy May, west coast fiddle and song duo Eilidh Steele and Mark Neal and vintage jazz specialist Ali Affleck.
Another cornerstone of the Edinburgh folk scene is the Royal Oak pub (Venue 309), with its famous Wee Folk Club. Its nightly Festival Folk at the Oak programme will host the likes of Ian Bruce and Kev Green, Barbara Dymock with Chris Marra and Perthshire singing duo Jim and Susie Malcolm. When the Oak describes its downstairs lounge as "small and intimate", it ain't kidding, so booking in advance is advised.
For jazz on the Fringe, the first stop has to be the multiple award-winning Jazz Bar (Venue 57), boasting eight shows per day from 2pm to 5pm, ranging through modern and trad jazz, funk, blues and rock. Notable players over the next three weeks include acoustic guitar wizard Nick Harper, the Colin Steele Quintet playing Miles Davis, the Lorna Reid Sextet with her Angels and Demons show, the Katet having their jazz-funk way with Stevie Wonder and John Williams (among others) and five nights featuring the legendary American-Russian trumpeter Valery Ponomarev as he celebrates his 30th appearance at the Jazz Bar.
Further perusing those Fringe programme music pages you will find odd corners such as Valvona and Crolla (Venue 67), where if you force yourself through the Aladdin's culinary cave of the famous delicatessen and head upstairs to the Green Room you might catch the sparky piano-clarinet pairing of Brian Kellock and Dick Lee, or Lee again, this time in with accordionist Dave Vernon, or old school swing and blues from the Pitchblenders.
Or make your way to douce Marchmont and descend into the Argyle Cellar Bar (Venue 293), where you'll find the Matt Holborn Quartet's Django at the Fringe, celebrating the immortal Reinhardt and Grappelli, or the vintage New Orleans sounds of the Tenement Jazz Band.
From venues profane to sacred, you might catch classic Scots fiddle exponent Alastair Savage in either the Canongate Kirk or St Cuthbert's Church. Or veteran folk band the Whistlebinkies at artSpace@StMarks (Venue125), while saxophonist Tommy Smith and artist Maria Rud will transform the august St Giles' Cathedral (Venue 187) with the jazz-audio-visual extravaganza of their Luminescence show.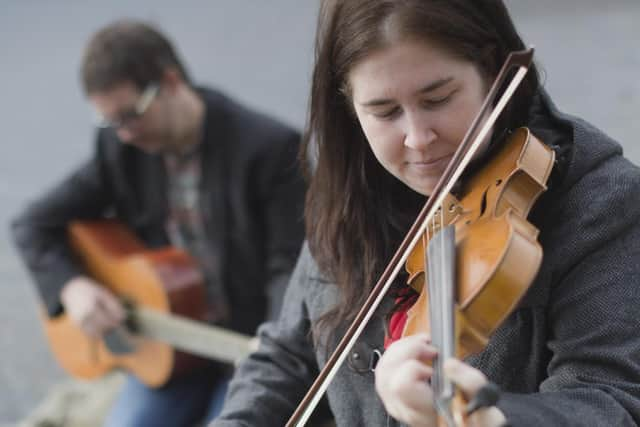 However, for a bounteous programme of top-level Scottish folk and jazz talent that you won't find in the printed programme (it was organised too late to catch the print deadline) check out the Rose Theatre (Venue 76) on Rose Street. It is currently enjoying a new lease of life as a Scottish Music Showcase, presented by the ever-industrious Soundhouse organisation.
Nightly delights still to come in this revivified venue include piano-sax jazz duo Fergus McCreadie and Matt Carmichael, award-winning singer Georgia Cécile, eclectic cellist Su-a Lee and Friends, "acid crofters" Shooglenifty and Glasgow's folk-jazz heavyweights Fat-Suit.