Festival Diary: Louis Theroux unable to resist digs at TV industry 'plonkers'
Presenter delivered this year's Mactaggart Lecture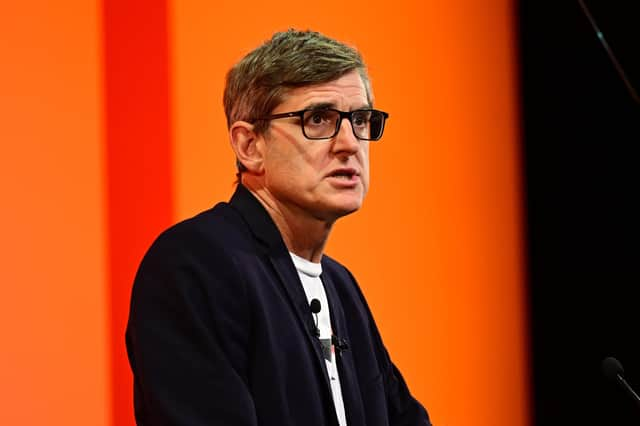 Louis Theroux's MacTaggart Lecture at the TV festival was always likely to be one of the industry summit's more unconvention curtain-raisers.
He began by quoting the Swiss film director Jean-Luc Godard and his insistence that "a story should have a beginning a middle and an end, though not necessarily in that order" before telling the packed audience at the EICC that the industry needed to produce TV that was "confrontational, surprising, and upsetting."
Half an hour later, Theroux told how he was to be delivering the lecture, rounding off by saying: "I am Louis Theroux and I am very happy to be here. I hope you enjoy my lecture."
Theroux could not resist an occasional jab at the TV festival audience as he recalled "spending time in prisons in America, religious cults, maximum-security mental hospitals, talking to sexually violent predators and psychopaths."
He told them: "Looking at all of you, I feel completely at home."
However he added: "The TV industry is no more and no less a milieu I feel totally comfortable in than many others I've explored for work. I don't read the trade magazines or keep up with what's going on, except in a haphazard and anecdotal way.
"For a long time, I used to view industry people as a load of plonkers swanking around their cocktail parties and their sessions."
As the TV was bursting into action, the film festival was winding down after a truncated but well-received 76th edition of an event that virtually returned from the dead.
Programme director Kate Taylor, who has led this year's revival, had a fair bit to say before introducing closing film Fremont, including a roll call paying tribute to every single member of staff who worked on the festival, and news that an overall cinema capacity of 82 per cent had been recorded, with 71 per cent of screenings sold out.
In an impassioned speech, Taylor said the festival had shown there was an "unquenchable appetite in this city for independent and international cinema" in Edinburgh, which has celebrated the return of the film festival while efforts are ongoing to reopen its year-round and much-missed home on Lothian Road.
Taylor added: "We all hope that the event's success offers a beacon for a brighter future for EFF and film culture in the city.
"So I would now ask for your next round of applause for both of those audiences who have come yourself included and all those across many organisations and individuals who are currently working to make more space for more people to engage with film in Edinburgh. Save the Filmhouse."
The film festival seemed a bit unsure whether to describe Iranian-British director Babak Jalali's closing film as a drama or comedy, instead settling for "deadpan dramedy" in the programme.
In his own introduction to the film - which focuses on a young Afghan woman Jalali living in San Francisco's Bay area - he urged the audience to shed any concerns about being "polite and correct" during the screening.
He said: "It's absolutely okay to laugh. No-one's going to be offended, no-one's going to think you're being politically correct, so feel free. But if you don't find it funny don't fake laugh."
Comments
 0 comments
Want to join the conversation? Please or to comment on this article.