Festival Diary: Frankie Boyle is lost in translation for New York actor and writer
Comic offer sage advice to new performers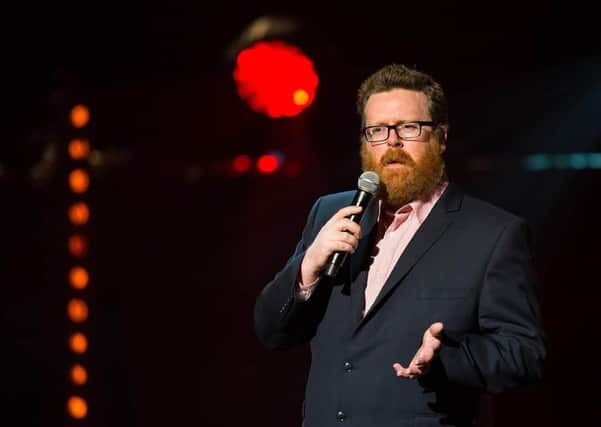 Probably the best perk of being a Fringe performer is getting a venue pass which allows entry to shows which don't reach capacity.
That certainly doesn't apply to Frankie Boyle, whose run at the Assembly Rooms is one of the festival's hottest tickets.
But that didn't stop New York playwright and performer John Jiler, the star of The Rosenberg/Strange Fruit Project, from giving it a go and being rewarded when a last-minute seat became available.
There was just one problem – Jiler could hardly understand a word due to Boyle's "impenetrable" Glasgow accent.
Jiler told me: "I thought 'when in Rome, do like the Romans,' but I honestly hardly got any of it. All around me people were stomping and laughing, but I was completely alienated. I have a feeling that it was probably pretty interesting, but it was like Lithuanian to me."
Boyle himself has been using his Assembly pass to check out some of the other shows, with one in particular inspiring him to record a video message with advice for performers.
What Girls Are Made Of is one of many previous Fringe hits revived and rebooted this year in the hope of securing new audiences and a new life away from Edinburgh.
Boyle, who had no idea what the show was about beforehand, was full of praise for the "ferocious intensity" of Cora Bissett's performance in her acclaimed gig theatre show recalling her rollercoaster experiences of the music industry after joining an indie-rock band when she was a teenager growing up in Fife.
He told his Instagram followers: "It wasn't full, but it was still done at absolute full power and full intensity.
"I really think that's the way to do the Fringe. If you're a new act, just do every show like you're absolutely bringing it. Don't get into the mindset of 'it's half-full because it's a Monday, I'll bring it on Saturday.' Get used to really hitting it every night because your body remembers that. You're kind of training yourself to be on it. I speak as someone who's approached it both ways."
There was a real international flavour in the queue to speak to The Scotsman at the Fringe's annual "Meet the Media" event.
Japanese circus duo Chiharu "Cheeky" Kunishina and Daiki Izumida, who perform as Witty Look, seemed surprised I immediately recognised them given that they had just launched their debut Fringe show, at Assembly's Roxy venue, where you can see why Daiki is a former unicycle world champion.
But the Tokyo-based pair are well known to audiences in the Hebrides thanks to their annual big top appearances with the Let's Circus troupe, most recently at the Hebridean Celtic Festival, where they appeared on the same as The Proclaimers.
Phoebe Waller-Bridge, who has been dashing around in her "Fringe President" role, was back mingling in the Meet the Media queue for the second year in a row to spring a surprise on unsuspecting performers.
She was later catching up with Charlie Wood and Ed Bartlam, the duo behind Underbelly, where Fleabag premiered a decade ago, when she ambushed for a mass selfie by what appeared to be a group of performers but was actually Tracey White's hen night en route to a silent disco tour.
Comments
 0 comments
Want to join the conversation? Please or to comment on this article.