Festival Diary: Dark humour as comedy stars turn out for Raymond Mearns benefit
Gary: Tank Commander was surprise guest
The benefit night for Raymond Mearns, the much-loved Scottish stand-up favourite forced to pull out of the Fringe after suffering a stroke on its opening day, was already shaping up to be something special given the array of festival favourites on the line-up, including Frankie Boyle, Susie McCabe, Mark Nelson and Christopher McArthur-boyd.
But there was an extra treat in store for the sold-out crowd at the New Town venue when compere Jay Lafferty introduced Gary: Tank Commander as the warm-up act for the show.
Greg McHugh wasted no time getting to know as many people in an overwhelmingly Scottish audience, many of whom had travelled through from Glasgow, Mearn's home city.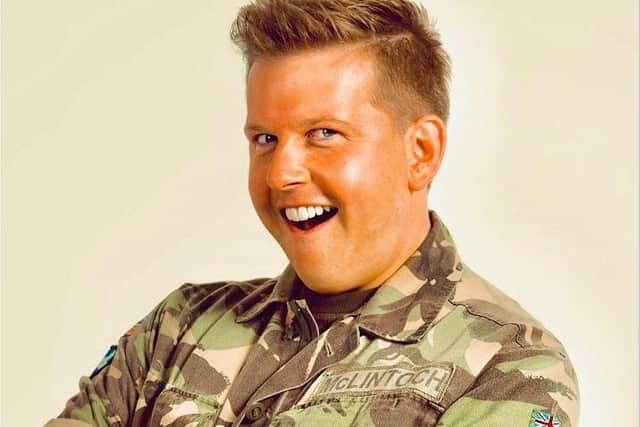 Quizzing the front row about their day jobs, he was temporarily silenced then starry-eyed when he came face-to-face with an armed forces broadcaster.
He said: "Are ye really? That's amazing - I'll need to see you later."
The benefit, which was announced shortly after a crowdfunding campaign which has now raised more than £12,000 for Mearns, was inevitably peppered with good natured jibes and dark humour at his expense, before the audience was told at the end of the night that the comic had been released from hospital and was now recuperating at home.
Fred MacAulay, who was making a rare Fringe appearance this year, insisted he was the only one on the bill who had been performing longer than Mearns and had taught him "everything he knows."
He told the audience: "It was me that got him into chocolates and whisky. He's got me to thank for the twelve grand he's about to get. People have been asking: 'Why are you doing this gig, Fred?' I'm 66. It's me next year."
Chris Forbes continued the dark theme, saying: "We're all listening off to the side. It feels a bit of a shame that everyone is telling Raymond stories like he has died. We've even got a black cloth behind the stage."
I've been in a few packed rooms this month but none more so than the tiny venue chosen for a sneak preview of the second series of Crime, the drama Irvine Welsh has created to bring his troubled detective Ray Lennox to life, at the TV festival.
Welsh and the show's lead actors, Dougray Scott and Joanna Vanderham, showed several new clips from the ITV show ahead of its launch next month. Sadly none of them featured two locations which are likely to be of particular interest to viewers in Edinburgh.
Welsh revealed that the docklands of his native Leith have been captured like never before thanks to drone filming.
The audience heard unexpected praise at the event for the help the production had received to us Tynecastle Park, home of Heart of Midlothian, the arch footballing rivals of Hibernian, the beloved team of both Welsh and Scott, who still appeared traumatised at the memory of having to play a Hearts-supporting detective who takes to the pitch in a pivotal scene in the new series.
Scott recalled: "I wasn't acting. It was just me crying in the centre centre at the thought of playing a Jambo.
"But fair play to Hearts. They were very accommodating and couldn't be nicer. We had the use of the whole stadium for six hours."
Comments
 0 comments
Want to join the conversation? Please or to comment on this article.