Festival Diary: A contender for the most zen-like show of the Fringe
Festival Diary: A contender for the most zen-like show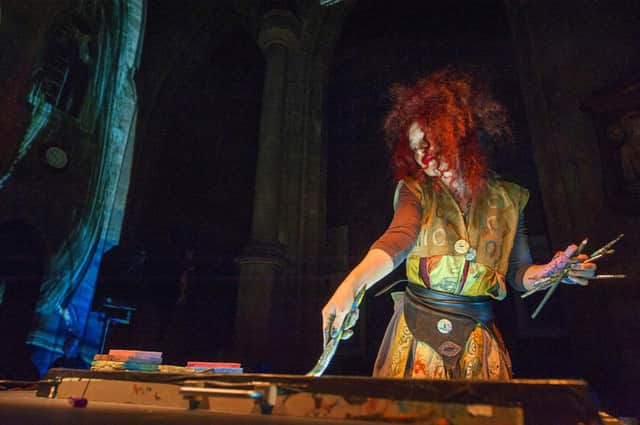 One of the great urban myths about Edinburgh is that the city is taken over by the festivals.
There are plenty of places to head for an hour or two of calm and relaxing, some right in the heart of the city.
St Giles' Cathedral is one such place, despite its location in the heart of the Royal Mile.
And it has been offering a contender for both one of the most zen-like and spectacular experiences of the Fringe.
Painter Maria Rud has joined forces with saxophonist Tommy Smith for her latest live event bringing music, art architecture together.
Rud's work, including human figures, landscapes and animals, is projected onto the east window of the 12th century cathedral while Smith plays for around an hour.
The pair had to pause for a few months after the lighting of candles set the mood in the hushed cathedral – to ensure the show wasn't disturbed by the deafening roar of the Tattoo's latest flyover, from a Eurofighter Typhoon.
Social media was awash with clips of Sir Billy Connolly's famous TV debut after the death of Michael Parkinson was announced.
Legend has it that Connolly was propelled to fame after appearing on Parkinson's chat show in 1975.
It was arguably a Fringe show in Edinburgh launched three years earlier that set him on the path to success.
But writer Kevin Williamson was among the many festival figures to recognise the significance of Connolly's TV breakthrough.
He said: "Scotland's modern cultural renaissance began for real with those 70s interviews with Billy Connolly. First time the urban Scots language was heard on UK telly by most Scots. It sounded cool, funny and expressive. We exist! We all owe Billy Connolly (and Parky) a debt."
Williamson was maybe reflecting on his own contribution to contemporary Scottish culture when he was reunited at the book festival with four then-unknown writers whose work he published exactly 30 years ago in his Rebel Inc magazine Gordon Legge, John King, Alan Warner and Irvine Welsh.
Welsh is gearing up for the launch at the film festival of a new documentary on his life and work, featuring words and wisdom from Iggy Pop, Primal Scream, Gail Porter, Danny Boyle and Ewan McGregor.
Welsh says: "Bizarrely, this is the first of two documentaries on me. I'd have thought one was way too much, but there you go. Maybe they're like buses."
It is 30 years since comedian. actor and songwriter Mervyn Stutter launched his Pick of the Fringe show, the 90-minute lunchtime selection box.
Billed as "the Royal Variety Show of the Fringe," it features a different line up every day, drawn from the comedy, theatre, cabaret, music, dance and circus line-ups.
Stutter will mark the show's big birthday with a charity gala raising funds for a South African charity for disadvantaged children that his wife Maureen has had a long-time involvement in.
The Imbala Trust is in Edinburgh withi staging a song and dance show at the Counting House celebrating the 12 official languages of South Africa.
They will perform at Monday's gala along with the comics Ed Byrne and Jo Caulfield, magician Colin Cloud, and the shows Havana Street Party, A Comedy of Operas, Showstopper, Spirit of Ireland.
Comments
 0 comments
Want to join the conversation? Please or to comment on this article.