EIF review: The Closing Concert, Usher Hall, Edinburgh
The Closing Concert of this year's Edinburgh International Festival made for a resounding but also thought-provoking conclusion, writes Ken Walton
At the start of her first debut Festival programme, Nicola Benedetti stood on the Usher Hall stage and pronounced its searching theme: "Where do we go for here?" She reiterated it before Sunday's closing concert, mindful no doubt that such a question is always worth addressing if not easily or quickly resolved.
That was Wagner's consideration when he probed the possibility, or impossibility, of love's sublime fulfilment in his opera Tristan und Isolde, so for American conductor Karina Canellakis and the BBC SSO to open with its Prelude and Liebestod effected the perfect segue.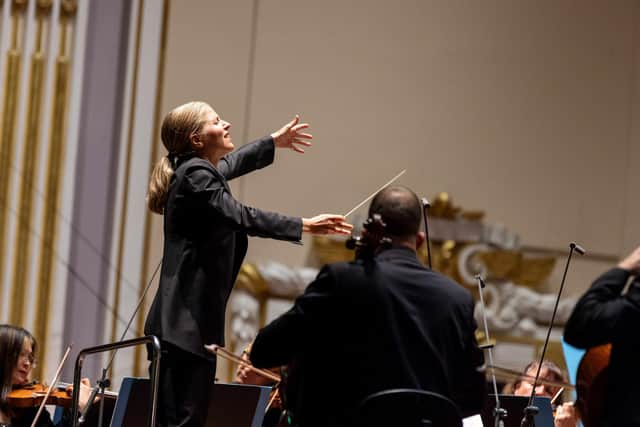 Canellakis teased out the famous opening motif, each successive statement broken by achingly extended silences. The remainder was carefully crafted, keener on its sentences than paragraphs perhaps, but ultimately intent on reaching its transfigured resolution.
Echoes of Tristan in Scriabin's The Poem of Ecstasy sustained the programme's gratifying continuity, its language a more intensified Wagnerism spilling into churning modernism, the performance reflecting its restless, desperate passion.
Three impassioned soloists – Olga Kulchynska, David Butt Philip and Alexander Vinogradov – and a gloriously resolute Edinburgh Festival Chorus, added to the closing spectacle that was Rachmaninov's The Bells, a vivid celebration of life's joys and sorrows expressed in glorious technicolor. A resounding Festival conclusion, yes, but also thought-provoking.