EIF dance and music reviews: Alvin Ailey American Dance Theater | Nickel Creek | Endea Owens | Simón Bolívar Symphony Orchestra | Mao Fujita
In our critics' latest EIF round-up, young dancers from across Scotland join the performers of the Alvin Ailey American Dance Theater to deliver another world-class show, while Japanese pianist Mao Fujita blows the roof off with a performance full of furious emotion
Alvin Ailey American Dance Theater: Programme 2, Edinburgh Festival Theatre *****
Comparison is rarely a good thing, especially when you're measuring something against a different incarnation of itself. But the sheer brilliance of Alvin Ailey American Dance Theater's first programme at this year's Festival was always going to be hard to live up to. Programme 2 brought a different vibe, and although it didn't quite match the heady heights of the night before, an evening with AAADT is always one to remember.
Because what it may have lacked in swagger, it more than made up for in heart, particularly Memoria, which was created by Ailey in 1979 to honour (and to a certain extent process) the death of his close friend Joyce Trisler. First, we see a beautiful replication of Ailey and Trisler dancing together, as they did many times. Then, to acknowledge the meaningful impact she had on her students, we see 22 young people join the company on stage. In New York, those roles are played by Ailey II and the Ailey School – but here, wonderfully, we find dancers aged 18–25 from across Scotland taking up the challenge. That they only had a week of rehearsals to prepare, and hold their own next to world-class performers, is testament to the skill and passion of the next generation of Scotland's dancers.
Ailey choreographed The River in 1970 for American Dance Theater, then gave it to his own dancers in 1981. Inspired by natural water in all its guises, this elegant work takes us from rapids to lakes to a vortex, mixing balletic grace with athletic modern dance and a smidgeon of wit. And then it's time for the highlight of any Ailey programme, his 1960 work Revelations. Only this time, ending as it does an entire triple-bill of Ailey works, it's fascinating to see his style and stamp echo differently across the years. Kelly Apter
Nickel Creek, Playhouse ****
Bluegrass may be a back porch kind of musical tradition but Nickel Creek have scaled the festivals of the world with their turbo-charged mountain music, attacking their performance like rock musicians filling out Edinburgh's largest theatre. Fiddle player Sarah Watkins sang with a bluesy edge one moment, Chris Thile broke out an intense mandolin solo the next, as if intent on pushing their instruments as far as they could.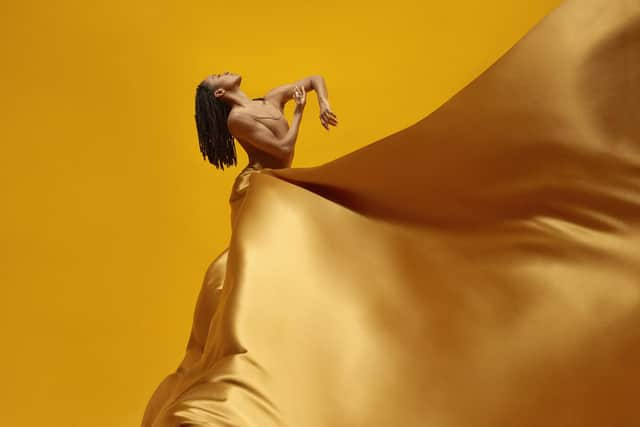 Following a phasers-on-stun opening, there was a change of tone and pace on a plaintive folk waltz interlude, foreshadowing the yearning minstrel quality of chamber pop ballad Helena, a song of regret about the end of a relationship. But as pointed out, they also have songs about the relationship part of relationships, and others about airports and the end of the world.
These are all fine enough, especially when Thile and the Watkins siblings harmonise in the Laurel Canyon style of Crosby, Stills & Nash, but it is as instrumentalists that they excel, playing with the capabilities of their string band line-up as a vehicle for individual and collective expression while honouring their old time roots, ramping up a positively jumping Celtic reel and lifting a glass to their hosts on Scotch and Chocolate. Fiona Shepherd
Endea Owens, The Hub ****
Following her previous night's passionate tribute to Martin Luther King, this was a more straight-ahead, if often full-on, performance by bassist Endea Owens and her septet. A warmly expansive (and brightly spangly) stage presence, she coaxes big, warm tones to match from her double bass, giving it an expressive voice of its own.
They're called the Cookout Band, and cook they did, following resonating opening bass deliberations, with trumpeter Kris Johnson and alto saxophonist Louis Fouché blowing terse phrases, and Keith Brown's piano cascading energetically as they built up pace.
As high-energy ensemble work was punctuated by bass interludes, The Power of Love saw singers Shenel Johns and Jonathan Hoard outdoing each other in vocal acrobatics, while an audience-participatory chant developed over a Love Supreme-style pulse. Lyrics were at times obscured by volume, but Johns also gave passionate voice to the reproachful dignity of Nina Simone's Four Women, with a powerful solo from Johnson.
Where the Nubians Grow developed muscular bounce, featuring lithe trumpet and sax, then the joyful finale of For the People, before things wound up in an exuberantly funky jam, with drummer Jerome Jennings urged on enthusiastically. Jim Gilchrist
Simón Bolívar Symphony Orchestra of Venezuela: Beethoven's Ninth Symphony, Usher Hall ***
Thank heavens for the Edinburgh Festival Chorus. They're one of the jewels in the International Festival's crown, clearly, and could almost certainly sing Beethoven's Ninth in their sleep if needed, so many times must they have performed it in Augusts of the past. Nonetheless, alongside a luxury quartet of soloists (including a commanding but lyrical bass in Christopher Maltman), the Chorus delivered the Symphony's final movement with all the power, joy and sheer conviction that the Simón Bolívar Symphony Orchestra of Venezuela, in the first of its two EIF concerts, somewhat mystifyingly seemed to lack.
Perhaps it was conductor Rafael Payare's rather broad gestures, or simply an eagerness to get on to the main event of the finale. But moments of drama or expectation were left unexplored, ensemble was sometimes rather ragged, balance was often a bit askew, and the whole thing felt more like a play-through than a considered, strongly communicated performance – though it picked up focus and energy more convincingly as it hurtled towards its conclusion.
Before the interval, more mystification, as audience members around me didn't even know what they were hearing – without a printed programme to tell them, and with the evening's repertoire hidden away on just a single page of the EIF website. Villa-Lobos's Bachianas Brasileiras No. 7, however, felt like an unnecessary filler in a thick, heavy account. All in all, disappointing. David Kettle
Mao Fujita, Queens Hall *****
J.D. Salinger wrote a fine story, Raise High the Roofbeams, Carpenter. Surely the Queens Hall's beams may take some days to settle after the young Japanese pianist Mao Fujito's superb Liszt sonata – a torrent of fiendish pianism and poetry, prowling, thundering and whispering through music of ferocious emotion. Fujito has miraculous technique and tremendous musicianship and plays as though he and the piano are barely separate entities. The tenderness in his song-like lines was extraordinary, contrasting with absolute clarity in Liszt´s great clamorous explosions, building a performance of considerable architecture in an outpouring which teeters on the edge of sanity.
The all-Mozart first half inhabited a different world. The composer, youthful himself, is perhaps the most challenging of all for a young artist, particularly one of athletic virtuosity. Seemingly simple, but hugely complex, Mozart demands extreme intellect and musical instinct, but also a child-like innocence. His world is not entirely immediate; it leaves trails of deep thought. Fujito played beautifully through light and dark, almost politely singing through the long lines and crystalline in the passagework. But he was clearly more comfortable in Mozart's fiercer menacing world, in the late C minor sonata and the Fantasia which preceded it. Mary Miller