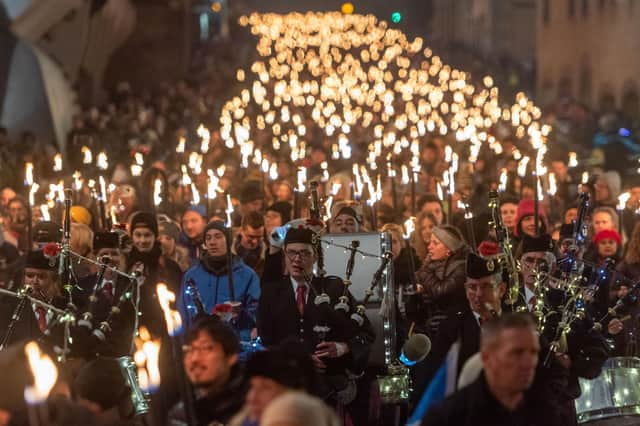 Cammy Day said the city was hoping to attract new commercial sponsorship to ensure a "bigger and better" festival was able to be staged in 12 months' time.
The fire parade through the city centre, which had been the traditional curtainraiser for the festival since its earliest incarnations, was scrapped this year due to funding problems and the economic climate, while the Loony Dook in South Queensferry was dropped from the official programme and went ahead on a significantly-reduced scale.
Cllr Day said demand for tickets for the official street party and the Pet Shop Boys concerts had underlined the international appeal of the Hogmanay festival, which found strong support in a public opinion poll carried out last year.
The council agreed a new contract to produce the Hogmanay festival, worth more than £810,000 each year and expected to run for five up to five years, with a consortium involving Unique Events, the Edinburgh-based company which launched the festival in 1993, and long-time Fringe venue operators Assembly.
Their initial programme saw the capacity of the street party cut by around half to 30,000, with a further 10,000 tickets sold for the Pet Shop Boys concert.
Other elements of the programme included a series of indoor ceilidh dances, a free afternoon of live music staged across venues in the Old and New Towns, and extra gardens concerts either side of Hogmanay, which featured Altered Images, Sophie Ellis-Bextor, Hamish Hawk. Elephant Sessions and Tide Lines.
Cllr Day said: "Although numbers for the street party were limited, it was amazing that tickets sold out so early.
"People from around the UK and across the world have missed the event over the last couple of years.
"It was really exciting to see the festival come back and know that it was popular given the demand that we saw so early on.
"Some of the summer festivals and events didn't have the same bounce-back as would have been expected in terms of their ticket sales.
"We have come back with a bang. Given the sell-out shows and the success this year, hopefully next year and in future years the festival will grow and spread further around to offer even more.
"With the challenges around this year's event and the changeover (since the new contract was awarded) there has not been the time to get the level of sponsorship we have had in the past.
"There are a number of things, like the torchlight procession and the Loony Dook, that we would want to bring back next year. There is a demand for them and there is a commitment to try to make them happen.
"I think the festival will only get bigger and better in future, with events in different locations.
"I'm sure bigger events like the torchlight procession will attract sponsors to help make them happen.
"The bounce-back this year has been measured and is what people asked for in our consultation. Businesses who have been struggling over the last couple of years were over the moon to have tens of thousands of people coming into the city centre."