Edinburgh's festivals: Fringe ticket sales up 11 per cent despite concerns over soaring costs
The box office tally for Edinburgh's festivals was the fifth highest in the event's history
The Edinburgh Festival Fringe has recorded an 11 per cent hike in ticket sales in the space of 12 months as the return of an official app was partially credited for helping to record the fifth highest attendance in the history of the event.
Organisers have revealed more than 2.445 million sales were recorded by the final day of shows yesterday – an increase of almost a quarter of a million.
Ticket sales were thought to have been significantly boosted by the return of the event's official app for the first time since 2019. The app was downloaded nearly 80,000 times and generated more than 400,000 ticket sales. More than a million tickets were sold by the end of the festival's first week.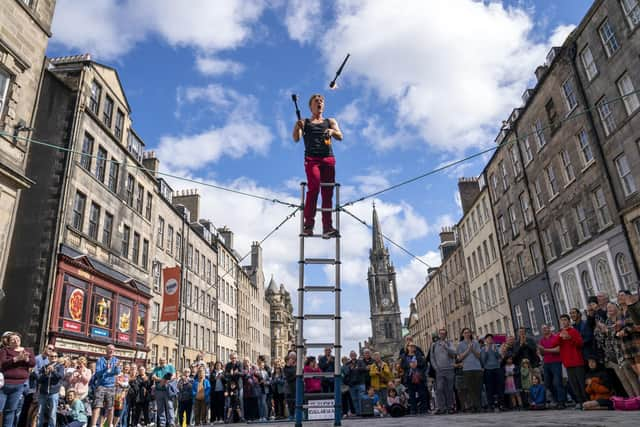 The Pleasance, one of the biggest Fringe venues, reported a 10 per cent increase in its ticket sales and an overall attendance of more than 480,000 at its 273 shows, while theSpaceUK said its ticket sales were up 22 per cent, to 190,000.
Gilded Balloon reported a six per cent increase in its ticket sales, to 190,000, while Summerhall said its own figures had returned to pre-pandemic levels.
The overall box office tally was around half a million more than the one recorded by the Fringe Society a decade ago.
However, the final day box office figure is 19 per cent lower than the record notched up in 2019, when the Fringe attracted an overall audience of three million for the first time.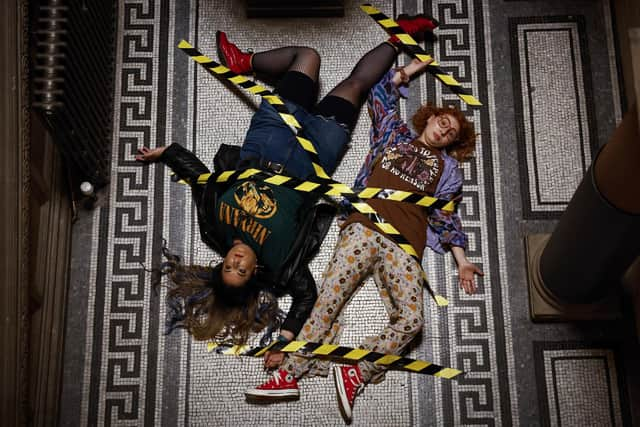 This year's ticket sales were achieved despite concerns many audience members and artists were being "priced out" of the Fringe due to the soaring cost of staying in Edinburgh in August.
As the festivals season in the city drew to a close, the Fringe Society insisted it would be "relentless" in its work to ensure that it would live up to a pledge announced last year for the event to "give anyone a stage and everyone a seat" in future.
However, the society has admitted that artists and performers hoping to appear at the event are facing some of the most "severe challenges ever".
Although this year's Fringe programme featured 3,013 shows when it was published in June, compared to 3,842 in 2019, another 800 shows were registered in the past two months.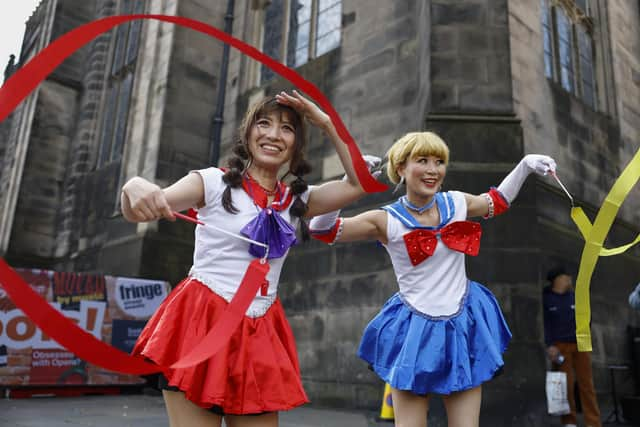 The Fringe Society also reported an increase in the number of accredited producers, programmers, bookers, talent scouts and other festival at the Fringe – to nearly 1,400 – and a 25 per cent increase in the number of reviews of Fringe shows.
Fringe Society chief executive Shona McCarthy said: "This year's Fringe has been one that's felt fresh, brave and energetic, and has sparked joy, discussion and provocation in equal measure, tackling the prevalent issues of our times and looking at them afresh through the creative lens and ingenuity of the performing artists.
"People come from all over the world to perform here, to see shows and to commission work. This festival remains a beacon for people to share and discuss ideas.
"We will be relentless in our ongoing work to ensure that the Fringe lives up to its mantra – to give anyone a stage and everyone a seat."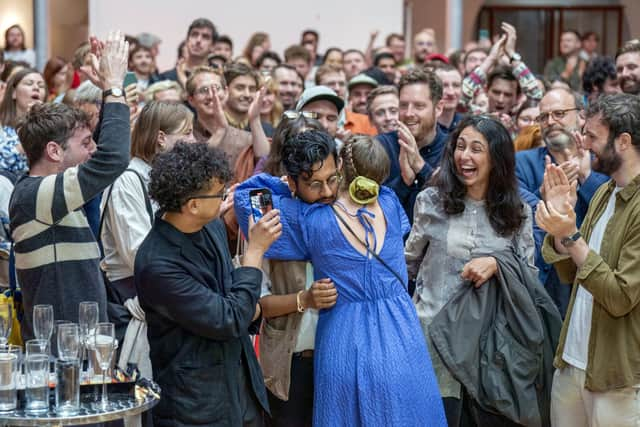 Fringe Society chair Benny Higgins added: "The discussions and debates held at this year's festival have made it one of the most vital and memorable – and one of the loudest conversations was the one around affordability. Certainly artists are facing some of the most severe challenges ever and, while we will continue to do everything in our collective power to support artists, this will become harder and harder without finding support commensurate with the Fringe's contribution to the economy.
"We will continue to make the case for funding, to protect what the Fringe represents – an unrivalled outpouring of creative expression."
Anthony Alderson, artistic director of the Pleasance, which reported attracting up to 36,000 people to its courtyard on its busiest days, said this year's Fringe had been "joyous".
He said: "The energy around the venues and in this city has been wonderfully positive. The quality of work has been of the highest standard and audiences have enjoyed some truly wonderful shows.
"The Pleasance is all about lending support and enabling artists to present work and I'm so proud of what we've achieved this year. This really has been an amazing year and, as sad as it is when the venues close for the final time, we're already looking ahead and excited for 2024, our 40th anniversary."
Assembly said 453,000 tickets were sold for its 204 shows. Artistic director William Burdett-Coutts said: "The festival has once again regained its mojo after three hard years brought on by Covid.
"We still have work to do in regaining the confidence of audiences and dealing with the many issues that need to be addressed by the festival. But mostly we celebrate the joy of seeing both local and international audiences appreciating the greatest arts and entertainment festival in the world.
"It's been terrific to walk around Edinburgh and hear the myriad of accents and languages that have come together to take part. And what a celebration it has been.
"Across the board, the Fringe has shown again the important part it plays in entertaining audiences, but also the role it plays in developing work that feeds into the entire industry."
Bosses at theSpaceUK said more than 3,400 performers from 40 countries took part in its 423 shows. Artistic director Charles Pamment said: "We are hugely proud to have hosted so many high calibre shows as well as returning to pre-Covid audience levels.
"International participation was 'back', as was overseas audiences, and we're very pleased to be reporting record ticket sales across our venues. Creatively, it was fabulous to see so many of our shows receiving four and five-star awards and two Fringe First awards across our platform made this a very special year indeed.
"None of this could happen without the continued passion and commitment of participation from creatives bringing shows to Edinburgh. The future holds various challenges, but we close our 2023 Fringe offering all who made this happen a huge round of applause."
Both Gilded Balloon and Summerhall ran "support the artist" schemes which allowed ticket-buyers to pay an extra £2 donation which went straight to performers in their programmes.
Katy and Karen Koren, Gilded Balloon's artistic directors, said they had enjoyed an "incredible year" across their three main venues, which hosted 185 different shows.
They added: "We saw an increase in overall percentage of tickets sold compared to last year, brought Equality Network on board as our new charity partner for our 'Pink Wednesday,' and introduced our new 'support the artist' scheme which we hope to grow in coming years.
"Our 'support the artist' initiative meant ticket-buyers were able to add an additional £2 per ticket, going straight to performers themselves, in an effort to extend the support offered to artists faced with growing costs of performing at the festival.
"All in all, it's been an extremely positive year and our audiences have seen some incredible shows - from newcomers and Fringe veterans, comedy to hard-hitting theatre, drag, music and more."
Summerhall chief executive Sam Gough said: "What a treat this Fringe has been, back to pre-Covid numbers in terms of visitors and ticket sales.
"With the launch our 'support the artist' initiatives we have been able to help them with the cost of participating in the fringe and our Summerhall surgeries led to paid professional development opportunities for 26 artists and opened the doors to conversations that will lead to future Fringe shows. "All that's left to do, is to thank our team and our artists for an incredible Fringe."
Comments
 0 comments
Want to join the conversation? Please or to comment on this article.