Edinburgh rapper Nova wins Scottish Album of the Year title while self-isolating with coronavirus
A 24 year-old Edinburgh rapper who is currently self-isolating after testing positive for coronavirus has been named the youngest ever winner of the coveted Scottish Album of the Year Award.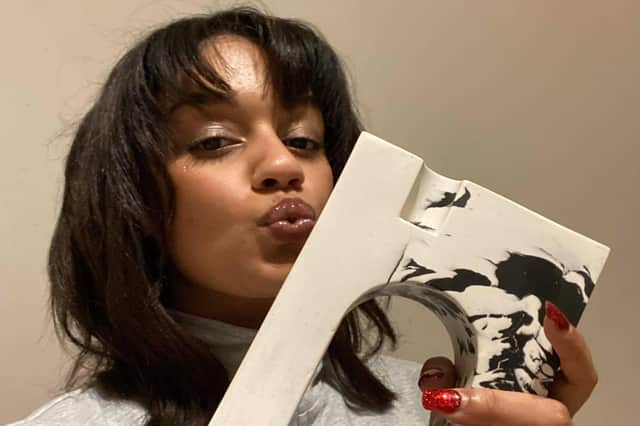 Nova was self-isolating with coronavirus when she was told she had won the Scottish Album of the Year Award.
Rising hip hop, electronica and grime star Shaheeda Sinckler, who is also a producer and DJ, was crowned winner with an album hailed as "brilliant, idiosyncratic and poetic" by the judges.
Leith-based Sinckler, who performs as Nova Scotia or Nova, won the award with a six-track album, Re-Up, which is just 18 minutes long.
Organisers of the award, which comes with a £20,000 cash prize, described her sound as "poignant social commentary and unfiltered truth."
Sinckler, who was previously nominated in the best hip hop category at the Scottish Alternative Music Awards, made her name as a performer after emerging from the underground music scene in Glasgow after a spell studying in the city.
She has described her rapping as "a way to vent frustrations, boast achievements and express wants for the future."
Sinckler, who moved back to Edinburgh in 2018, was due to attend the awards ceremony, which was filmed in advance at Summerhall arts centre in the city for an online broadcast. She She had to film a video acceptance speech after being struck down by Covid 19 just a few days beforehand.
Sinckler, who has started making new music at home over the last few months, said: "I was supposed to be filming a performance for the awards ceremony on Saturday, but the Sunday before I started to feel ill.
"When I went outside it was clear that I needed to go home. I felt ill again the following day and as I had the filming coming up I knew I had to take a test to find out if I had coronavirus or not.
"I got a test on the Monday morning and had a text message on the Tuesday morning to tell me that I had tested positive and had to self-isolate for 10 days.
"It was just amazing to be told that I'd won. I was so honoured to get that kind of recognition. and also so excited for the future and what is to come now.
Nova's debut album Re-Up was released in January.
"The prize money will make things so much easier to carry out some some of the plans I already had and many more.
"I have new songs at the work-in-progress stage at the moment, but this means I'll be able to get them mixed and mastered super-professionally and make some really sick music videos for the new songs as well."
Fiona Shepherd, music critic at The Scotsman, said: "Nova's win is not just a considerable profile boost for this upcoming rapper and DJ, but for Scotland's grassroots hip-hop scene which is too often overlooked.
"At six tracks and less than twenty minutes long, Re-Up may meet SAY criteria that album submissions must be at least six tracks and/or 30 minutes in length, but it feels like more of a mix-tape taster of Nova's potential than a substantial body of work.
Rapper Shaheeda Sinckler, who performs as Nova, is the youngest ever winner of the Scottish Album of the Year Award.
"Arguably, it's symbolic of a year when hamstrung musicians, unable to gig and earn a living, have kept body and soul together through DIY home recording."
Want to join the conversation? Please or to comment on this article.