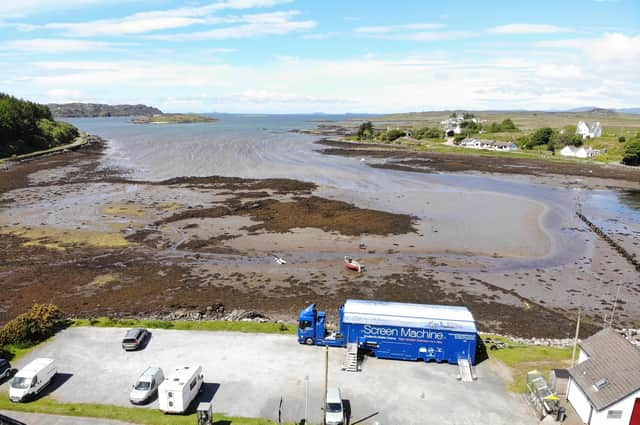 But now the 80-seater "Screen Machine" which has toured around Scotland for the last 17 years is being lined up to provide a temporary replacement for Edinburgh's boarded-up art house cinema.
City council chiefs are in talks over the possibility of bringing the truck to the city for at least a year to help fill the programming gaps left when the historic Filmhouse closed in October after its operator went into administration.
If approved, an extended run for the Screen Machine in the city could see it play a part in events like the Edinburgh International Film Festival, which is going ahead in August despite the Filmhouse's closure.
The council has approached Regional Screen Scotland, the operators of the Screen Machine service, which has covered around 250,000 miles since its initial launch in 1998.
They recently took the HGV - which had visited more than 40 countries around the country - off the road due to its declining condition, which was blamed on the "challengng weather" around the Highlands and Islands.
Regional Screen Scotland has just hired a new "Cinémobile" truck from the French company which has supplied the two previous Screen Machine vehicles, and will launch a new season of screenings in Huntly, in Aberdeenshire, this month.
However they hope to give the most recent Screen Machine a new lease of life by making it available for long-term hire as a "static venue."
If the idea is approved by the council, the Screen Machine would be transported from its current home in the Isle of Skye to the capital.
It is not known where the council's preferred is for the Screen Machine in Edinburgh, however Festival Theatre, the public square near the Filmhouse, was home to a giant video screen for several years.
The council has been in talks with government agency Screen Scotland over the future of "cultural cinema" provision in Edinburgh since the sudden demise of the Centre for the Moving Image, which ran the Filmhouse cinemas in Edinburgh and Aberdeeen, as well as the Edinburgh International Film Festival.
Pub operator Caledonian Heritable has been in talks about the possible reopening of the Filmhouse building after clinching a £2.65 million deal with the administrators of the CMI, however the firm is understood to have asked for rent guarantees to be paid from the public purse.
The council has ringfenced the £100,000 it previously allocated to the CMI in its budget to help support "alternative cultural and community film provision" in the city.
An official report for its culture committee suggests that the Screen Machine could be temporarily hosted "for a minimum of a year," but would need supported with "practical venue and staff resources, alongside programming expertise."
Fiona Fowler, marketing manager at Regional Screen Scotland, said: "We're delighted to be having conversations with Edinburgh City Council about the possible hire of the Screen Machine as a long-term static venue, but they are at a very early stage.
"Whilst the Screen Machine is old in terms of its lifespan, it is a fantastic resource and we'd like to find a new home for it."