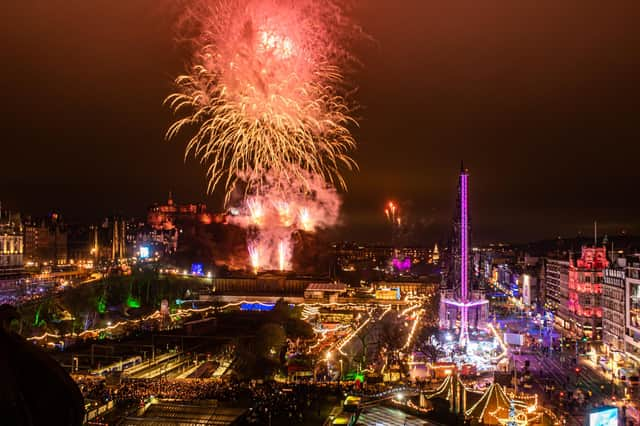 A new opinion poll is expected to decide the fate of long-running events which have been worth more than £150 million to the economy in recent years.
Launched by the city council, the poll asks residents whether they want to see street parties or other "mass gatherings", live music events or firework displays staged as part of any future Hogmanay celebrations.
They will also get the chance to have a say on whether funfair rides and food and drink stalls should be part of the city's Christmas festivities if they return.
It is also suggested that the two events could be spread out more across the city centre or expanded into areas like Portobello, Corstorphine and Craigmillar.
However, the survey, which will decide the fate of the winter festivals from 2022-23 on, suggests that Edinburgh could drop its events completely and simply have a Christmas tree and festive lights in future.
The poll is being launched amid huge uncertainty over whether Edinburgh's major festivals and events will be able to go ahead this year due to the ongoing pandemic.
However city council chiefs said the time was right to "take stock and look at what people think and what people want".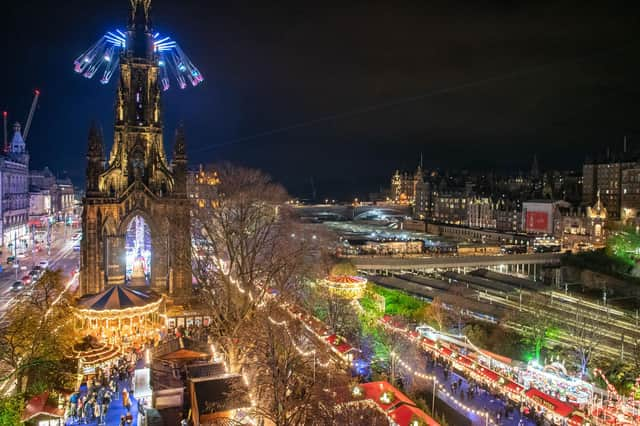 But they also highlighted the two events generated "significant financial and cultural benefits for the city".
More than 2.6 million visitors to the Christmas attractions have been recorded recently, while the three-day Hogmanay festival has attracted more than 180,000 revellers.
The 12-week survey asks people if they have avoided the city's winter festivals in recent years because they have been "too expensive" or "too crowded".
Views are also being sought on whether the festivals, which date back to the 1990s, have been welcoming to Edinburgh residents and visitors, have offered "an experience unique to Edinburgh", and have benefited local businesses.
Delayed by nearly a year by the pandemic, the poll was initially pledged by the council in June 2019 when events company Underbelly was handed a two-year extension of an annual contract worth up to £800,000 to produce the festivals, despite mounting concerns over the commercialisation of public space and their impact on Princes Street Gardens.
There was further controversy when it emerged that an expansion of the Christmas market, which attracted record numbers of visitors, did not have planning permission. Damage to the gardens meant they were unable to be used until July last year.
It emerged in September that the events generated more than £9 million in turnover in ticket sales and income from pop-up bars, market stalls and fairground rides. Underbelly's staffing costs and overheads accounted for more than £3.4m.
The poll, which is also seeking the views of the business and tourism sectors as well as community groups, is being carried out by market research company Progressive.
Respondents will be asked whether any future events should "complement the natural and built environment of Edinburgh" and "be of international quality".
The public are being asked to vote on their key priorities if Edinburgh were to have "Christmas and Hogmanay celebrations in future."
These include whether "Edinburgh music, literature, art, culture and history" should be given prominence in the city's celebration and whether the festivities should be "outwardly focused and inclusive."
Culture convener Donald Wilson said: "We want to hear from the people of Edinburgh both on how our winter festivals should be delivered and indeed what should be delivered.
"The feedback will shape the future direction of our celebrations from 2022 onwards, when the current arrangements come to an end.
"This is a good time then to take stock and look at what people think and what people want.
"The winter festivals have grown in size and renown both at home and throughout the world.
"Their cultural and economic importance is well documented and through this consultation, we will establish a balanced knowledge of how Edinburgh citizens regard these celebrations, both positive and negative."
Cllr Wilson said the two existing events created "opportunities and challenges" by generating additional footfall and spending in the city centre, but also impacted on green spaces and public transport.
He added: "Things look very different as a result of the pandemic but there is at least an opportunity to look at what we want and what is sustainable in terms of the Christmas and Hogmanay festivals."
A message from the Editor:
Thank you for reading this article. We're more reliant on your support than ever as the shift in consumer habits brought about by coronavirus impacts our advertisers.
If you haven't already, please consider supporting our trusted, fact-checked journalism by taking out a digital subscription.
Joy Yates
Editorial Director