Edinburgh Jazz & Blues Festival review: Ibibio Sound Machine, Queen's Hall
Ibibio Sound Machine offered a kaleidoscopic feast for the ears with curt brass blasts, low-slung Afro rhythms, groovy jazz funk breakdowns and wah wah guitar, writes Fiona Shepherd – and that was just on the opening number
Ibibio Sound Machine, Queen's Hall, Edinburgh ****
London collective Ibibio Sound Machine are well named – not just in honouring frontwoman Eno Williams' Nigerian roots but for the sheer wealth of influences they have brought to their music over the last decade. Electricity is the fourth in a sequence of consistently compelling albums but experiencing them live is by far the best way to sample this eight-piece powerhouse.
Local soul collective Mother All Mighty greased the wheels at this Edinburgh Jazz & Blues Festival appearance with an old school jazz funk set and special guest Konrad Wisniewski in the ranks, but Ibibio offered a kaleidoscopic feast for the ears with their curt brass blasts, low-slung Afro rhythms, groovy jazz funk breakdowns and wah wah guitar – and that was just the opening number. Next up, some full-on Afro funkiness with lightning skatting from Williams, a mighty soul vocalist exuding voodoo priestess vibes.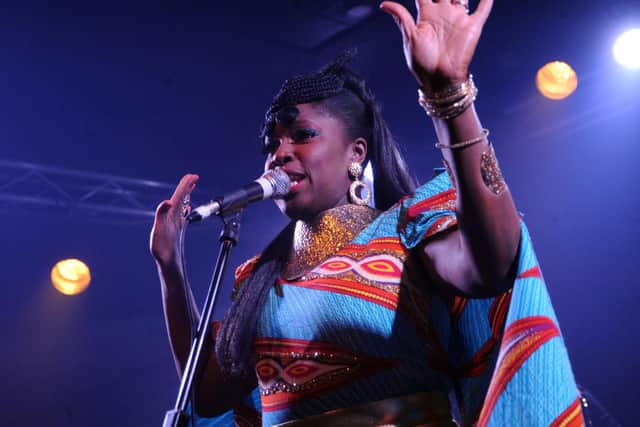 Their brass section doubled up on synthesizers, showcasing another key element of their funky fusion sound – the influence of western electronic dance music, as heard on the rave incantation Protection from Evil and ecstatic dance number Wanna See Your Face Again, with its energising house piano.
Ghanaian guitarist Alfred Bannerman stepped up with some rock shredding and there were echoes of Talking Heads' Afrobeat-infused art rock at times. Even with such seamless eclecticism on show, surely no one was anticipating an Afro lullaby with vocoder interlude from Williams and an Eighties-style saxophone solo from Todd Rundgren lookalike Max Grunhard. But everyone needs a breather from the dancefloor at some point.
Suitably refreshed, Williams exhorted the congregation to raise their jazz hands as the band executed another polyrhythmic fiesta and commanded "1, 2, 3, 4, let's dance" with an urgency in the countdown and an invitation which had already been taken up by the delighted audience.