New Edinburgh International Festival director Nicola Benedetti has revealed that her "biggest fear" for the event's future is the impact of new technology and social media on attention spans.
Benedetti, who admitted that she had felt the impact of her own Facebook and Instagram accounts and her iphone on her brain, said she was concerned about the openness, patience and curiosity of the audiences of the future.Speaking during an in-conversation event with The Scotsman critic Joyce McMillan, Benedetti expressed concern about the long-term impact on society of a world that is already "tailored and cookied through devices for us".
Benedetti's first programme includes experiments with concerts with shorter than normal running times and replacing stalls seating at the Usher Hall with beanbags and cushions for some performances.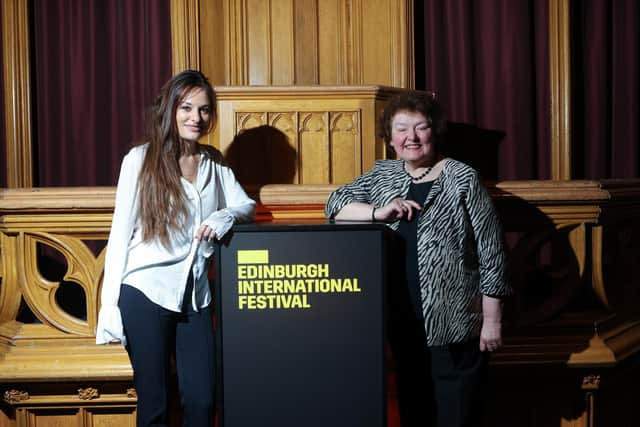 Other innovations include a reimagining of The Hub, the EIF's Royal Mile headquarters, to become a "festival green room that will be open to all," which will host free afternoon events.Speaking at the Q&A event, which was staged before an audience of subscribers to The Scotsman and also broadcast online, Benedetti revealed that she would be performing in a new EIF opening celebration event in Princes Street Gardens.
Benedetti said she hoped that the EIF's efforts to reduce its carbon footprint would improve the experience of visiting artists and performers in the city, and help ensure "they really feel they are in Edinburgh." She pledged to build on several company residencies this year, which will see them based in the city for much longer than normal.
Benedetti was asked what she saw as the biggest challenges facing the festival, which was launched in the Second World War's aftermath.
She said: "My heart tells me that my biggest fear is about people's patience, curiosity and ability to sit with something just long enough to get that real bug.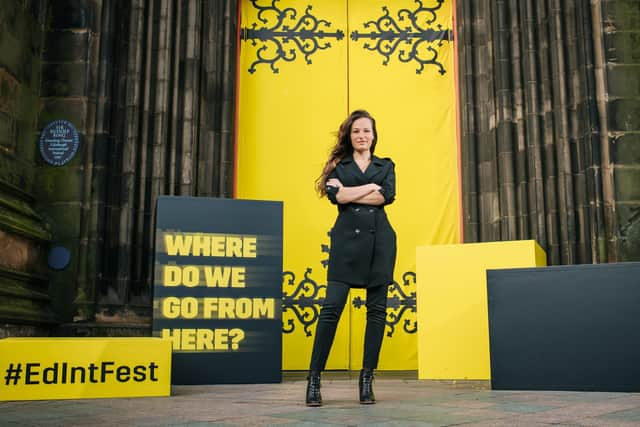 "It's deeper than enjoyment, it's life-changing, it's enrichment, it's something that alters everything you feel and see from that day forth. It can be as impactful as that.
"I'm thinking more about future generations of audiences when I'm speaking about this, but my biggest fear is that we're so caught in a world that is not only tailored and cookied through devices for us, but is so designed to create something that makes that physically happens in your stomach to make you want to search for the next thing.
"When we're in the business of telling stories that evolve and unfold over a longer period of time we need to have that trust in our audiences, to expect something higher of themselves and the experience they enter into, and that they're open, patient and willing to trust us to enter into that and sit with it for a moment.
"This applies to my own life too, because I have Instagram and Facebook, and an iPhone, and I see what that does to my own brain.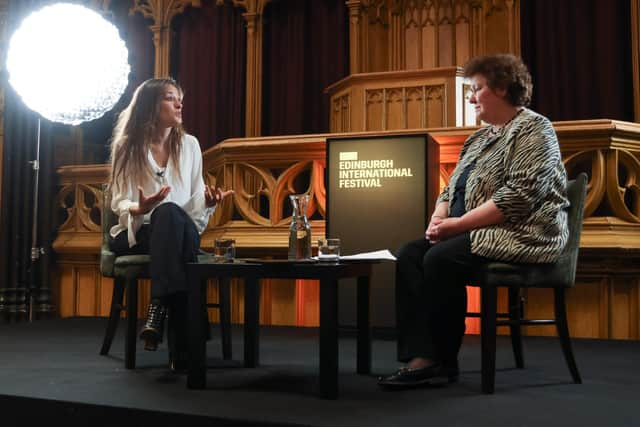 "The point of the existence of a festival like this is to ride the constant back-and-forth of being absolutely uncompromising on the fact that 'this message takes this long to unfold and it is going to be of this weight and profundity,' but constantly exploring how it this relevant for people and how it will make sense to people going about living their lives at this point in time, not 75 years ago, and how can we curate that experience, to make the deepest impact on the broadest possible number of people."
The EIF has pledged to reach net-zero carbon emissions across the organisation of the event by 2030 and across its artistic programme by 2045. Key targets include reducing artist travel emissions by 10 per cent year.
Benedetti's inaugural programme includes residencies for the London Symphony Orchestra, the Alvin Ailey American Dance Theater company, the Budapest Symphony Orchestra and Simón Bolívar Symphony Orchestra of Venezuela.
Benedetti said: "Residencies are not something totally new for the festival but it now has really ambitious sustainability targets, which are challenging, as you can well appreciate.
"We are a festival which presents international art that has to come from Scotland from all the world, so it is about the ways we can do that without dampening or lessening the diversity and depth of what we present.
"Residencies are an excellent model to structure presentation and also draw outside of the residency. It not only allows the organisation to connect deeper with our audiences but also feel more where they are. They are coming to this phenomenal city – there is nowhere else like it at that time of year.
"Having toured and travelled so much, I've seen how impersonal that experience can be. You turn up somewhere, you see a hotel and a concert hall, and maybe speak to one or two people, but that is it."A dialogue we had a lot, even before I officially started the role, was about the whole hospitality and personal experience, not just for the audiences but everyone is coming here (to perform).
"We want them to really feel that they are in Edinburgh, could only be in Edinburgh and really feel close to the collective personality of our audiences.
"There are so many reasons to continue with the residency model. It's worked beautifully programmatically this summer it will definitely be continuing into the future."
Benedetti defended the festival's accessibility, highlighting its £10 "on the day" offers for shows which still have availability.
She added: "There's a really careful, considered conversation and effort around our ticketing, pricing and our own financial model, to ensure we're not excluding those who, but for the cost of a ticket, would want to come to one of our performances."If you compare our ticket pricing for what we're putting on stage, not just looking at London, but also at festivals in Europe and the United States, our tickets are a good price. That's something that we're proud of."